Minnesota governor weighs in on Chris Kluwe's release
We've debated how much Chris Kluwe's release had to do with his outspokenness. Now, Minnesota governor Mark Dayton wonders the same.
• 2 min read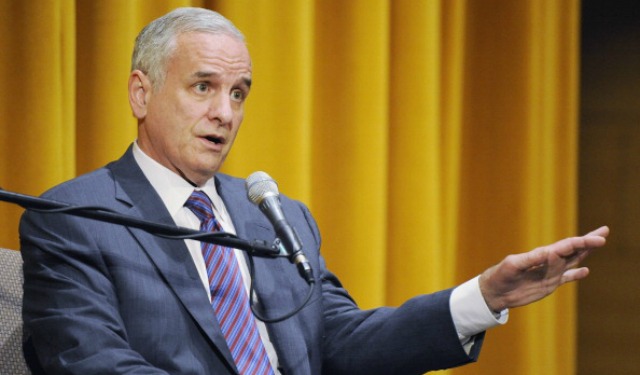 With the Vikings cutting punter Chris Kluwe earlier this week, we've debated how much of his dismissal had to do with his punting ability vs. his outspokenness on a number of issues that might have alienated some of his coaches.
Now, Mark Dayton, the governor of Minnesota, is making his voice heard.
"I don't feel good about it," Dayton, a Democrat, said. "I mean I'm not in position to evaluate the role and their punting abilities. But it seems to me the general manager said right after the draft that they were going to have competition. Well, then he brings the one guy [fifth-round pick Jeff Locke] in, he kicks for a weekend and that's the competition? I mean, I just think sports officials ought to be honest about what the heck is going on. Same way I think public officials should be honest about what's going on. So that bothers me probably as much if not more than the actual decision."
When the Vikings drafted Locke, Kluwe talked about just wanting a fair fight for the chance to save his job.
"They told me it's for competition purposes, and we'll see how it plays out," Kluwe said then. "All I can do is just go out, punt to the best of my ability and trust in my body of work …
"If it's truly a fair and open competition, then I would love to compete. But if it's something that [Locke is] the direction they're going to go, then I would much rather be cut early and have a chance to find a job somewhere else."
That's exactly what the Vikings did -- and actually, in their statement, they made note of releasing Kluwe early so he'd have the chance to find another job. But as far as a fair competition? Well, that didn't happen.
"If you're going to check and see who's the better kicker under the pressure of an NFL season, seems to me you at least go into the exhibition games and have them both kicking under that kind of pressure," Dayton said. "If you're to have true competition, that's how I would think you'd resolve it in a straightforward way.
"But that's their decision to make. They don't give me political advice. I don't give them coaching advice."
R.J. White, who nearly won the Las Vegas SuperContest, locks in his pick for the NFC Championship...

Mike Tierney has owned NFL totals and has a strong pick for the AFC Championship Game

The Saints coach wasn't in the mood to answer questions about Drew Brees on Tuesday
This is footage that you'll definitely want to see

It wasn't the matchup that we expected, but the Jaguars would argue that's everyone else's...

The Eagles quarterback and the Vikings quarterback have paths that have crossed many times