Mock review: Some hits, too many misses; trades caused havoc
So, how did that mock draft go? There was good (Blake Bortles in the top 10), bad (Eric Ebron) and ugly (Johnny Football's slide).
• 7 min read
More Draft coverage: 2015 Mock Draft | 2015 Top 100 | 2014 Draft Grades | News
A week ago I begrudgingly fulfilled an obligation to perform my civic duty as an NFL reporter and completed a mock draft. I put it off as long as I could, but I did it.
So now, I feel like it's only right, before the draft is totally beyond us and before some start putting together their 2015 mock drafts (although I'm probably already too late for that), to go back and evaluate my prognosticating. I mean, for all the scrutiny these college kids put up with in the months leading up to the draft, the least I can do is hold myself accountable, right? So it's time for me to take out the dreaded red pen, make some snide remarks to myself in the margins (the usual stuff teachers would write, like -- Too sloppy! Show your work! How could you fall for that smoke screen!) and decide exactly how I should grade my mock draft, with an eye toward which picks were most surprising and which might end up being sage and savvy over time.
I'll break it down into the good, the bad and the ugly, and I'm sure many of you on Twitter and in the comments section here will take a critical eye to my projections as well.
The good
Of the first 27 players selected, I had 25 of them identified as first-rounders. In a year with so much up in the air, and with so much intrigue, I'm fairly satisfied with that. It's not as easy as you might think before you start coming up with potential trades and trying to slot all of these guys. The first player to come off the board who I did not have in the first round was Dee Ford at No. 23, which, again, I will take. Getting through two-thirds of the round without a complete whiff sounds half decent to me.
Of the top 10 selections, I had eight of them identified as top-10 picks. And I'll give myself extra credit for having Blake Bortles in my top 10 (though as a result of a potential trade down with Atlanta). I didn't have Eric Ebron going to Detroit (though I reported he was a strong candidate there, I had the Lions moving up to nab Greg Robinson in another faux trade). I also had Justin Gilbert going behind Kyle Fuller in the race to be the first corner selected, with him sliding to 18. Obviously that didn't happen with the Browns unexpectedly pulling off their second trade to move up a slot and get Gilbert.
I'm going to go out on a limb and say I was one of the few people in America who had both tackle Ja'Wuan James and safety Deone Bucannon in a first-round mock. I had James making it to 28, but wasn't shocked the Dolphins went need at 19 and took him (we'll see how that gamble pays off). I had Bucannon going 29th overall; he went 27 after Arizona traded down. Also, I had Brandin Cooks going at 17 via a trade up, and he ended up going at 20 instead, so not bad there (although I had him going to San Francisco and not Seattle).
I had four quarterbacks in the first round, and three went, so I can live with that as well.
Overall I had nine players pegged within two spots of where they ultimately went. I'm not sure how good that really is, as I have never really graded a mock before, but I need any positive ammo I can get at this stage, so I'm calling it good.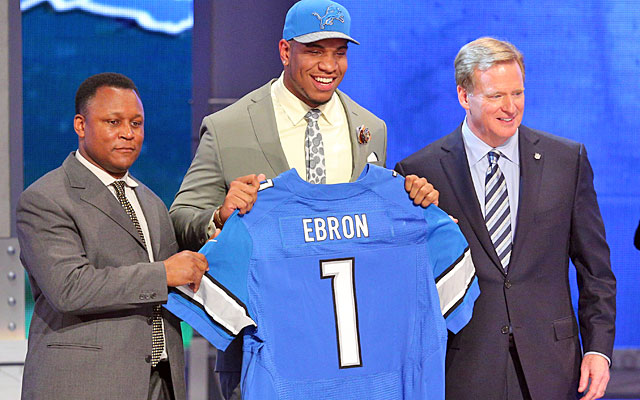 The bad
Pretty pathetic that the only players whose spots I precisely nailed, between the pick and the team (not including guys who landed in the spot I projected but with a different team after a draft-day trade), were Odell Beckham, Kyle Fuller and Jason Verrett. That's not good enough.
I put too much emphasis on potential trades and screwed myself up at the top of the draft. If not for trades I would have slotted Robinson to the Rams, Mike Evans to the Bucs and Jake Matthews to the Falcons. But in that scenario I would not have had Khalil Mack left for the Raiders -- he was their top option by far -- which would have led me to project a trade down for them with Derek Carr in mind. So I still would have looked pretty bad in reality either way.
But at least that way my top seven would have been clean, probably 6 for 7. The swirling stuff about the quarterbacks made the top tier of this draft more difficult to nail down than any I could remember, especially with all of the trade possibilities thrown on top of that.
I also missed big time on a few players. I thought Eric Ebron would drop if he got past Buffalo and Detroit in the top 10, and I had him going to Green Bay much later ... he didn't get past Detroit. And I had linebacker Ryan Shazier making it into the mid-20s in my mock, and he ended up at No. 15 to Pittsburgh. I should know by now the Steelers will go linebacker quite often, and look for corners a little later unless one is leaping out at them. Fool me once, shame on you. Fool me twice, well, you know the rest.
The ugly
Don't look at the bottom third of my mock draft ever again. Please. Let's pretend that didn't happen.
Beginning with Johnny Football going to the Browns via trade at No. 22, things started to go off the rails for me. All five of the players in the first round who I did not have mocked as first-rounders came between picks 23 and 31; the only pick I nailed correctly in the bottom third of the draft was Verrett to the San Diego Chargers. I was correct that corner Bradley Roby would slide and be one of the final corners taken in Round 1, but I didn't have him sliding all the way to Denver at pick 31. And I had Seattle trading out of Round 1 in several versions of my draft and then punked out in the end, which was lame. Kicking myself for that, as their desire to move down was well established (although in full disclosure I may have had someone trading up for a running back in that scenario, which would have landed me right back in the ugly category).
Other misses: Manziel going 15 picks (half a round) higher than he went; 12 selections off of Shazier's landing spot; worst of all, it took until pick 48 before all of my 32 first rounders went off the board. By pick 36, 30 of my first-rounders were gone, and I feel good about that, and by pick 39 (Marqise Lee) I was down to just one first-rounder remaining. But my, oh my, did I misjudge just how deeply Timmy Jernigan would tumble based on some off-field concerns.
I don't feel nearly as bad as those many mockers who put him 16th to Dallas might -- and that seemed to be a fairly popular choice -- but for him to fall all the way to the middle of the second round, when I had him 32 -- a miss of 16 picks -- is a brutal way to end what was an otherwise half-decent mock attempt. And I was 14 spots off on Cyrus Kouandjio, whose knees were a concern for many teams but in a trade-down scenario I had Baltimore GM Ozzie Newsome, an Alabama guy like Kouandjio, taking the hulking tackle. Turns out he made it to the middle of the second round as well.
Grade: So, in summary, which letter grade would I assign to my draft? Is C-minus too kind? I cleaned up in the teens but didn't nail enough top-10 picks nearly enough as I would have wanted. Rather than finishing strong I collapsed under pressure at the end of the first round and lost the plot entirely. While I haven't actually gone back and raked myself over the coals for my 2013 mock, I feel like I probably hit on many more exact picks that time around, and well, here's to vowing I pick up my game in 2015 and respond better in the clutch, you know, once I actually get around to putting the thing together under editor's orders a few hours before the 2015 draft.
Oh yeah, and that draft may or may not be starting at least a week later than this past one, and it may be stretching over four days soon enough and it may eventually become a traveling road show, too. So much to look forward to!
Here's to hoping your mock mocked mine. It probably did.
Bryant reportedly requested a trade last season but the Steelers elected to hang onto him

The Cowboys have sounded increasingly willing to cut ties with Bryant throughout the offse...

These prospects should star in the events at the combine this upcoming week
It turns out the Eagles center's epic parade speech is just the gift that keeps on giving

Fisher went on the non-football illness list last November but is now cleared to return

Tillman spent some of his offseasons during his career working with law enforcement