Monday Musings: Anquan Boldin makes Ravens (and me) look bad
Anquan Boldin had 12 catches for 208 yards and a touchdown in the 49ers' victory over the Green Bay Packers, showing he still has juice left in the tank.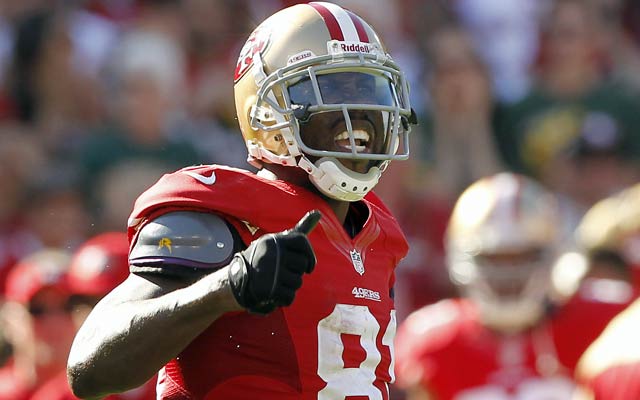 Anquan Boldin made me eat my words Sunday.
When the 49ers traded to get Boldin, I didn't think he had that much juice left in the tank. He was never a burner, and another year, I thought, would slow him down. If it has, he sure didn't look like it Sunday. Boldin had 12 catches for 208 yards and a touchdown in the 49ers' 30-24 victory over the Packers.
Boldin didn't just make his usual assortment of great "hand catches." He also seemed to run away from defensive backs at times, which he didn't do as much with the Ravens. Boldin is one of the smartest, strongest receivers in the league, but I thought his lack of separation would show up with the 49ers. Instead he showed up looking quicker against the Packers.
Boldin's play helped Colin Kaepernick throw for 412 yards and three scores. The one thing I wanted to see from the 49ers was a big-time passing game when the read-option wasn't working. I saw that against the Packers. Now comes an even tougher test against the Seahawks. One more note on Boldin: You think the Ravens wish they had him back? They let him go for $2 million. That looks like a bad move after Week 1. But it is just one week.
•Overreaction Monday is what we have today. I say it all the time: It's just one game. That's it. Don't read too much into the good. Don't read too much into the bad.
•How nice is it for the Cowboys and Tony Romo to have a security blanket like Jason Witten? The guy is not only one of the class acts of the league, but he's also a special player. Romo's first touchdown pass to Witten on Sunday night shows how good he is as a tight end. He was blanketed by Mark Herzlich and was able to turn and make a great two-hand catch for the score. He later made a nice adjustment for his second score. 
•The officials blew the call in the Packers-49ers game that ended up giving the 49ers four points. When Clay Matthews hit Kaepernick late, he was short of a first down and would have forced a fourth down and a field-goal try. But when Joe Staley went after Matthews, it was called as offsetting penalties. They replayed the down. Since the fouls happened after the play, it should been fourth down. The officials admitted the mistake after the game, but that was no consolation to the Packers. Imagine what the replacement officials thought of that? Chuckling somewhere I bet. 
Like, what are you doing? pic.twitter.com/p5pJ3x4nnJ

— World of Isaac (@WorldofIsaac) September 8, 2013
•I still think that hit by Matthews was a message sender. He clearly wanted to hit Kaepernick, and then drove him into the ground and put a forearm on his head. The Packers can deny that all they want, but it sure looked that way.
•I've been one of the few people who thought Jaguars quarterback Blaine Gabbert had a chance to be a solid NFL passer. After his horrible play in the opener, that's looking less and less likely. Gabbert played with a bad thumb, but if you're healthy enough to play it's on you. He suffered a laceration on his throwing hand that might keep him out of this week's game with Oakland. If Chad Henne plays well, Gabbbert may never get his job back.
•Before the season, Rams defensive end Chris Long told me that Robert Quinn had Hall of Fame potential. Then Aaron Rodgers raved about him after they faced the Rams in the preseason. So Quinn goes out gets three sacks and forces two fumbles in the opener against the Cardinals. This kid has a chance to lead the league in sacks this season.
•Tom Brady targeted receivers Danny Amendola and Kenbrell Thompkins 14 times each and Julian Edelman nine times. That's 37 times he tried to throw to his top three receivers. He targeted his tight ends three times. Does he miss Rob Gronkowski and Aaron Hernandez or what?
•If you told the Titans they would win with Jake Locker throwing for 125 yards and Chris Johnson rushing for 70, they would have taken it. That's exactly what happened in Pittsburgh and they still beat the Steelers 16-9. That's because their aggressive defense got after the Steelers.
•Keep an eye on Titans second-year linebacker Zach Brown. He had eight tackles and two sacks. He is ready for a breakout season. The kid can run. 
•The vaunted Bengals defensive line didn't have a sack against the Bears. Chicago started two rookies on the offensive line. That's not good for the Bengals.
•Cincinnati has to get something more from the weapons on offense not named A.J. Green. He had nine catches for 162 yards and two touchdowns, but Mohamed Sanu had four catches and a key lost fumble. 
•Is Mike Wallace the $60 million decoy? It looked that way against the Browns. He had just one catch for 15 yards for the Dolphins. After the game, he didn't want to talk to reporters. His reply when asked about not being involved was, "Ask coach."
•Reggie Bush is an "air" back. He looked like it against the Vikings. He had 101 yards receiving and 90 yards rushing. That's what he can bring to the wide-open Lions offense.
•Tampa Bay linebacker Lavonte David had eight tackles, two for loss, two passes defended, a sack and an interception against the Jets, but he also had the key late hit to set up the Jets' game-winning field goal. That hit, in my mind, was a questionable call -- even if the rules state you can't push a player going out of bounds. What if Smith turned it up for 10 more yards after making it look like he was going out of bounds? 
Bucs LB Lavonte David was surprised at late hit flag. "S***. They just called the flag, I don't know what to say. I guess I hit him late."

— Jenny Vrentas (@JennyVrentas) September 8, 2013
•Cameron Wake opened the season with a monster day. He had 2½ sacks and six quarterback hits against the Browns. The guy is special.
•The rookie quarterbacks who started Week 1 both had solid days. I thought Geno Smith and EJ Manuel both did some good things. Playing them the rest of the way is the right thing to do.
•David Wilson, hold onto the football. You have star power. But you have to take the ball with you.
The Jaguars' cornerback doesn't want the team's top receiver to depart in free agency

The Broncos are one of the favorites to land Cousins in free agency

Gathers flashed signs of promise in the preseason, but has yet to play in a regular-season...
Carruth wants custody of his 18-year-old son, who was born with brain damage after the slaying...

Why pay big bucks when you can gamble on Austin Seferian-Jenkins, Tom Savage or Donte Monc...

Running backs coach Duce Staley and wide receivers coach Mike Groh will reportedly interview...