Monday Musings: Are Ravens done? Brady, Patriots break out
The Ravens offensive line is killing them this season. Can they turn it around and save the season?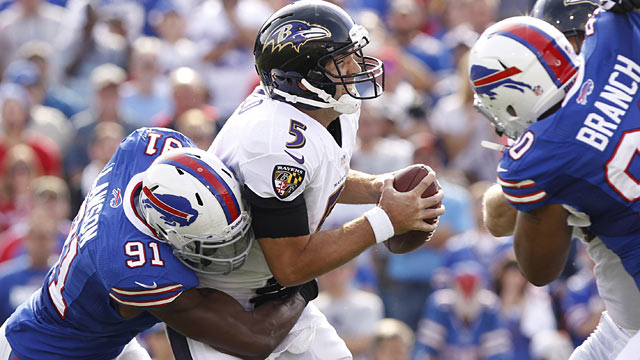 Nine months ago, the Baltimore Ravens won a Super Bowl. In the months since, they gave Joe Flacco a huge contract, traded Anquan Boldin, didn't bring back Ed Reed and Ray Lewis retired.
And now they don't look anything like that team that won it all.
After losing to the Cleveland Browns on Sunday, they are 3-5 and the repeat chances are looking dimmer by the week.
The Ravens are  2 1/2 games behind the Cincinnati Bengals heading into a huge game this week in Baltimore. It's too early to say their season is on the line, but it's close.
This Baltimore team has big issues. It all starts with the offensive line. They traded Boldin away, which led to a bunch of rips by the media, but the reality is if Dennis Pitta didn't suffer an injury they'd be fine in the passing game in terms of weapons. So I put it on that line.
It isn't good, and thus they can't run it and they can't throw it that well. Baltimore came into Sunday's game ranked 28th in rushing and dropped a spot in the rankings by running for 55 yards, but 25 came on scrambles by Flacco. Ray Rice had 11 carries for 17 yards and Bernard Pierce had six for 11. Yecch.
Flacco was also sacked five times by the Browns, which brings the season total to 25.
This offensive line can't run block and can't pass protect. The unit was a strong point during their Super run, but this year it's had the opposite impact on the offense. Center Gino Gradkowski gets no push, and Kelechi Osemele, the left guard with so much promise, played most of this season with a back injury and is expected to have surgery. The only lineman playing well is right guard Marshal Yanda. 
If the Ravens don't get this line playing better, they will have no chance to repeat.
• I told you in this space last week not to worry about Tom Brady. He showed us why against the Steelers, throwing for 432 yards and four touchdowns. He had three players with 100-plus yards in Rob Gronkowski, Danny Amendola and Aaron Dobson. The big play of the game was an 81-yard touchdown throw to Dobson. That play is big because it shows that Brady can drive the ball and Dobson can win down the field. That is something that this offense has lacked since Randy Moss was stretching defenses. 
• I hated the call by the Bills to throw it on third-and-goal from the 1 with a 7-point lead against the Chiefs. Why not run it, kick a field goal and go up by 10 against a Kansas City team that is limited on offense? Instead Jeff Tuel's pass was picked off by Sean Smith and returned 100 yards for a touchdown. That shouldn't happen. PS: Stevie Johnson was wide open on the play.  The Bills go up 10 there and they win the game. The Chiefs also got another defensive score. 
• Big props to the Seahawks for overcoming a 21-point deficit to beat the Bucs to get to 8-1. They won 27-24 overtime victory, and I didn't think they had that type of comeback in that offense. Seattle is now 8-1 for the first time in franchise history.
• Here's hoping the best for Broncos coach John Fox and Texans coach Gary Kubiak. Fox is scheduled for heart surgery this week, and will be out for six weeks or so. Kubiak was taken off the field Sunday night after collapsing on the field. Those are two of the low-key coaches in the league, which makes their problems surprising. But you never know. The NFL is a stressful profession. Let's hope to see both back on the sidelines soon.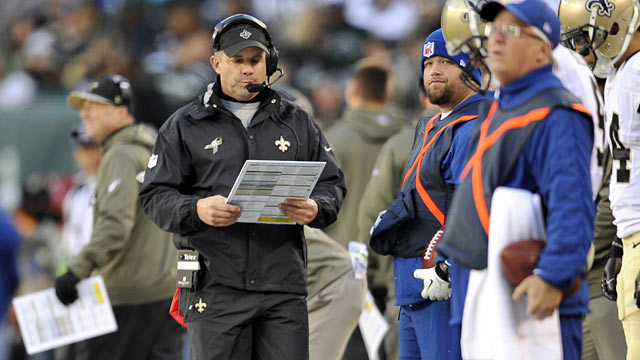 • What the heck was that fourth-and-inches call by the Saints against the Jets? They ran a reverse? To a third-team tight end? It was stuffed for an 8-yard loss. Bad call.  Sean Payton is better than that. 
• Matt Ryan has thrown seven picks the past two weeks. He's trying to do too much for a team that is now done. They are playing for 2014.
• Why do coaches keep quarterbacks in the game late in blowouts? That makes no sense. They are the franchises. 
• Jason Campbell was impressive against the Ravens with three touchdown passes. What would the Browns record be if Brandon Weeden didn't start games? Just asking.
• The Jonathan Martin situation is a strange one, but without knowing all the facts it's hard to get a real gauge on it. Was there bullying? Was the work environment toxic? For Martin to walk away, it had to be bad. The belief is that guard Richie Incognito is at the center of it. The Dolphins suspended him Sunday night for conduct detrimental to the team. What is uncovered here could change the locker-room culture for good.
I've heard a lot of opinions saying Martin should toughen up and deal with it. That's not the point. If he felt there was a problem, it's his right to do something about it. If you have a problem like that in your workplace, it will be addressed. Somebody could get fired. 
The Dolphins' coaching staff should have done something about this situation. Now it might be too late. But don't just sit there and say the locker room is a place where boys can be boys. If Martin felt uncomfortable, that's his right to walk away or come forward. 
This news of rookies paying for dinner tabs is something that has gone on forever. But it sounds like the numbers are getting out of control. It's one thing to pay $500 for beers and pizza, but $30,000? 
The curtain is about to be pulled back on NFL locker rooms. Maybe it's about time. 
• It was a rough day for Steelers safeties Troy Polamalu and Ryan Clark against the Patriots. Polamalu gave up a long touchdown catch by Amendola and Clark was out of position a bunch. He has had a tough season. Is he done? He might be. 
•Nick Foles? Nick Foles? After watching him play against Dallas a couple of weeks ago, who could have imagined he'd throw seven touchdown passes in a game? Foles was sensational against the Raiders with his seven touchdown passes and 406 yards. What happens now when Mike Vick does get healthy? People are already comparing this to Matt Flynn throwing for over 600 yards and six touchdown for the Packers a few years ago. That's wrong. Foles has had some other good games as well.
• Advice to Robert Griffin III: Don't try and kill yourself for first downs like you did late against the Chargers. You are smarter than that. 
• I love the swagger of Houston quarterback Case Keenum. He has what Matt Schaub doesn't. Not saying he's their long-term guy yet, but he has a chance. 
• What is it with Jaguars and receivers? They've had a bunch with off-the-field problems, including Jimmy Smith, Reggie Williams, R.Jay Soward and Matt Jones. And now Justin Blackmon is suspended indefinitely for violating the league's substance-abuse policy. Ouch. 
• Chris Ivory ran hard and tough against his former team, the Saints. He ran for 139 yards and had a 52-yard run. Mark Ingram? Who? 
• I still think Danny Woodhead scored that touchdown late in the game for San Diego. It was ruled a touchdown. How was it overturned? Bad call. 
• So I guess Chris Johnson isn't done. That 150-yard performance against the Rams was impressive. He looked like the Chris Johnson of old. 
• Next game up for Chiefs: Peyton Manning and the Broncos. We will find out a lot then. The 9-0 is earned. But how good is this team really?
There is a lot of smoke about the Bills making a drastic move up the draft board

The Patriots defensive back says everyone knew Butler would be benched

The trade up for USC's star signal-caller makes it quarterbacks off the board in the first...
The quarterback free-agent market, QB draft class, Panthers sale, Jon Gruden's return and much...

Patriots QB's ring, given to one of his friends/family members, was auctioned off to an anonymous...

If the Redskins get petty, Cousins will try and get his vengeance through a grievance