Monday Musings: Blame your offense, Redskins, not RG3
The read option is a big part of the Redskins' offense, but it's also dangerous and really is just a babying of the quarterback.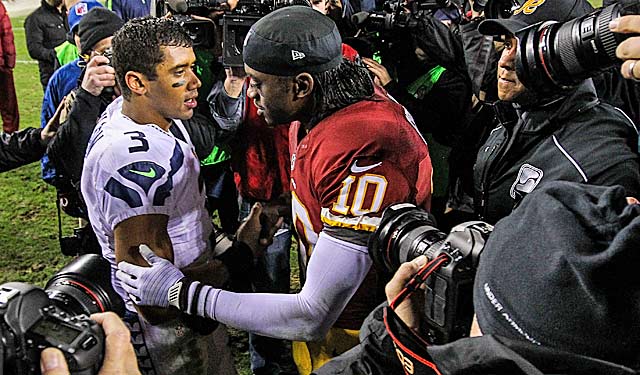 A couple of read-option QBs meet -- Russell Wilson and RG3. Is the snappy offense harmful to QBs? (US Presswire)
I was talking to an NFL defensive coach on Friday about the read option. I asked him point blank: When will it get figured out?
"In the summer," he said. "It will take one offseason of putting the work on it, and it will be figured out. It's tough to do during the season, but it all gets figured out. Plus, the quarterbacks take too many hits in that offense. The whole premise is to leave a guy unblocked, and he can hit the quarterback. They won't last long that way."
Then came Sunday.
We saw Redskins quarterback Robert Griffin III struggle through a game on a bad knee, then go down late when his knee twisted badly as he fumbled a snap.
Wild-card weekend in review
Analysis

---

Related content
RG3 didn't get hurt running the read option. He got hurt scrambling. But the point about the use of the read option is that the quarterback is put in way too many bad situations. It's also a way to baby a quarterback, which maybe the Redskins needed to do with Griffin, at least early in the season. I was told that was the way that they had to play back then because he wasn't ready to play in the pocket.
But as the season moved along, he became better in the pocket. But by then, the read option had flourished, and there was probably too much hesitation to change. We saw Sunday against Seattle what happens when the quarterback-run part of the read option goes away. RG3 was ordinary. And that's not a good thing going forward.
I think the Redskins babied him too much. When the training wheels came off, RG3's bike fell. He couldn't ride it. The stability of the knee might have impacted his throws, but there is no doubt that he wasn't the same guy. You can't make a living getting your quarterback hit.
The backers of the read option will say Tom Brady got hurt inside the pocket. Well, yeah. He's in there 50 plays a game. The odds are that he will get hurt inside the pocket. But he's not taking shots play after play after play like read-option quarterbacks do. I say it all the time, and I will continue to say it: The game is meant to be played in the pocket. NFL defenders are mean, violent and nasty. The idea is to stay away from them as much as you can.
The wildcat gimmick came and went. The read option will go the same way. The defensive coordinators will figure it out in the offseason, and then teams that run it will have to find out if their quarterbacks can play the right way. I really believe RG3 can, but we didn't see it Sunday against Seattle. 
• Seattle would be wise to limit Russell Wilson's read-option runs, too. Just saying. 
• I did not vote for Adrian Peterson as the league MVP. Why? It's a quarterback league. Peterson had a tremendous season, but there is no way he is more valuable to his team than an elite quarterback. Exhibit A: Packers 24, Vikings 10. If Peterson was truly the MVP, doesn't he compensate for the loss of quarterback Christian Ponder? Instead, the Packers held him to 99 yards after he rushed for more than 200 yards in two other games against them. Aaron Rodgers, who has played behind a makeshift offensive line and dealt with injuries all over his offense all season long, is a better MVP option than Peterson. And he won't win it. Tell me this: Whom would you rather play -- the Packers without Rodgers or the Vikings without Peterson? I thought so.
• Was I the only one who thought Ray Lewis coming onto the field for the kneel-down dance was a bit tacky? I get it's a special day for him, but do it after the game. There is still another team on the other side that is having its season ended. And you send him out to do a dance with the clock winding down? P.S.: It should have been flagged. Why not wait until the game is over and then let him bask in it all? I won't call it classless but tacky for sure.
• Does any receiver in NFL history have more catches than Anquan Boldin does when he's not open? It's amazing. The guy catches a lot of passes and never seems open. He has great hands and is smart how he uses his body. But you need speed to beat the Denver corners, who excel in man coverage. 
• The Texans didn't get what they expected from outside linebacker Connor Barwin this season. Nor did he do what he expected after turning down a long-term contract last summer. He gambled and seemingly has lost. But Barwin picked up his game on Saturday against the Bengals and had a nice play on a screen pass and had several pressures. He will need to be big against the Patriots' passing game.
• Texans cornerback Johnathan Joseph has played hurt all year, but we saw against A.J. Green why the Texans love his ability to play man coverage. He did a nice job against one of the NFL's best. His pick was the big play of the game.
• With Chip Kelly staying at Oregon, he is the ultimate tire kicker. It would mean two years in a row that he has flirted with the NFL and said no. That would turn me off if I were an owner. What's he afraid of? What's holding him back? I love guys who love a challenge. They want to be great. Does he? 
• Andy Dalton looked terrible against the Texans. He has no touchdown passes and four picks in eight playoff quarters. He didn't get much help from tight end Jermaine Gresham, who had three drops. But Dalton has to play better on the big stage.
The field at FedEx Stadium was a joke. Dan Snyder should be embarrassed. I played on better cow pastures as a kid.
• Seattle corner Richard Sherman has a big mouth, but, damn, can he play corner. Love the way that he plays. But he has to tone down the postgame crap. It's one thing to yap during the game, but handle the end of it with class.
• Can't wait to see Sherman and Brandon Browner against Atlanta receivers Julio Jones and Roddy White this week.
• You remember, Atlanta, right? The No. 1 seed in the NFC. The Falcons. You heard of them?
The Panthers will be missing their star linebacker for the rest of the regular season

The Cowboys running back now looks like a tank

Former Atlanta sportswriter Larry Hartstein knows the Falcons and locked in a pick for 'Monday...
Let's examine Sashi Brown drafts during his time as Cleveland's GM to decide if John Dorsey...

This was definitely one of the weirdest things to happen in Week 15

This might be the one guy who actually understands the catch rule