Monday Musings: Broncos show good offense beats good defense
It's an offensive league and the Denver Broncos showed that is the way to win now in their 27-17 victory over the Chiefs Sunday night. We'll see what happens in the rematch?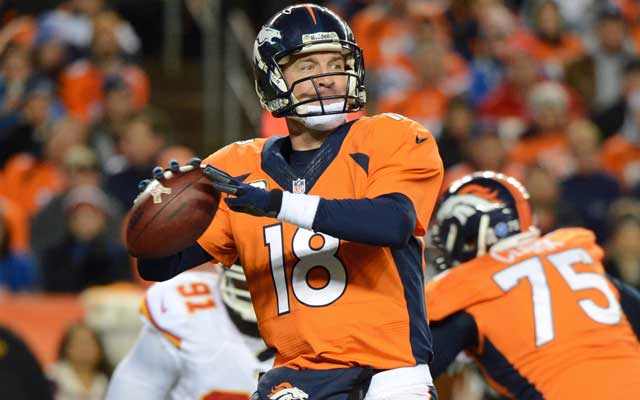 So the Kansas City Chiefs lost a game for the first time, falling Sunday night to the Denver Broncos.
What does it mean?
It means they aren't going undefeated -- who thought they would? -- and it means the Broncos are back on top of the AFC West. But it also means that in two weeks, when the teams meet in Kansas City, the hype should be big again.
I thought the Chiefs did some good things in Denver's 27-17 victory. But the game once again validated to me that good offense will beat good defense. The Chiefs held Denver to a season-low 27 points, but the Broncos rolled up 427 yards of total offense. Peyton Manning threw for 323 yards and wasn't sacked once by that vaunted Kansas City defense.
The Chiefs came in as the top team in sacks in the NFL but left Denver without one. That has to be a concern with the Broncos coming to Arrowhead in two weeks. The Chiefs played solid defense, holding Denver to its lowest point total of the year, but they just couldn't do enough on offense.
Once again, the Chiefs' passing-game limitations showed up. Alex Smith threw it 45 times and finished with 230 yards, but 70 of that came late in the game when Denver was up 27-10. It wasn't all Smith -- there were some drops -- but the Chiefs have to do more in the passing game if they are to be a real Super Bowl contender.
I am not going to sit here and say the Chiefs are not a good team. They are. But limited offensive teams have problems coming from behind. That will be their issue going forward.
The Chiefs competed Sunday night, but moral victories don't count. In two weeks, we will have a better idea about them.
Until then, 9-1 is pretty damn impressive for a team that picked first in last April's draft. But I still don't know if we have a grasp on how good this team really can be. Are the Chiefs products of their schedule and the fact they faced a lot of backup quarterbacks? Or are they Super Bowl good? 
• Peyton Manning makes his line so much better. His feel in the pocket is special. That was the key to the game. He got the ball out quick and didn't allow the pass rushers to become a factor. 
•One of the dumbest things being talked about now is the supposed idea that Ben Roethlisberger could be traded. First, have you taken a look at some of the quarterbacks playing in this league right now? And then take a look at what Roethlisberger did against the Lions. He was special against Detroit on Sunday. He completed 29 of 45 passes for 367 yards, four touchdowns and no interceptions. He drove the Steelers 96 yards to the game-winning points in the fourth quarter. That is why you don't get rid of a passer like that. It's also about time that Todd Haley allowed Roethlisberger to play the way he should be playing.
• What the heck was Jim Schwartz thinking when he faked a field goal up 27-23 against the Steelers with 12:56 left in the game? They faced a fourth-and-5 from the 10. Why not kick to go up seven on the road? As if that wasn't bad enough, the play call was a run by holder Sam Martin. Are you kidding me? He fumbled, but wouldn't have made it anyway. The Steelers then drove it the length of the field to win it. 
• What happened to the Lions in the second half? The Steelers couldn't stop them in the first half, but they were shut out in the second. There is no way that should happen with Matthew Stafford and Calvin Johnson. 
• Well, at least the Jaguars ended their home-touchdown streak. They hadn't scored a touchdown at Jacksonville Municipal Stadium all season until they scored two in the first half against the Cardinals. So they have that going for them. 
• Geno Smith, you will have days like that. He turned it over four times with three picks and a lost fumble. But the talk of sitting Smith down is way too premature. He has to play this season. Sitting him down would do nothing. 
• Ed Reed really made an impact for the Jets. He had three tackles and EJ Manuel hit some long plays down the field. Reed is washed up -- no matter what some think. 
• Andre Johnson is one of the classiest players in the league. He rarely does anything other than exhibit a professional manner. He's always good with the media and doesn't have that look-at-me-way about him. So when he got into a shouting match with Matt Schaub, he had to be angry. But having said that, there is no way he gets a pass for walking off the field in the final minute. You don't leave your teammates during a game, no matter what. Imagine if that had been Dez Byant. He would be getting lit up. Johnson doesn't deserve a pass, but the way he has acted his entire career will give him a partial one.
• Why did the Texans yank Case Keenum and put Schaub in the game? Don't they know already what Schaub is for the long term? They have to find out what Keenum can do. That made no sense. If they don't think Keenum can run the no-huddle, which is what they said was the reason for the change, then he shouldn't be starting. This has been a horrible season for the Texans, and losing at home to the Raiders doesn't help coach Gary Kubiak's job security.
• If Carson Palmer can get protected, the Arizona Cardinals can be explosive on offense. He threw for 419 yards against the Jaguars and the Cardinals are now 6-4 and in the playoff race with a big game against the Colts coming up. What's even more impressive is that he had the big game with Larry Fitzgerald only catching six for 61 yards. 
• Ray Rice ran for 131 yards on 25 carries. That 5.2 per-carry average more than doubled his season average. It's about time.
• Nice to see Julius Peppers show up for Chicago against the Ravens. He had two sacks, his first double-sack game of the season. The Bears have been waiting for that for a while. 
• Jason Babin ripping Andre Ellington's braids off is one thing, since it is legal to grab it. But showing it off like a trophy after he did it was a bit much. 
• That was a heck of a game by Bucs running back Bobby Rainey. He ran for 163 yards and scored two touchdowns in Tampa Bay's route of Atlanta. Rainey has been cut by two teams in the past years and is only starting because of injuries to Doug Martin and Mike James. 
• The Steelers' throwback uniforms are horrible. Just saying. 
• The more I watch Mike Glennon, the more I think he has a chance. He was 20 for 23 against the Falcons. 
• What the heck was that throw by Robert Griffin III to end the Redskins' comeback against the Eagles? He has to throw that to Camden. Bad decision. 
• Should the Shanahan family be concerned about their job security? 
• Jason Campbell was terrible against the Bengals. Cleveland has major quarterback issues. He was picked three times. But early in the game he missed a couple of throws that could have put the Browns up 10-0.
Smith says the NFL's ratings decline cannot be ignored

The former Jets and Giants quarterback wants to know whether you think the Earth is round

Zach Ertz is one of the NFL's best tight ends but Philadelphia could lose his backup to free...
Second-year coach Sean McVay says his players know exactly what the expectations are

Steelers didn't trade Bryant then and they aren't looking to move him now

It had been rumored that the Jaguars might cut ties with Bortles, but instead he'll stay in...