Monday Musings: Can Peyton and the Broncos be stopped?
The Broncos have scored 179 points and are blowing out opponents. Is 16-0 possible?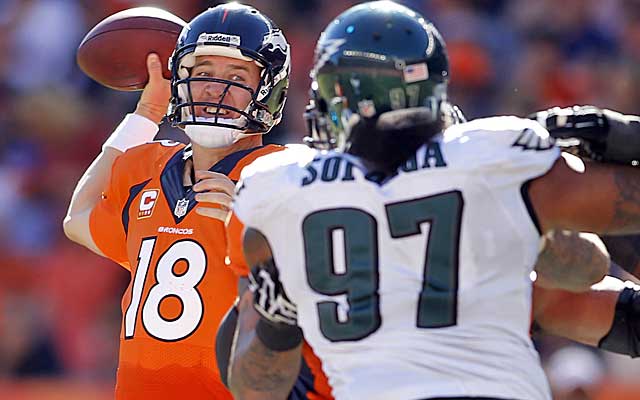 The numbers make a gaudy Super Bowl ring look dull by comparison.
The Denver Broncos have scored 179 points in four games, the second-highest total ever to open a season in the first four games.
Peyton Manning has 16 touchdown passes without an interception and is on pace to throw for 64, which would shatter the record. He had the best four-game stretch of his career. 
The Broncos have a point differential of 88, which is a true sign of how dominant they've been this season.
After blowing out the Philadelphia Eagles 52-20 Sunday to get to 4-0, it begs this question about the Broncos: 
How do you beat them?
The offense is clicking as well as any offense ever has -- ever.  Theirs is an offensive machine, but what's even as impressive is how well the defense played against the Eagles. And that's without Von Miller and Champ Bailey, two key players.
I am not going to sit here and say the Broncos will go undefeated, but how do you slow that offense down? Demaryius Thomas had two touchdown catches against the Eagles, as did Wes Welker. They have the inside players, and the speed on the outside.
Then there's Manning. He is playing as well as ever, which is saying something. When I spent time with Manning this summer, he wasn't sure how long he planned to play. He said as long as he felt he was still at the top of his game, he would continue to play.
He said he didn't want to be a guy hanging on, just for the hell of it.
He is much more than that. All that talk about his arm not being the same is a thing of the past. He beats you with his head as much as his arm, and he always has.
The Broncos are the best team in the AFC and I think they're the best team in the league.
The schedule will toughen up, with a trip to Dallas to play the Cowboys this week and at Indianapolis later in the month, but a warning for those teams on their schedule: Get some rest. 
 • I've seen my fair share of bad coaching, and now I can add some bad calls from Sunday's games. What was Bucs coach Greg Schiano doing late against Arizona, holding a 10-3 lead, and calling for Mike Glennon to pass on second-and-6 from his 11 with 3:23 remaining? The Cardinals hadn't done much on offense, so why not run it twice and punt? Why put it on a rookie making his first start? I know the Bucs had trouble running, but a punt was fine there. Instead Patrick Peterson picked off Glennon, and a play later Carson Palmer hit Larry Fitzgerald to tie it. After the Cardinals got a field goal to go up 13-10, Peterson picked off Glennon to end it. It just didn't make sense to have Glennon throw in that situation. Glennon did throw a touchdown pass, but he seemed to struggle for much of the game, taking over for Josh Freeman, who was inactive. The Bucs head to their bye week. Schiano could be headed to the unemployment line soon.
• There were other coaching decisions I didn't like. The first was the Bengals going for it on fourth-and-1 from the Cleveland 7 in the second quarter. They trailed 7-3, so why not kick a field goal to make it a one-point game? I also didn't like the call to try and pick it up. Why run BenJarvus Green-Ellis on a deep handoff? That made no sense. The Bengals have to pick up their offensive play-calling. They've been way too inconsistent. Jay Gruden has to open it up with all those weapons.
• The third coaching decision that disturbed me was the call by the Texans late in the game. They opted to throw a bootleg pass on third down late in the game that was picked off by Richard Sherman and returned for a touchdown. It was a horrible decision to try that play -- I think -- and certainly wasn't a good play by Matt Schaub to throw with the pressure in his face. Schaub has now thrown a pick for a touchdown in three consecutive games. They were burning his jersey outside the stadium Sunday, which is a bit much. But he has to pick it up. 
• San Diego quarterback Philip Rivers showed once again why he's still a top passer. Rivers was 35-of-42 for 401 yards and three touchdowns as the Chargers beat the Cowboys. He has little in terms of weapons and his line isn't great. But he gets it done. Why people hate the guy is a mystery to me.
• Big-time, tough-it-out victory for the Seahawks. Those are the types of games you have to win to be a Super team.
• Matt Flynn is who we thought he was, which is not very good. Flynn, starting for Oakland for the injured Terrelle Pryor, threw a pick-six to rookie David Amerson and seemed to struggle against the Redskins. He threw for 221 yards and one score, but he looked shakier than that.
• I am starting to think maybe Brian Hoyer is more than just a serviceable backup. He has impressed in two starts. But just remember, it's two starts.
• I don't understand Leslie Frazier's loyalty to Christian Ponder. He won't push the ball down the field. Not that Matt Cassel is much better, but he did more against the Steelers in London.
• Anybody who drools over Troy Polamalu and his work near the line of scrimmage should take a look at Adrian Peterson's two touchdown runs. Polamalu was mauled on the long one and was a non-factor on run-blitz on the other.
• If I am Freeman, there is no way I will give up any of the $6.5 million remaining on my contract to let the Bucs release me. Freeman sat in street clothes in a box at the game, rather than spend time on the sidelines. He is out in Tampa, but why would he even think about giving up that money? Make the Bucs get rid of him on his terms. 
• Trent Richardson had 60 yards on 20 carries against the Jaguars. That's a 3.0 average, which is even worse than his career mark of 3.5. So is he worth the first-round pick? Didn't think so.
• Joe Flacco threw five interceptions against the Bills in the Ravens' loss, and he clearly seems to be bothered by the poor line play in front of him and lack of weapons outside. The line is the biggest concern. The Bills had four sacks and seemed to get the best of them. That's been a season-long concern for the Ravens. That unit has to get better. They had 24 yards rushing against a Bills defense that was giving up 155 yards per game. Ouch. 
• Anybody else tired of the will-he, won't-he talk involving Patriots tight end Rob Gronkowski? When he gets on the field, then we should worry about it. Until then, who cares what his agent leaks?
• For all the crap Lions defensive tackle Ndamukong Suh brings upon himself with his chippy play, we can't lose focus on how good a player he is right now. Suh had two sacks of Jay Cutler in the Lions' victory over the Bears. He is playing as well as any defensive player in the league. Period. Forget the other stuff. 
• The Falcons have to fix their red-zone issues. Quickly. 
• How can somebody pay Aqib Talib with his previous problems? If he didn't have them, he'd be one rich man. He's playing some great corner for the Pats.
• The loss of Vince Wilfork is big for the Patriots, but with so few teams running it anymore, it won't be as bad as it would have been in the past. 
• Jake Locker was finally getting it going. Hate to see him go down, especially before a big game against the Chiefs. 
• Reggie Bush, Air Back Extraordinaire. He is perfect for the Lions offense.
• Dumbest saying of the weekend: Tom Coughlin should be fired. Please. 
• Joe Namath wanted Matt Simms to play quarterback for the Jets. He might soon get his wish. 
• It was only a matter of time before the Patriots young receivers started to click with Tom Brady. You could see that on tape, and you can see it now. They have keepers. 
• The Jaguars might not win a game. There, I said it. 
The Jags were laughingstocks as recently as this summer; now they're 60 minutes from an AFC...

The Jaguars are poised for the biggest upset in recent playoff history

The Broncos may have tipped their hand as to which player they're targeting at No. 5
The Steelers didn't have to look far to find their replacement for Todd Haley

The pop superstar will seek halftime show redemption at Super Bowl LII

Our computer model simulated the AFC and NFC title games 10,000 times with surprising resu...