Monday Musings: Credit Cardinals GM Keim for turning Arizona around
Arizona's first-year general manager Steve Keim has 11 new starers on the roster and has made 191 transactions since taking over. And the Cardinals are 10-5.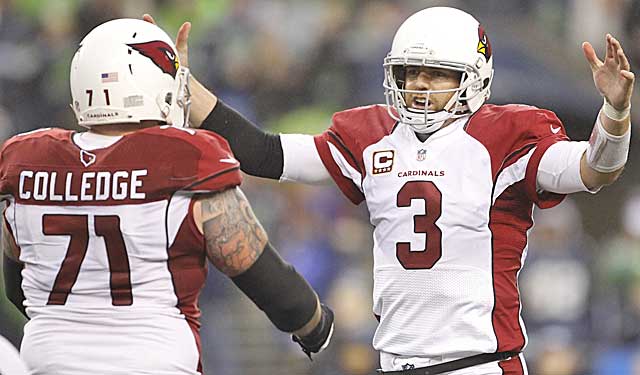 The Arizona Cardinals lost 58-0 to the Seattle Seahawks late last season, sealing the fate of coach Ken Whisenhunt and general manager Rod Graves. One of those in the organization at the time who said that game gnawed on him, a feeling he never wanted to feel again, was Steve Keim, now the team's general manager.
Keim, a no-nonsense personnel man at the time, was elevated to general manager after Graves was let go. All he has done is turn the Cardinals into a contender, one capable of going to Seattle and beating up the Seahawks like they did Sunday in a 17-10 victory that keeps them alive in the NFC playoff race.
If you are considering candidates for NFL Executive of the Year, Keim should be on that list, even atop it. Keim has made 191 transactions since last January and 11 of his 22 starters are new, including making the deal to trade for quarterback Carson Palmer.
Not only has he made a bunch of really good personnel moves, but he also hired coach Bruce Arians, who sure seems like the right guy for the job.
Seattle was undefeated at home going into the game, having some even saying they were unbeatable there. But the Cardinals did what the Seahawks usually do to teams, which is to bully the opposition.
The Cardinals held the Seahawks to 192 total yards and 10 first downs. They had seven three-and-outs. Russell Wilson, who had not lost a home game in his two seasons, was limited to 108 passing yards and a 49.6 rating. He was picked once and sacked four times. Marshawn Lynch ran for 71 yards, but only had a 3.9 average.
Arizona was able to overcome four Palmer interceptions to get to 10-5 on the season. If they can beat San Francisco next Sunday to get to 11-5, they have a chance to make the playoffs.
It's a shame if they don't get into the postseason party. A lot of people were raving a few weeks ago about the job the Chiefs' front office did, but this is a better team than the Chiefs right now. Give Keim consideration for that Executive of the Year award. He has earned it.
I am a big believer in scouts rising through the ranks to become general managers. Keim did that, and along the way he showed a keen eye and the secure-in-his-own-skin mentality to stand by his convictions. That means something. Now that he's in charge of running things, he's showing why many thought he would be a good general manager.
More musings
• If you want to see a really good football player, take a look at Arizona defensive end Calais Campbell. He is a beast. He had two sacks against the Seahawks and continues to be a force against the run. If he doesn't get to the Pro Bowl, it will be a shame.
• Quarterbacks are defined by moments. Cam Newton had one against the Saints. Trailing 13-10 with 55 seconds left, all he did was drive the Panthers 65 yards to a winning touchdown, that coming on a 14-yard touchdown pass to Domenik Hixon. The drive started with a 37-yard strike to Ted Ginn and he also hit Greg Olsen for 14 yards. On the 37-yard throw to Ginn, Newton had a chance to run up the middle for what could have been 10 to 15 yards. Instead he kept his eyes up the field and hit Ginn for the big gain. That's growth. Newton wasn't great against the Saints. But that drive changed the thinking about him as he walked off the field. That's an arrival drive. Gaudy numbers are one thing, but quarterbacks must drive to victories in clutch time to be considered good.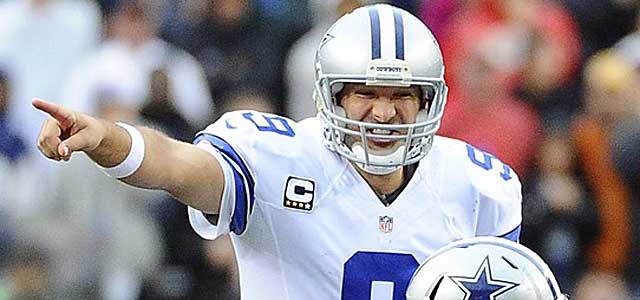 • Cowboys quarterback Tony Romo, who has taken an endless stream of crap because of his December play, had a heck of a drive to beat the Redskins. That fourth-down play for the touchdown was truly impressive. Romo could have forced the ball inside against zone coverage, but he waited until the defenders dropped into the end zone and hit DeMarco Murray for the winning touchdown. That's a big-boy quarterback play.
• Panthers middle linebacker Luke Kuechly was in on 24 tackles, had an interception and was all over the field. He is a special player.
• If Newton loses receiver Steve Smith for any length of time, the Panthers will be challenged to get much going vertically down the field. Smith left the game early because of a knee injury and said after he heard something pop. If he's out, Newton and the offense will be challenged in a big way to move the football going forward.
• Are we getting to the point where 51 touchdown passes in a season is ho-hum? Peyton Manning broke the single-season record for touchdown passes Sunday with four to get to 51, but it was almost an afterthought. That's how gaudy the passing numbers have gotten in this league. Manning threw four against the Texans to break Tom Brady's record of 50. The Broncos rolled up 511 yards of offense and 400 passing to blow out the Texans and win the AFC West. Manning will be the MVP -- and this season is more proof of why he is one of the greats of all-time, if not the best.
• I still think Dan Marino's 48 TD passes in 1984 is the most impressive season. Rules changes and the way the game is played now make it so. Even Manning mentioned that.
• The Cincinnati Bengals sure are a different team at home. In the past four games, they've averaged more than over 40 points. They are 7-0 at home and will have a home playoff game by winning the AFC North. Quarterback Andy Dalton threw four touchdown passes against the Vikings on Sunday. In his past four games at home, he has thrown 15 touchdown passes. The Bengals play more up-tempo at home, which is something they need to do going forward. For the season, Dalton has 31 touchdown passes.
• The Chiefs are 1-3 against teams that would be in the playoffs after the Colts dominated them at home. The Chiefs turned it over four times, something they usually don't do. They are 11-5, but don't you get the idea that they aren't nearly as good as that record? I've been saying that for most of this season.
• I though that was a cool thing the Jaguars did by throwing a screen pass to center Brad Meester. He is retiring after 14 seasons, and that meant Sunday was his final home game. So coach Gus Bradley put in a special play to allow Meester to catch the pass and the crowd went wild. Bradley only had Meester this season, but it speaks volumes about him as a coach to do that. That's why the Jaguars have played hard in the second half after their 0-8 start.
• Steelers coach Mike Tomlin got away with one against the Packers. He should have taken a knee on second down and then tried to score on third down and then kick. Why score on second down? That left too much time on the clock. Bleed the clock. The only way Green Bay can win is if they have time on the clock. It was second-and-goal from the 1 and the Packers had no timeouts. They let the Steelers score. But if Tomlin takes a knee, then tries to score on third down, the Packers have little time left. Or they could have opted for two knees and field goal. Either way, it was better than the way it turned out. The Steelers scored with 1:28 left on a Le'Veon Bell run to make the score 38-31. But Green Bay came back down the field and had a chance to tie, and after an incomplete pass as the clock went to zeros, the Steelers held on. The Packers did a poor job as well when they had a chance to tie the score. They had a first-and-goal at the 5 with 43 seconds left and ran once for 4 yards. A false start ran the clock down, moved them back 5 yards, and they lost when Matt Flynn's final pass went incomplete. It was a how-not-to on situational coaching at the end of that one.
• I doubt he will return to the Jets, but Rex Ryan has done a nice coaching job this season. There is not a lot of talent on that roster and they could end up 8-8. Ryan will coach again if he's not brought back. Houston?
• Is there any doubt Nick Foles is the guy in Philadelphia for the long run?
• If I were an owner looking for a coach, I would hire Penn State coach Bill O'Brien. I think he has what it takes to be a successful NFL coach. And he has worked under Bill Belichick and used to get into barking matches with Tom Brady. That tells you he's confident in his own skin. I like that.
And this is why Tyrod Taylor is now the Bills' starting quarterback again

Here are the picks and props you need to be a winner while watching all the football you can...

Freeney, 37, was impressive in Seattle before getting surprisingly released
The 49ers have a realistic shot at home against a Seahawks club dealing with a myriad of i...

R.J. White has his finger on the pulse of the Packers and made a strong play for 'Sunday Night...