Monday Musings: DeSean no saint, but he deserves better from Eagles
Chip Kelly isn't saying why he cut DeSean Jackson, and there are worthy reasons, but letting allegations linger about Jackson's rumored ties to gangs is plain wrong.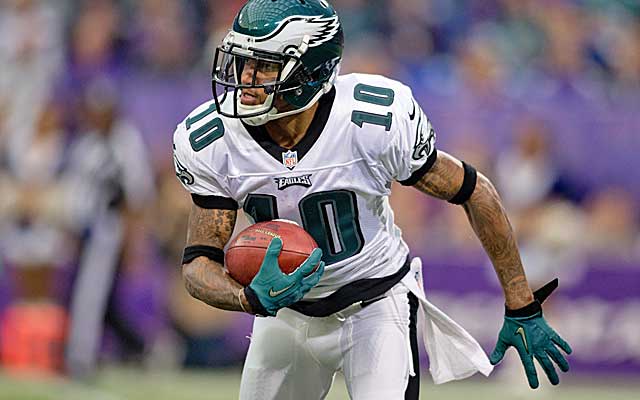 More NFL offseason: Mock Drafts | Prospect Rankings | Pro Days | Top free agents
Two words NFL current players never want the public to hear linked to their name: Bullying and gangs.
We've had both in the past six months, and the players linked to each have taken a beating in the court of public opinion.
By now, we know most of what transpired in "Bully-gate" in the Miami Dolphins' locker room and the name Richie Incognito is basically mud in the eyes of most. But recently, gang talk has taken on a life of its own with the release of Philadelphia Eagles receiver DeSean Jackson.
Only hours before his release, a newspaper story alleged his involvement with gang members could have played a role in his losing favor inside the organization. That's some strong stuff, and it was met with a lot of outrage from players around the league on Twitter.
"They assassinated his character," one player said to me.
Nobody is saying Jackson is a perfect teammate or player. He reportedly has issues being on time and his commitment to football has been questioned. But his release seems far more about coach Chip Kelly's dislike for Jackson, rather some reported gang issues.
It's true Jackson has a huge salary cap number, but there is no denying he was the Eagles' best receiver -- by far. He was their big-play threat. It's why he will get signed and play a big role for a new team (maybe the Redskins, who he will visit first). But if Kelly doesn't want Jackson's ways in the locker room, I get it. It's on him to allow a talent like that to walk, but ultimately the coach has a decision to make about chemistry.
Hints have come out that the Eagles players were glad Jackson's gone. If they are, it has nothing to do with his off-field associations. Players don't give a crap about who a guy hangs out with as long as he shows up to work and works hard when he's there. Players want to win, and most hate laziness.
As for the gang associations, a lot of players grew up with guys who are in gangs. They were friends with them. Just because you go different directions doesn't mean when you see them you aren't friendly.
"If you're from the neighborhood, you're some way affiliated," one player told me.
I've heard many stories from players who say gang members helped get them to where they are now. They saw talent, made sure they didn't go down the wrong path, and kept them focused on football. If they needed something, like say a pair of cleats the family couldn't afford, they got it for them.
If you want to call that gang association, so be it. I call it survival. I remember a story from a few years back that a defensive back refused to wear the red helmet cover that some teams use in practice to separate units on special teams. Why? He wasn't wearing red because it was a gang color.
But that doesn't mean that player was in the gang. It meant he respected friends of his who were.
Jackson's supposed gang symbols were probably no different. He probably told the guys he would flash something to them during the game, perhaps giving them a big adrenaline rush as they sat and watched, but it's too simple to say that act means he's a member.
Does Jackson probably know some gang members? You bet. We know it's a safe bet many NFL players have known or associated at times with known gang members.
So it's unfair to Jackson to have the Eagles so silent on the matter as his reputation takes a beating. Say something, Chip Kelly. Speak up.
If you don't like guys who don't work, then say it. If you don't like the cap value, then say it. Jackson might not be a saint, but the court of public opinion is killing him without all the evidence.
Extra points
• I got the sense, almost to a man, the league's coaches want an extra playoff team in each conference added, which is almost a certainty in 2015. That makes sense. Making the playoffs, even as the seventh seed, goes a long way toward helping job security. "I think it would be a positive for our game," Packers coach Mike McCarthy said. "I think if you look at the history of the later seeds, they've been successful. If you look at the productivity in the NFL from the best team in the league to the last team in the league from a productivity standpoint, there's only a 16 percent difference. Parity's been evident in our game for a long time. I think giving another team an opportunity.
"I'm for it. I think it's the right thing to do."
• Why didn't the Colts sign a big-name center? They like 2013 draft pick Khaled Holmes. What if they signed a guy to a decent deal and Holmes beat him out? Now they can let Phil Costa, who got a small deal, battle with Holmes to see who starts.
• I hate to say I told you so, but I told you so about running backs in the NFL. The position has been de-valued. That's why the contracts were so small for all the backs in the league this year during free agency. Can you blame the teams? Backs don't win titles. They are role players now. That's why a back like Knowshon Moreno, who was coming off his best season with the Broncos, got only a one-year deal from Miami. He is good in pass protection, so he should help in the passing game. As for runners, draft them, beat them up and move on.
• Speaking of backs, Maurice Jones-Drew got what sounds like a decent deal and a decent chance to play in Oakland. If he's in shape, Jones-Drew will help give Oakland a nice 1-2 punch with Darren McFadden. I wouldn't sign a player like Jones-Drew at his age, but the Raiders needed a back. What I didn't understand was Jones-Drew taking shots at the Jaguars on the way out the door. It easily could have been the other way around. He was out of shape last season and his weight got up to 235 pounds. By the end of the season, he wasn't even weighing in for the team. He was slow to the hole, and they actually had a better running game when he wasn't in there. Jones-Drew one day will go up in the team's Ring of Honor (Pride of the Jaguars). And he should. He was a great player for the organization. He is also revered in the city. So why take the shot? Weird.
• Without Jones-Drew, the Jaguars don't have one player a fan in Des Moines might know. That's sad. Who is the face of the franchise?
• Mark Sanchez and Matt Barkley together in Philadelphia. Oh, boy. I still think Sanchez will start again someday. One can only imagine what he'd do in a good offense with actual playmakers.
• The Patriots did the smart thing bringing back nose tackle Vince Wilfork and starting center Ryan Wendell. Now they are strong again up the middle. Wilfork took a pay cut after missing most of last season because of a torn Achilles' tendon. But he can still be a good player inside, especially against the run.
• The Texans had big-time safety problems last season -- see Ed Reed -- so they had to upgrade and I think they will get a good one in Chris Clemons, who they signed as a free agent. He played well for Miami last season. They also added Kendrick Lewis from the Chiefs, although he struggled last season. One of those two will help upgrade the back end.
• Spending the past few days watching Johnny Manziel on tape, I became enamored with his tackles. We know that Jake Matthews will be a high first-round pick this year, but right tackle Cedric Ogbuehi might be even better. He is a force. In fact, Texas A&M might have the best tackle tandem on any level. I mean it.
• I talked to Tom Coughlin at last week's owners meetings about how long he wanted to coach. He said he felt great and had no plans to retire. Coughlin works out every day and looks great for his age of 67. I can see him making it another three years or so, maybe retiring when he's 70.
Hurney was originally with the club from 1998-2012

The former Chicago Bears wideout reportedly endured the tear all the way through the Super...

Denver's search for its next franchise quarterback continues this offseason
Penn Medicine's Dr. John Kelly thinks Wentz's late-season ACL tear is an "RG3 equivalent"

Landry set career highs in receptions and TDs but only averaged 8.8 yards per catch

One of the Steelers most dynamic players suffered a serious spinal injury in early Decembe...