Monday Musings: Divisonals? Meh; bring on championship Sunday
We have four power teams left fighting to get to the Super Bowl, which is what many expected.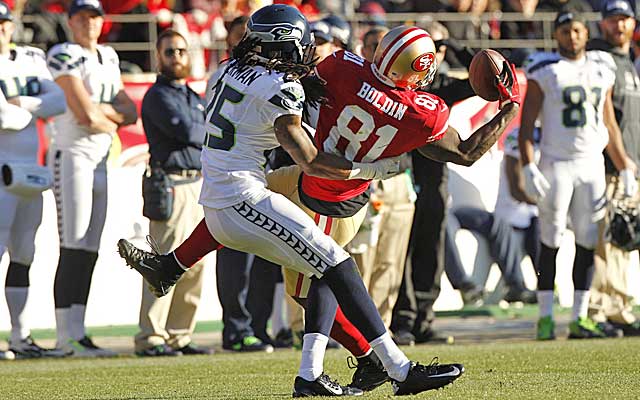 Kirwan: Ground games step up | La Canfora: Playoff chameleons | Playoff Bracket
All those wacky predictions -- including some idiot picking the Bengals to win it all -- and we're left with New England-Denver in the AFC Championship Game and San Francisco-Seattle in the NFC.
Who knew?
That's just it: Many knew. I wasn't one of them. The four so-called power teams in the NFL will play next week for a chance to go to the Super Bowl in New Jersey (not New York).
I can't wait.
We have Tom Brady vs. Peyton Manning .
We have Russell Wilson vs. Colin Kaepernick .
We have the battle of the egos: Jim Harbaugh vs. Pete Carroll.
We have the yappers: Richard Sherman and Anquan Boldin .
We have legacies under watch.
We have stars being born.
I love it.
But because we got to this, the weekend I consider the best in sports was one big dud. Except for a few tense moments in each game, the outcomes never really seemed in doubt in the Divisional Round.
There were no shocks. There were no 6 seeds moving on. There was little drama.
But that might be the tradeoff to get what we have next week on Championship Game Sunday.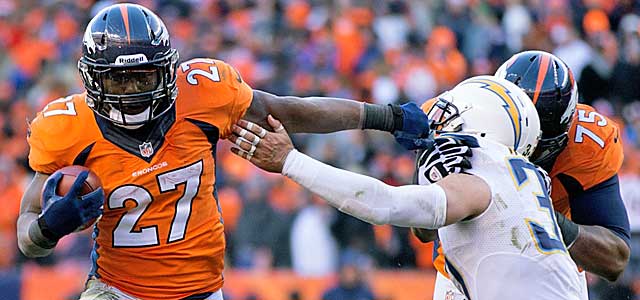 • That didn't take long.
One playoff weekend where the running game and defense powered the four teams that won and we're already talking about how this isn't a passing league anymore.
Are you kidding?
So the New England Patriots , who ran wild to beat the Colts on Saturday night, are a running team now? Maybe they were for a game, and they've had success on the ground lately, but make no mistake about it: They will go only as far as Brady takes them.
PS: He makes it easier to run because he's a passing threat.
The same goes for the Denver Broncos . Manning only threw for 230 yards and two scores in Denver's 24-17 victory over the San Diego Chargers on Sunday, and they did run it and play good defense, but they ran it because of Manning and his receivers. Those two will meet in the AFC Championship Game next week in Denver. You can bet their right arms will decide it.
The San Francisco 49ers and Seattle Seahawks are run-first teams, but they are that way because they have young quarterbacks and damn good offensive lines to go with great defenses.
So before you start jumping on the running attack is the way to go after three of the four teams won throwing for fewer than 200 yards, consider that the past five Super Bowl-winners averaged ranking 20th in the league in rushing. The only one of those ranked in the top-10 in rushing was the 2009 Saints, and they were also first in passing.
Yes, the running game was impressive this weekend. But let's slow the roll. This, despite what you might think, is still a passing league.
Just watch. I bet the two best right arms this weekend will be the teams that win it.
• Manning-Brady. Does it get any better than that? And let's not forget the last time they played in a title game, it wasn't Manning who threw the late-game pick.
• I have to admit that I didn't think the Seattle-San Francisco preseason love was warranted. I wasn't sure either team threw the ball well enough -- and still don't. But I have to say how impressed I am with the way they both have advanced to the title game. They are nasty teams. Get the hot tubs and massages ready for after that one next week.
• Why would the 49ers fake a punt up 13 with 23 seconds left and the game over? That's just classless. I don't care if there wasn't another player on the field, you don't fake it. I know the gunner wasn't covered, but really?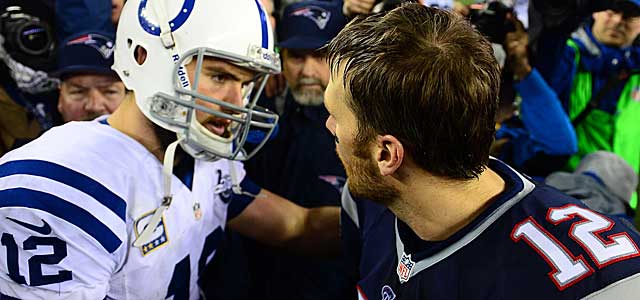 • After throwing seven picks in the playoffs, winning once and losing Saturday, the trendy thing to say is that Andrew Luck isn't that good. What? He plays on a bad team that would have won seven games without him. He was trailing in a big way when throwing six of his seven interceptions in the playoffs. That happens. He presses because he knows he has to do too much. Luck is still the class of the younger quarterbacks. Put him in Seattle and they are a lock to win it all. The Colts just need more around him.
• I still can't believe what I saw in Seattle on Saturday from the Saints. Why would they go there and decide to become a team they are not, which is a run-first team. I know they had success running it some, but they showed in the second half that they could throw on Seattle. They let the Seahawks dictate to them. It was not a good day for Sean Payton. And how can a team with Payton coaching and Drew Brees quarterbacking get a delay-of-game penalty in a key situation late in the fourth quarter after the big catch by Robert Meachem . That should never happen, and then they had to use a timeout to beat the clock again two plays later. How can they let that happen? Maybe they should have spent less time painting logos and more time on situational coaching.
• When Marshawn Lynch scored with just over two minutes to make it 22-7 for the Seahawks, he should have gone down. The only chance the Saints had to win the game was if he scored. They had no timeouts left. As it played out, it almost happened too when the Saints scored to make the score 22-15 and then got the onside kick, they had a chance. When will these teams learn and teach situational stuff to their players?
• If the Seahawks are to beat the 49ers, they need more out of Russell Wilson. He has been ordinary the past five games. He threw for 107 yards against the Saints, and looked out of sorts. He missed a wide-open receiver in the middle of the field for a sure touchdown and instead took off and ran, even though he took a peek at the receiver before he took off. He is better than that.
• I was wrong about Anquan Boldin and the 49ers. The guy is a gamer -- even if he can't run that well. I still don't see him as a No. 1 receiver, but he's a great guy to have on the roster. He's tough. He's physical and he competes. There's a lot to like.
• I like having fun on the field. Colin Kaepernick doing the Superman imitation after he scored to mock Cam Newton is just fun. That's it.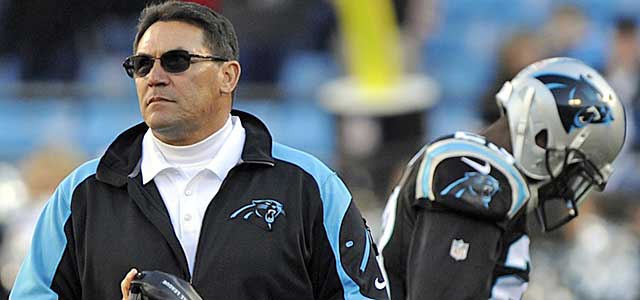 • The Panthers looked liked they were a little out of control with all their penalties. Is that first-time playoff jitters? It's one thing to want to be physical against a team, but you can't be stupid. The Panthers crossed the line.
• Why did the Chargers think their running attack was going to be the way to beat the Broncos? Yes, they ran it last time. But they were way too conservative this time.
• Where was Antonio Gates on Sunday?
• Or Jimmy Graham on Saturday?
• If Denver corner Chris Harris is down this week, it will be a big hit to the Broncos. He is one of their best defenders. When he went down, San Diego lit up the secondary. Quentin Jammer wasn't very good. The Broncos should play rookie Kayvon Webster .
• When the Patriots took Jamie Collins in the second round last year, a lot of people snickered. I thought it was a great pick, an athletic former quarterback now big enough to play linebacker. He showed off that talent against the Colts when he was all over the field. He has stardom written all over him.
If Ezekiel Elliott gets suspended, it likely won't come until Week 5 at the earliest

The NFL is apparently concerned that the Chargers might not be viable in Los Angeles

Everything you need to know for Week 3 of the 2017 NFL season is here
You can find every official injury designation for each NFL team shortly after its Friday report...

The Bengals are the only NFL team Aaron Rodgers has played against without earning a win

The Raiders are heading across the country for a showdown with the Redskins