Monday Musings: Exposing 2013 myths, ferreting out some for 2014
Myth-busting time. Think the Seahawks and Niners ran with ease? Think again. And Kaepernick's deal looks good to Luck, Wilson and Cam -- until they see its structure.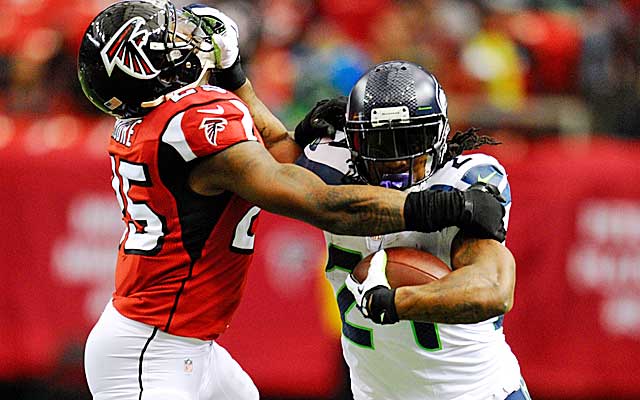 More NFL offseason: League minicamp dates | Latest news, notes
I love this time of the year in the NFL, when it gives us all a chance to look back on the 2013 data and look ahead to 2014.
One of the things I did recently was to look at some of the things that many perceive to be true from the 2013 NFL season that simply are not true. I call them the myths of the 2013 season.
Beast mode: You would think Seattle running back Marshawn Lynch ran wild in 2013 the way people jumped on the "Beast Mode" bandwagon. Reality: His numbers were down and his 4.2 per-carry average was far from being among the NFL's best. It was also significantly lower than the 5.0 he averaged in 2012. I know Seattle's line was down some, but you would think he was Jim Brown last season the way some in the media talked. One more thing to note about his game is that he had 39 yards rushing for a 2.2 average in the Super Bowl victory over Denver. Beast Mode, right?
The 49ers and Seahawks pounded the rock to success: The league per-carry average was 4.2 in 2013. The San Francisco 49ers averaged 4.4 per rush and the Seattle Seahawks averaged 4.3. But take away runs by Colin Kaepernick , whether scrambling or keeping it, and the 49ers averaged 4.06 per carry. Take away Russell Wilson 's runs in Seattle, and the Seahawks averaged 4.0 per rush. So let's hold off on the idea that those two NFC West teams lined up and ran it at defenses with ease. If power football is good for slightly more than 4 yards per carry, I'll pass. Those teams win with defense.
Power running is better than spread-it-out running: Who led the NFL in rushing last season? The Philadelphia Eagles in Chip Kelly's first season. The Eagles averaged 7.1 per rush with four receivers and 5.1 per rush with three. Of their total rushing yards -- 2,566 yards -- 1,844 of it came with either three or four receivers on the field. That's air running, which I believe is the way to go. Spread a team out, create cracks and creases, and let a player like LeSean McCoy feast on the ability to make one man miss for big gains. McCoy led the NFL in rushing last year, but even more impressive is that he averaged nearly a yard per carry more than a back from a power-run team in Lynch. They did get rushing yards from Mike Vick when he played, but when Nick Foles played they cut down on those numbers and still ran the ball well.
Atlanta quarterback Matt Ryan was bad in 2013: The Atlanta Falcons insist that Ryan was significantly better in 2013 than he was in was in 2012 when the Falcons went 13-3 and came within 10 yards of going to the Super Bowl. Ryan threw for 4,343 yards last season, but he completed 67.4 percent of his passes, second-best of his career to the 68.6 percent he completed in 2012. His 2013 number was better than all but three other starters last season -- Philip Rivers , Peyton Manning and Drew Brees . And Ryan did it behind a bad offensive line, without No. 1 receiver Julio Jones for most of the season and Roddy White banged up.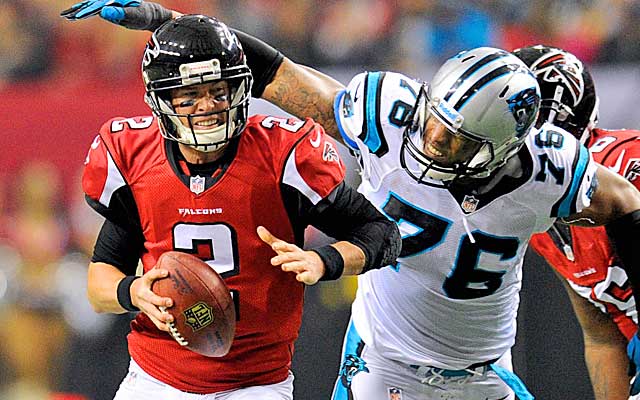 Tony Romo chokes: That's a narrative that is played out way too much, and in 2013 Romo showed he could get it done in the fourth quarter. Of the quarterbacks who had 100 or more fourth-quarter throws, only Peyton Manning had a better passer rating than Romo, 112.7 to 105.6. Manning, with 14 fourth-quarter touchdown passes, was the only one with more touchdown passes in the quarter than Romo's 10. In the past two seasons, Romo has nine winning drives and seven fourth-quarter comebacks. Tom Brady has seven winning drives and six fourth-quarter comebacks. Manning has five of each and Drew Brees has five winning drives and four fourth-quarter comebacks. Those players are on better teams than Romo, so they have fewer chances, but let's quit the narrative that Romo can't get it done in the fourth quarter.
Wes Welker is sure-handed: With 10 drops each, Wes Welker and Jacksonville's Cecil Shorts were second to Brandon Marshall , who had 11. Welker has 20 drops the past two seasons, which isn't a number you would expect from a supposed sure-handed receiver. He's also slowing down. Could this be his last season in Denver?
The Chiefs were dominant on defense: Yes, they had a bunch of injuries on defense that really showed up in their playoff loss to the Indianapolis Colts . But their defense had issues all season long, even before the injuries. Yet as they raced to the 9-0 start, there was talk that the defense was elite. It was far from it. The Kansas City Chiefs finished the season ranked 24th in total defense, 21st in yards per play, 22nd in rushing defense and 25th against the pass. They were good on third down and finished tied for fourth in scoring defense, but it was far from a dominant unit.
So as you ready for the 2014 season, just remember not everything is what it's perceived to be. Here are myths, myths and more myths.
• Now that the actual numbers for the Colin Kaepernick deal are out, I have to say the 49ers did a decent job of protecting themselves if Kaepernick isn't the starter some think he is. To me, it's still risky. "Why not let him play for $1 million (his number under previous contract) and then franchise him if he plays well?" a general manager asked. Good question. Even though the deal has some safeguards for the 49ers, why rush? Shouldn't they have waited to see if he grows as a pocket passer? It's not as bad a deal for them as the reported numbers initially made it look, but it's still risky in my book.
•  Andrew Luck , Russell Wilson and Cam Newton all have to love Kaepernick's new deal. They can't be happy with the way it was structured. Wilson does have a Super Bowl ring to help his negotiations.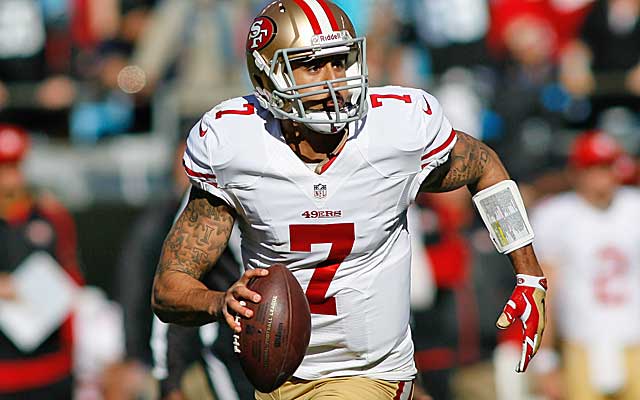 • Suspending an owner, which is expected to come down for Colts owner Jimmy Irsay after his recent arrest for DUI, is foolish. What does it mean? That he can't be around the facility or attend games? Big deal. A huge fine would be a better option. It's not like suspending a player; he can't get paid when he's suspended. Irsay would still make his money.
• Should the NFL Draft move out of New York City? I think it will be weird to have it in a city other than New York. If you have it in a city like Nashville, won't all the fans be Tennessee Titans fans? That's what's nice about the draft in New York. You get fans from every team. I am not sure that would be the case if it were held in other cities. And what other city would boo Roger Goodell every time he took the stage? Isn't that fun to see?
• Is there any offense in the league that doesn't feature players talking about how much faster they are playing this summer than last season? Every team has players who seem to be saying it. And on defense, it's all about being more aggressive. It's all just talk.
• Along those lines: Are any players not ahead of schedule in terms of rehab from an injury? Anybody?
• The media scrutiny of the Johnny Manziel partying stuff is out of control. He can do what he wants when he wants on his own time, as long as he's putting in the work and staying out of trouble with the law. What if a player was on some retreat for four days and didn't bring his playbook? Is that OK? Come on. It's over the top.
• So Jim Harbaugh wants to be paid like a coach who has won a Super Bowl? Well, go win one. He's had a heck of a start to his career with the 49ers, but he still has zero rings. That's all that matters. I can understand the 49ers being reluctant to pay him that way.
• I recently had a chat with a league cap guy about the way deals get done so easily now with the new CBA. I asked him why players even have agents. He agreed, saying it would be easy to do a deal with a contract lawyer who would be paid hourly. The problem is some of these players sign with agents, take up-front money, and then are bound to the agents. If I were a player, I would not have an agent for my first deal. The second one would be a bidding war.
• Some might find it surprising the St. Louis Rams will play Greg Robinson at guard. But when I was in St. Louis, one of the things general manager Les Snead said was he wanted to be able to run inside better. That meant getting guards who get push and get out on linebackers. It is a division with fast, athletic linebackers, although the yearlong suspension of Daryl Washington in Arizona changes that some.
• I love the way the Arizona Cardinals handled the Washington suspension. General manager Steve Keim publicly chided Washington for not thinking about his teammates. Most GMs don't do that. That's what's nice about Keim. He doesn't sugar-coat it.
• To those who say Tom Brady isn't a top-five quarterback, who is then? It's Peyton Manning, Aaron Rodgers , Drew Brees and then Brady. It's absurd to think otherwise, no matter what the data-heads say.
Welcome to the NFL's version of a dress rehearsal

It sure sounds like the players are planning for a work stoppage when the latest CBA expir...

One of the league's best players is still looking for a new long-term contract
'It's completely different,' Wentz says about entering his second season with the Eagles

Tavon Austin, Matt Kalil and Joe Flacco headline our list of the NFL's most player-friendly...

Richardson has played for four NFL teams, and hasn't appeared in an NFL game since 2014