Monday Musings: Get yourself an 'air' back, a guy who gets missed tackles -- like Spiller, Bush
Monday Musings: Air backs are the right fit.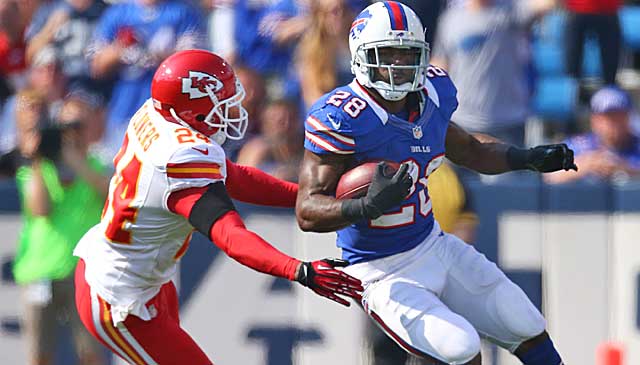 Buffalo's C.J. Spiller can make tacklers miss, or grab some 'air.' (Getty Images)
• I am a big believer that the prototypical backs for the current game are "air" backs, the fast, explosive backs that can make a tackler miss and turn it into a big play. They are not grinders. Two backs from Sunday are perfect examples of that: C.J. Spiller from the Bills and Reggie Bush from the Dolphins. They both had big games, leading their teams to victory. Spiller ran 123 yards on 15 carries and scored two touchdowns as the Bills routed the Chiefs. He also caught three passes for 47 yards. Bush ran for 172 yards on 26 carries and two scores and also caught three passes for 25 yards. In two games, Spiller has rushed for 292 yards on 29 attempts, an astounding 10.1 yards per carry. He's the first player to average 10 yards per attempt (minimum 25 attempts) in the first two games since Jim Brown in 1963. It's an air game. Air backs are the way to go.
NFL Week 2 in review
Analysis

---

---

Related content
• I have to admit that there were a couple of games where the replacement officials struggled. But there were more games where they didn't. Here's the sticking point with the league and the locked-out officials: Performance. They want crew of backup officials on the sidelines waiting to replace officials doing a bad job. Doesn't that make sense? "We hold players accountable for performance, why not officials?" one high-ranking league official said. "Are they above being evaluated?" As for the official/fan who was removed from the Saints-Panthers game, the league did the right job. The problem came from not vetting him well enough. But I will say this: The regular officials have been fans of teams at some point in their lives before becoming NFL officials. One more thing: Let's hope this relentless criticism continues when the real refs come back. The media has gone overboard to make these replacements look bad. I had one coach tell me he sent a bunch of bad plays from a game to the league and he got little feedback. 
• I wonder how the Bills feel about Mario Williams not having a sack in two games? Williams isn't even the leading sacker named Williams on his own team. Defensive tackle Kyle Williams had two sacks Sunday against the Chiefs. It's time the $100 Million Man got it going.
• The Jacksonville Jaguars have four offensive linemen on injured reserve and two more sat out Sunday's debacle against the Texans because of injuries. The team is so desperate for offensive line help that they started Herb Taylor, who they signed last week, against the Texans. They started him at guard, even though he is really a tackle. He clearly had trouble with some of the line calls as the Texans dominated up front. It's no wonder they had 117 yards of offense.
• The Cardinals have a star inside linebacker in Daryl <span data-shortcode=" data-canon="Daryl Washington" data-type="SPORTS_OBJECT_PLAYER" id="shortcode0">. He had 12 tackles against Patriots. Arizona has the makings of a special defense. And he's one of the bright, young stars.
• If Joe Flacco really wants to be considered among the top of the league's quarterbacks, doesn't he have to drive the Ravens to a field goal to beat the Eagles in the final two minutes? 
• Baltimore's Anquan Boldon had two catches for seven yards against the Eagles. He just doesn't scare anybody. 
• Nice job by Brandon Weeden bouncing back against the Bengals with a nice game. After a bad first game, he did some really nice things. 
• There were a lot of people who buried Sam Bradford after his disappointing second season. But in his first two games he's done a lot of prove them wrong. He was very good against the Redskins on Sunday, throwing for 310 yards and three touchdowns. Bradford could be the division's best quarterback.
• So much for the Giants getting back to running it more. Eli Manning threw for 510 yards against the Bucs and both Hakeem Nicks and Victor Cruz had huge days. The Giants have to play to their strong suit, the passing game. Even when Manning is off with three picks, he's good enough to overcome it. Nicks had 10 catches for 199 yards and two scores, while Cruz had 11 for 179 yards -- including an 80-yard touchdown.
• Can we slow down on the Kevin Ogletree phenomenon now? He had one catch for 26 yards against Seattle. He's a No. 3 receiver. That's all.
• Greg Schiano should be ashamed for what he made his defensive linemen do in the final seconds against the Giants. That's bush. Legal, but bush. He was an NFL assistant, so he knows the protocol. What goes around comes around. What is it with these college coaches who come to the NFL and their arrogance? 
• People will blame Steve Spagnuolo for the Saints' defensive struggles. Blame the front office. How does a team that is so pass-heavy decide to use a first-round pick on Mark Ingram two years ago? That should have been a defensive player. I said it then and I will say it now. Bad move. Ingram averaged 3.3 per rush Sunday agaisnt the Panthers. Oh, boy.
• Jared Allen was without a sack for the second consecutive week. That has to concern the Vikings.
• I just don't see a lot of separation from Jaguars rookie receiver Justin Blackmon. Maybe he's thinking too much. But he doesn't seem to get open much.
• How many fantasy fans wish they hadn't drafted Chris Johnson and Darren McFadden so high? And the weird thing is, they are "air" backs, which speaks to the play of their offensive lines right now.
• If the Bills are going to play more games in Toronto, they better hope that stadium is upgraded. It sure seems outdated to me.
• Have to give it Alex Smith. He's playing well. Good kid. Just not sure he had this in him. We will see over the long haul. 
Riveron, who replaced Dean Blandino in 2017, has the support of NFL commissioner Roger Goo...

Between the Birds, Villanova hoops, the resurgent Flyers and restocked 76ers, there's lots...

Andy Dalton, Chris Long, and Von Miller round out the field of finalists
Senior Bowl weigh-ins may seem insignificant, but they hold importance during the pre-draft...

Matt Hasselbeck is also a candidate to take over for Jon Gruden

Jacksonville took enormous strides in 2017, but there's a major decision to be made about its...