Monday Musings: I was wrong about Seahawks' rookie QB Russell Wilson
I didn't think a quarterback under 6 feet tall could be a successful NFL passer. I do now.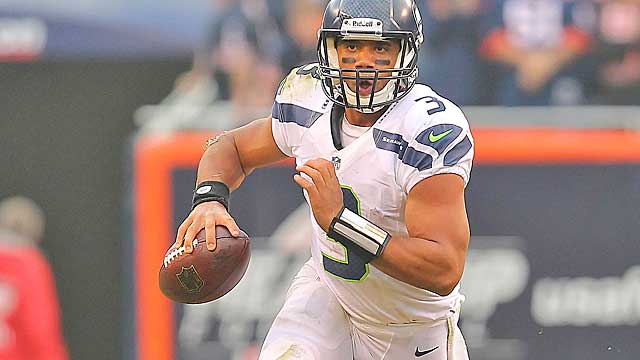 What Russell Wilson lacks in height, he makes up for with ability. (US Presswire)
• I was wrong about Seattle quarterback Russell Wilson. The kid is damn good. I wasn't sure if a 5-foot-11 quarterback could be successful in the NFL. And when he won only one game on the road in his first five, I still wasn't sure. But his play against the Bears on Sunday convinced me that this kid could be a heck of a quarterback.  His last drive in the fourth quarter for the go-ahead score was impressive, but his game-winning drive in overtime topped it. He won the game by throwing a touchdown pass to Sidney Rice, but he made some other really impressive throws -- including one on the run on third-and-12. Wilson's ability to get away from pressure and throw on the move was remarkable. He threw for 293 yards and ran for 71 against the Bears. Wilson has nine touchdown passes and no interceptions in the last four games. 
• I said it last week, and I will say it again: Colin Kaepernick isn't taking shots down the field. If he doesn't do that, the 49ers have no chance to get to the Super Bowl. The 49ers scored 10 points in their loss to the Rams. Don't tell me the quarterback position isn't a part of the problem. I'm not saying Alex Smith is the greatest passer in the world, but he was doing well before he got hurt. Kaepernick has been just OK. And the gimmick fumble on the read option is essentially the play that cost the 49ers the game. It was a horrible call by the staff, and bad execution by him. The move to make him the starter is one that will hang over this team's head all season. Anything less than an appearance in the Super Bowl and coach Jim Harbaugh will face the heat for making this move.
• It might be time to slow down the talk that Chad Henne is the long-term answer in Jacksonville. He looked good in his first two starts, but not against the Bills. He was just a guy. He did have some drops, though. 
• Vikings quarterback Christian Ponder isn't playing well. And that's being nice. He just seems to lack confidence. He makes too many mistakes. He won't take shots down the field and he isn't moving the team.  Ponder completed 12 of 25 passes for 119 yards with one touchdown and two interceptions, one in the end zone. It was a horrible throw across his body. Could the Vikings be considering going to Joe Webb?
More on NFL
Columns

---

Related links
More NFL coverage
• You have to give Lions defensive tackle Ndamukong Suh credit. He hasn't played great all season, but he was very good against the Colts. He spent the day in the backfield. He had four tackles for loss and a sack. 
• If I didn't see it with my own eyes, I would never imagine Drew Brees having a day like he did against the Falcons last Thursday. He was picked off five times and never looked to be in a groove. He was jumpy and forced passes and made bad reads. There is no doubt the Saints miss Sean Payton.
• The Bengals have 39 sacks, the most in the NFL. They have six games with four or more sacks. This is a pass-rusher league now, which might be what helps get the Bengals into the playoffs. Carlos Dunlap had two sacks against the Chargers, including one late in the game that forced a fumble.
• What got into Brady Quinn? He looked like a competent NFL passer against the Panthers.  He was 19-for-23 for 201 yards and two scores. 
• Adrian Peterson ran for 210 yards against the Packers. His 82-yard touchdown run was special. And it all went to waste. It's still amazing that it's been less than a year since he tore up his knee. What a player.
• The Falcons are pretty close to clinching the No. 1 seed in the NFC. With four games left, they lead San Francisco, their closest pursuer, by 2 1/2 games. It was a good weekend for the Falcons. They won and Chicago and San Francisco both lost. 
• The worst move Jerry Jones made in the past couple of years was paying tackle Doug Free big money. He is horrible. The starting right tackle has become a turnstile.
• Rams rookie receiver Chris Givens is turning into a nice player. He had 11 catches against the 49ers. 
• The Ryan Lindley experiment should be over in Arizona. He isn't very good right now.
• The Jets should start Greg McElroy at quarterback. Why not?
• The Rams could not block 49ers defensive end Justin Smith. He had eight tackles, three for loss and one sack. He is a beast. 
• I love the passing game more than most, but don't you think the Ravens needed to run the ball more with Ray Rice against the Steelers. Rice ran it just 12 times. Come on, Cam Cameron.
• The game once again brings into question Joe Flacco as a big-game passer. He was 16 of 34 for 188 yards, one pick and big fumble late that led to the tying touchdown.
• So John Harbaugh has his own handshake issue now with Mike Tomlin? What is it with these guys? Tomlin gave Harbaugh the limp handshake after Sunday's game. I will say this, and I was there: The Ravens acted like they won a Super Bowl when they beat the Steelers in Pittsburgh three weeks ago. 
• Yeah, Andy Reid. Firing Jim Washburn will fix everything.
• All this time. All this money. All this effort. Does anybody care about "Bountygate" anymore? Aside from Jonathan Vilma trying to save his name, what's it matter? That's like a book that came out about last season. It's old news. 
• Bryce Brown. More proof you can find backs anywhere. Never pay them. Or over-draft them.
Pick Six Newsletter
Get the day's big stories + fun stuff you love like mock drafts, picks and power rankings.
Please check the opt-in box to acknowledge that you would like to subscribe.
Thanks for signing up!
Keep an eye on your inbox for the latest sports news.
Sorry!
There was an error processing your subscription.
Find out when your favorite team will be kicking off training camp this year

Eric Decker would really like the Patriots to give him a call

The Buccaneers quarterback has been under investigation for more than seven months
The former Browns first-round pick didn't see the field in the Hamilton Tiger-Cats' season...

The odds are out for first coach fired and Pro Football Weekly's Eric Edholm joins Will Brinson...

The former Bills star was first diagnosed with cancer in 2013