Monday Musings: Is change coming in Jacksonville?
The Jaguars are 1-4 and could easily be 0-5. Does that spell trouble for general manager Gene Smith?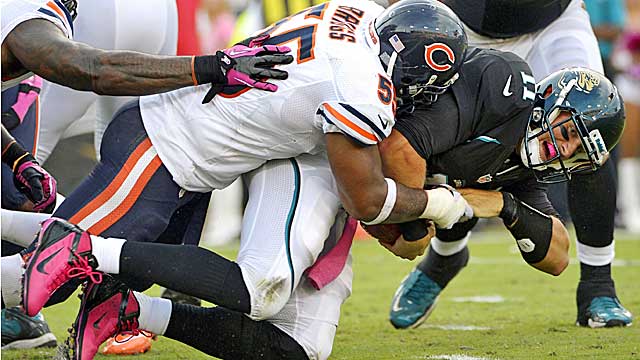 If Blaine Gabbert doesn't improve, GM Gene Smith could be out of a job. (AP)
I expect changes in Jacksonville Jaguars after the season. Big ones. The Jaguars have been a disaster, and only a miracle 80-yard touchdown pass against the Indianapolis Colts has let them avoid the 0-5 start.  New owner Shad Khan wouldn't seem to be a patient man. He inherited general manager Gene Smith -- and a three-year deal -- so you know he won't be reluctant to make a change if that's what he thinks needs to be done.
He said he would "stay the course" Sunday. What about after the season? I have been a backer of Smith for a long time and still think he's a good football man, but the proof is in the pudding. The talent level isn't there. Then there's the Moneyball approach that Khan's son -- Tony -- and his minions are instilling inside the building.
Tony Khan, who is an energetic, likable guy, is the team's senior vice president for football technology and analytics. He is good at breaking down numbers and placing a value on players. That wouldn't seem to mesh at all with Smith's style, which is to watch the tape and go from there.
Quarterback Blaine Gabbert hasn't taken the strides the team needs. Gabbert was Smith's guy. If Gabbert doesn't improve, I can't imagine the Jaguars not firing Smith. He is tied to that pick. The coaching staff would also be in trouble if a change were to be made. One name to possibly watch: Bill Polian. The czar in control wouldn't seem to be the Khan way, but Polian has a great track record, even if he is sometimes a hothead. When the Jaguars hired Mike Mularkey as coach, the idea was the offense would be more innovative and creative. So far, it has been the same old stuff and the Jaguars are last in the league in scoring. At some point, the mentality has to change. If the losing continues, it will.
Other musings:
I never thought the

Buffalo Bills

would be a playoff team, but I did think they'd be a lot better on defense than they are right now. They are terrible. How else can you describe a team that has allowed over 550 yards in each of the past two games, including 621 yards to the

San Francisco 49ers

 on Sunday? They went out and spent $100 million to add end

Mario Williams

, and so far the bang for the buck hasn't been there. Defensive coordinator Dave Wannstedt has to be feeling the heat. The secondary hasn't played well, either. And the linebackers are horrible. The idea that one premier player -- or supposed premier player -- will fix a team is absurd. The Bills are learning that.
I say it a lot, but it fits now:

New England Patriots

line coach Dante Scarnecchia is one of the best coaches in the league. He has taken a line that was a major problem early this season and made it a strong point of the team. That's with a new center in

Ryan Wendell

. The Patriots have blown open holes in the run game the past two weeks. They rushed for 251 yards against the

Denver Broncos

.
I really like what Joe Philbin is doing with the

Miami Dolphins

. They are playing some good football. And that defense is really impressive.  It's time to give big props to defensive coordinator Kevin Coyle. The Dolphins have been in every game, except one.
Any fan that cheers an injury is sick. This is not just a game; this is how these guys make their living. Cheering an injured player is just demented. Just saying. The Chiefs fans should be embarrassed.
Can you imagine if a replacement ref made the same mistake that Pete Morelli's crew made in

Kansas City Chiefs

on the fumble that wasn't? They might have cost the Chiefs a victory.  What does Mike Periera have to say about that?  
Reggie Wayne

can still play. We saw that Sunday against the

Green Bay Packers

. He has been a class act for a long time. It's good to see him still playing at a high level. Wayne had 13 catches for 212 yards and two scores. He has always been one of the go-to guys in the locker room with the Colts. Good to see him still getting it done.
The loss of running back

Bernard Scott

for the season with a knee injury is a big hit to the

Cincinnati Bengals

. He was the only real speed threat in their backfield.

BenJarvus Green-Ellis

is more of a grinder. 
The

Cleveland Browns

have to like what they see from rookie receiver

Josh Gordon

. He had two catches against the

New York Giants

, both for scores. He looks the part. If he keeps working at it, the Browns will have a receiver to build around in the future.
The Packers have allowed 21 sacks, which puts them on a pace to break the franchise record. How can a team with

Aaron Rodgers

take so many sacks, considering his ability to move and his quick release? The receivers aren't winning. Without

Greg Jennings

, Rodgers is holding the ball. He also missed a few throws, and the line isn't great up front. But I think the big problem is the receivers outside and their inability to win.
Percy Harvin

is an MVP candidate. There, I said it. He won't win it, but what he's doing in

Minnesota Vikings

is special. 
Carolina Panthers

running back

DeAngelo Williams

can't get into a Twitter war with fantasy football fans. You just can't. It's not worth it. Why respond? I know. I get into too many Twitter wars with fans. It's not worth it. 
Ravens linebacker

Ray Lewis

spent another day getting blocked. He just isn't making plays. I've called him on it all season. Now it appears others are catching on. He isn't the only problem, but he's a big part of why the Ravens don't look like the same

Baltimore Ravens

defense.
CBS All Access allows viewers to stream every NFL on CBS game in their local market

CBS All Access allows viewers to stream every NFL on CBS game in their local market

CBS All Access allows viewers to stream every NFL on CBS game in their local market
CBS All Access allows viewers to stream every NFL on CBS game in their local market

CBS All Access allows viewers to stream every NFL on CBS game in their local market

CBS All Access allows viewers to stream every NFL on CBS game in their local market