Monday Musings: 'Kap,' line play, Smith rehab among 49ers' issues
The 49ers lost the Super Bowl last February, and now they are 1-2 to open the season with a lot of problems. Can they fix it?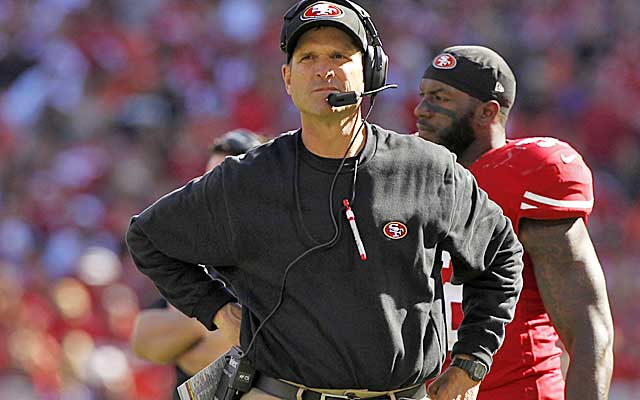 In the past two games, the San Francisco 49ers have been outscored 56-10 by two 2012 playoff teams.
In those same two games, quarterback Colin Kapernick has thrown for 277 yards and one touchdown with three interceptions after opening the season with a 400-yard passing game.
In fairness to Kaepernick, he was without tight end Vernon Davis in the 49ers' 27-7 beatdown by the Colts on Sunday. But that shouldn't have had that big an impact. Until the final garbage-time drive, he didn't even have 100 yards passing.
San Francisco is ranked 27th in total offense and 23rd in passing, and that's counting the big opening week.
The offensive and defensive lines have been handled the past two weeks, another bad sign. That's the 49ers calling card. Their lines have carried this team the past two seasons. They are the identity of the team, something that helped them get to the Super Bowl last season.
It's way too early to panic. But the 49ers have to get back playing 49ers football. If they don't, they could be in big trouble. They won't have outside linebacker Aldon Smith for a time as he checks into rehab to get help for his problems, which won't help them find the way back.
On top of all that, here's an amazing stat: The 49ers are 29th in run defense. Unreal.
The 49ers consider themselves the bully on the block in the NFC West, but that title might be slipping away. They play the Rams on Thursday and the Rams beat them up some in two games last season, one a loss and one a tie. This is the type of game that the 49ers need to play tough to show they are who we all thought they could be.
The question is can they?
• I did not like the way the 49ers handled the Aldon Smith situation. He played Sunday after his arrest for DUI and marijuana possession last week. But now he will go to get treatment and take a leave of absence. So why did he play Sunday against the Colts? If he needs help, why not right away? The 49ers botched this situation in a big way.
• After watching Ahmad Bradshaw run for 95 yards on 19 carries and score a touchdown against the 49ers, I ask this question again: Why did the Colts trade to get Trent Richardson? Bradshaw has a history of injuries, but that shouldn't make a move a necessity. Richardson had 35 yards on 13 carries in his first action with the Colts and scored a touchdown. Bradshaw is the better runner right now. There, I said it.
• I still can't believe how bad the 0-3 Giants have played. They have turned it over 13 times. They can't protect Eli Manning. And they just haven't seemed right. Now they have to go to Kansas City to play the unbeaten Chiefs. That won't be easy against that defense, especially the way their line played in 38-0 loss at Carolina, the worst in Tom Coughlin's tenure with the Giants. Coughlin has two Super Bowl titles, but I bet there is some heat on him now. Jerry Reese, the team's general manager, is probably feeling some of that heat as well. Manning was sacked seven times, four times on the team's first 10 plays. The Giants had 18 yards at halftime.
• Kudos to Jets quarterback Geno Smith. He threw for 332 yards and two scores and looked so much more comfortable in the pocket against the Bills than in his first two games. He still makes too many mistakes, but that's fixable with time. There might have been some in the Jets organization who didn't want Smith starting, but there's no doubt it's the right thing for the franchise. Even if they don't make the playoffs this season, and the postseason is unlikely, the playing time is invaluable. And he's already growing up. He did turn it over three times against the Bills, so he has things to clean up.
• The Jets have an impressive-looking defensive front. Sheldon Richardson and Muhammad Wilkerson will be forces up front for a long time. Wilkerson had two sacks and five quarterback hits against the Bills. Richardson had a sack and two hits.
• The Bengals jumped to a 14-0 lead and seemed to take the foot off the pedal vs. Green Bay. They turned it over four times, but they also didn't seem to be trying to attack down the field. A.J. Green didn't have a catch in the first half. There's no way that should ever happen. That's the bad. The good? They fought back from a 30-14 deficit to win. In the first half, Andy Dalton was 7 of 12 for 67 yards. He finished 20 of 28 for 235 yards and two touchdowns. After falling behind, the Bengals played more aggressively, which needs to happen the rest of the way. There are too many weapons for that not to happen. The Bengals have a good defense, but sitting on a lead against Green Bay is pretty tough to do.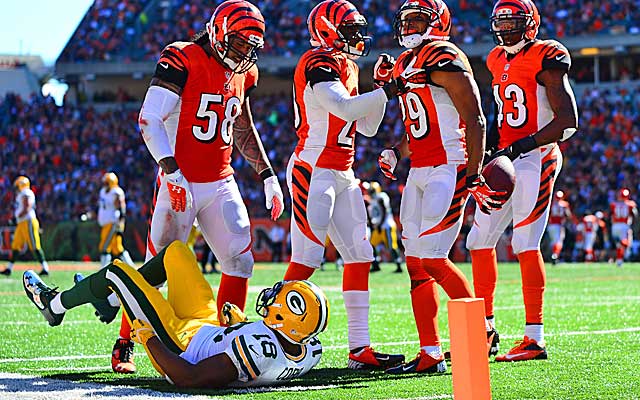 • Bengals defensive end Michael Johnson is making a ton of money week by week. He had another big day against the Packers with 1 1/2 sacks and four quarterback hits. Johnson, who will be an unrestricted free agent after the season, could be the top player on the market next spring. He is only 25. The Bengals would love to keep Johnson, but they already gave long-term deals to Carlos Dunlap and Geno Atkins this year. And Dalton and Green also are coming up for contract extensions.
• Why would the Browns consider trading Josh Gordon? You need big-play receivers in this league. If they truly want to build something down the line, he has to be a part of it. Yes, he has troubles. But what if the pilot light goes on? He's worth keeping. He showed off that big-time ability against the Vikings with 10 catches for 146 yards and a touchdown in his first game back from suspension. Gordon is big, strong and fast. The Browns would be nuts to get rid of him.
• Jordan Cameron, with three TD catches for the Browns, is the early-season fantasy darling. He's earned it.
• I wrote in my After Further Review column last week that the Patriots young receivers would be just fine. We saw some of that Sunday. Rookie Kenbrell Thompkins had two touchdown catches and fellow rookie Aaron Dobson did some good things. It's only a matter of time before the New England pass offense starts to really click. Why would they even consider bringing back an aging veteran like Deion Branch or Brandon Lloyd? Please.
• Big props to the Saints defense. They have been impressive in three games. Rob Ryan has them playing an aggressive style of football and the young pass rushers are starting to emerge. One who has really impressed is Cameron Jordan. He has a chance to be a Pro Bowl player. The Saints held the Cardinals to 247 yards Sunday and they haven't given up a second-half point all season on defense. Ryan has never coordinated a playoff defense, but at 3-0 the Saints have a real good chance to be his first.
• Jake Locker had a day against the Chargers. He was 23 of 37 for 299 yards and ran for 68 yards. Locker also throw a 34-yard touchdown pass to Justin Hunter with 15 seconds left to give the Titans a 20-17 victory. Was this Locker's moment? Will it be the springboard to more? If it is, the Titans could be a playoff team.
•Ryan Tannehill, the forgotten second-year passer, had a big moment Sunday against Atlanta. He drove Miami 75 yards in 13 plays to the wining score in the closing seconds. Tannehill was pressured all day by the Falcons, but was able to find a way to make plays. He was 24 of 35 for 236 and two scores.
• Is Josh Freeman on his way to being benched? I don't think so. Mike Glennon is a rookie and coach Greg Schiano has to try to win to keep his job. But Freeman's Tampa Bay days will almost certainly end after the season when he becomes a free agent.
• The NFC East is bad. The AFC East might be better than we thought. Who knew?
• This is what you have this week London fans: Two teams a combined 0-6 in Minnesota and Pittsburgh.
• Should Mike Tomlin be feeling some heat? Just asking. He did win with Bill Cowher's leftovers, as some have said.
• The read-option is another week closer to dying. Get the box ready.
• The Baltimore defense impressed against the Texans. Still want to keep pounding them for the Anquan Boldin trade?
• Slide, Jay Cutler, slide. I promise you that's the wise thing to do.
• Maybe Marc Trestman can lead a room. The quiet, cerebral coach has his Bears at 3-0.
Shazier's season might be over, but he still wants to help his team

The young head coach took the blame after a heartbreaking loss to the Eagles

Our computer model simulated every Week 15 NFL game 10,000 times with very surprising resu...
Britt is going from the worst team in football to a Super Bowl contender

With three weeks to go in the regular season, the MVP race is wide open

The Eagles are sticking with Nick Foles