Monday Musings: Not backing away from Bengals winning it all
I picked the Bengals to win it all back in August. As we ready for the playoffs, I am sticking with that pick.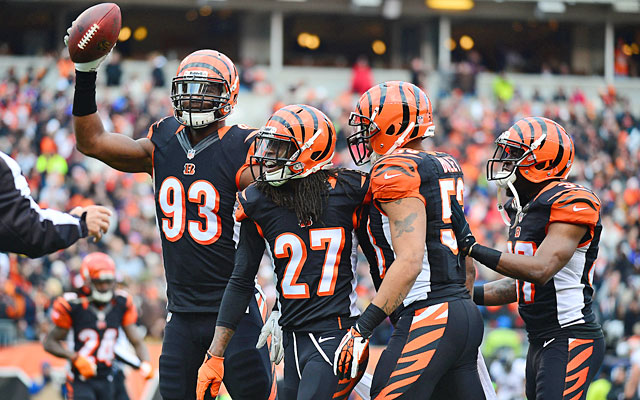 Now that the playoff field is set, I keep getting asked the same question by a lot of different people:
Are you still picking the Cincinnati Bengals to win it all?
Since I picked them way back in August when I played out the season game by game, I've taken a lot of heat for picking a team that hadn't even won a division title in years. 
Well, they head to the playoffs as AFC North champions and do so with a team as complete as any in the league.
Yes, any.
The only two teams in the playoff field that have both their offense and defense ranked in the top 10 in the league are the Bengals and the New Orleans Saints .
And the Bengals get their playoff opener, against San Diego, at home. The Saints have to travel to Philadelphia.
Why would I back away from my pick of the Bengals? The obvious answer is Andy Dalton . The perception is that he isn't good enough.
He threw 33 touchdown passes this season. The only two quarterbacks with more this season are Peyton Manning (55) and Drew Brees (39). That's pretty good company.
Dalton does turn it over -- he had four picks against the Ravens on Sunday and finished with 20 on the season -- and he does go hot and cold. But this team has a lot of offensive talent and defensive talent.
Dalton is 0-2 in the playoffs in his first two seasons. Both of those games were on the road. He will beat the San Diego Chargers this week and then get a shot at the New England Patriots and Tom Brady the next week.
With a good pass rush and a third-ranked defense that gives a lot of exotic looks, the Bengals are a real threat in the AFC.
Change my pick?
I pass. The Bengals are for real. I am sticking by the pick.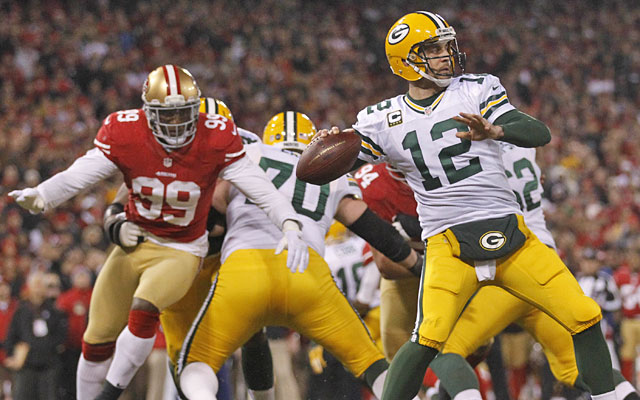 • I can't wait to see Aaron Rodgers against the San Francisco 49ers defense this week. He has the ability to light up any secondary. The Green Bay Packers have lost to the 49ers three times in the past 16 months, including in the playoffs last season. This is in Green Bay, where the 49ers beat the Packers in the opener in 2012. The 49ers are built for the cold, so that shouldn't be a factor. It will be interesting to see how the Packers play Colin Kaepernick on defense. He killed them with the run in the playoffs last year and then killed them with the pass earlier this year.
• Other wild-card matchups I can't wait to see:
Chip Kelly's

Philadelphia Eagles

offense vs. Rob Ryan's Saints defense.

Indianapolis Colts

quarterback

Andrew Luck

vs.

Kansas City Chiefs

secondary.
Packers rookie left tackle

David Bakhtiari

vs. San Francisco's

Justin Smith

and

Aldon Smith

.
49ers receiver

Michael Crabtree

vs. Packers cornerback

Sam Shields

.
Chargers offensive line vs. Bengals defensive front.
Bengals receiver

A.J. Green

vs. the Chargers secondary.
•So the second coach to get fired this year is Cleveland Browns coach Rob Chudzinski. After one year? That is a quick trigger, although not unprecedented. Chudzinski was hired by the Browns before general manager Mike Lombardi came aboard. So now Lombardi can get his own guy, and word is it that guy is former Broncos head coach Josh McDaniels, who is now the offensive coordinator in New England. I think McDaniels, who won't have personnel power like he did in Denver, will be a better coach this time around. The good news for Chudzinski is that he gets paid for the next three years.
• Leslie Frazier: Doomed by not having a quarterback.
• And some don't think the Chicago Bears should pay Jay Cutler ? Please.
• Carolina Panthers defensive end Greg Hardy is about to get paid. Hardy had four sacks against the Falcons on Sunday to give him 15 on the season. He is an unrestricted free agent and the Panthers have to pay him or tag him. There is no way they let him get away.
• Rex Ryan did a heck of a job getting the New York Jets to 8-8. He earned the right to come back next season. The Jets lack talent. To get what they had playing to .500 is truly impressive.
• Way to show up, Miami Dolphins . All they had to do was win and they were in with the Ravens losing. And they scored seven points. Ouch. I doubt Joe Philbin is in trouble, but general manager Jeff Ireland could be. 
• Washington Redskins owner Dan Snyder must really be sick of the Shanahan family if he's willing to eat $7 million to fire Mike Shanahan. You know what? Good for him. If he wants Shanahan out, he has enough money to pay him off and get a new coach. Advice to Snyder: Hire somebody young and not just in it to cash big checks.
• The Atlanta Falcons No. 1 offseason priority is to get bigger on both lines. They've been manhandled up front the past couple of seasons and they've compensated for it with Matt Ryan and the passing game. But they now have to get bigger and tougher up front. Look for that to be a priority this spring. Ryan was sacked nine times by the Panthers. Nine.
• One team's general manager told me he doesn't think there is a top-10 quality quarterback in this year's draft. Of course, one or two will go there since quarterbacks are always over-drafted.
• If Mike Zimmer doesn't get a head coaching job this time around, he might never get one. The Bengals' defensive coordinator is ready. Give the man a job.
• The four best quarterbacks in the league -- Manning, Rodgers, Brady and Brees -- are all in the playoffs. Again. That's what great quarterbacks do for a team. They give you sustainability.
• What an impressive game for LeGarrette Blount for New England against the Bills. He ran for 189 yards and scored two touchdowns. He also had two long kickoff returns. Who knew Blount had that type of big-play ability? He does look to have trimmed down, which has helped his speed.
• So Percy Harvin could be going on IR with the hip issues. Nice trade, Seattle Seahawks .
• The nastiness the St. Louis Rams showed against Seattle will be a good thing for 2014. They don't back down from anybody.
The second-year quarterback already looks fantastic for the Cowboys

The linebacker starts in the middle for Dallas, Mariota shines and more from Saturday's preseason...

If you're an NFL team and you want Phillip Dorsett, just give the Colts a call
Carolina's offense featured McCaffrey in a multitude of ways on Saturday

This is why you should only eat dinner alone

The Kaepernick situation is slowly turning into a black eye for the NFL