Monday Musings: Nothing to be gained by waiting to play rookie QBs
What's the point of drafting a rookie QB in the first round and not playing him? It's a waste of time. So is freaking out about 'Hard Knocks' or phony dinner bills.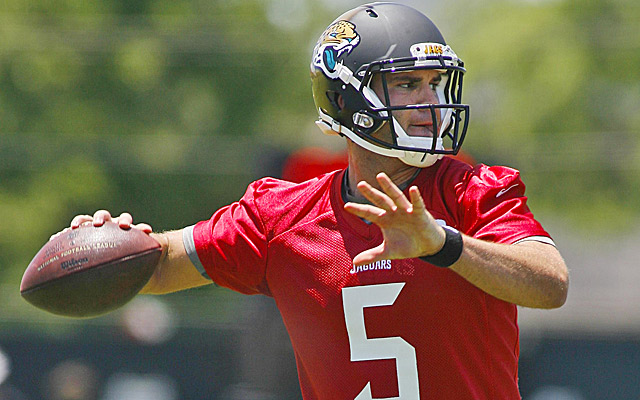 More NFL offseason: League minicamp dates | Latest news, notes
Every time I see Jacksonville Jaguars general manager Dave Caldwell, I have two words that I say to him.
Play him.
I would also say the same thing to the Cleveland Browns and Minnesota Vikings staffs if I saw them. If you are a team that isn't very good and drafted a quarterback in the first round of the May draft, there is nothing to be gained by having that quarterback sit and watch.
All that does is delay the inevitable.
That's why the Jaguars should play Blake Bortles, who they drafted third overall. It's why the Browns should play Johnny Manziel, and why the Vikings should play Teddy Bridgewater.
As many a quarterback has told me, there is nothing like playing. You can't learn the speed of the game by watching it.
There is an argument to be made against playing the rookie, which is that his mental state could be impacted if he plays early and plays poorly. If that's the case, you drafted the wrong guy.
I've watched Bortles at a couple of OTA workouts, and he's been just OK. But that's to be expected. He's learning an offense on the fly and the install can be overwhelming for a rookie. But there have been plays at every one of the OTAs I've watched where he's looked like a quarterback who should have been picked third overall. In a recent practice, the Florida Times-Union beat writers documented him as going 13 for 15 in a recent 11-on-11 drill.
There have been days, from what I've been told, where he's also looked lost. Isn't that to be expected?
Chad Henne is penciled in as the starter, and the team is saying he will be in that job the entire season. If that's the case, then the Jaguars will have to start all over again in 2015 when Bortles is supposedly ready. The experience lost from not playing in 2014 will be damaging.
Let's say the Jaguars go 5-11 with Henne, but start 4-7? Would they make a move to get Bortles as the starter after 11 games? Probably not, so they play it out. If that happens, it's a lost season in my eyes.
It's the same for Manziel in Cleveland and Bridgewater in Minnesota. The players in front of them aren't the long-term solutions, and the teams know it.
So get on with it. Some will say that Aaron Rodgers didn't play right away, and look how he turned out. Do you see Brett Favre in front of any of these three rookies? Didn't think so.
Some will also say that David Carr flopped with the Houston Texans because he was forced to play right away. No, he flopped because of who he was and how he worked. If he waited two years and then played, he still would have flopped. Remember, you are what you are.
There will be growing pains with these young quarterbacks, but it won't be any different next year if they sit and watch and hold the clipboard. Practice is one thing, but game experience is an entirely different animal.
Henne, Brian Hoyer, Matt Cassel and Christian Ponder aren't the futures for their teams. And Jacksonville, Cleveland and Minnesota won't be pushing for playoff berths with those guys playing quarterback.
So I ask this: Is it better to go 3-13 with a rookie or 6-10 with a veteran? I say it's the first choice.
That's why I say to all of those teams:
Play them.
More musings
• Eagles guard Evan Mathis got one over on some last week. On Twitter, he sent out an image of a receipt for a $64,000 dinner, which he hinted at being paid for by the rookies. It turned out to be a fake receipt, one that Mathis made up with a hidden message if you used the first letters of each of the supposed ticketed items. Somebody actually spent time to figure that out. Who cares? Do fans really care if a player or a rookie is forced to spend his own money on a big dinner bill? Why is it such a big deal? Who questions how you spend your money? It's sickening how some in the media get so worked up over the dumbest things. Mathis got one over on a bunch of people who actually seemed to care.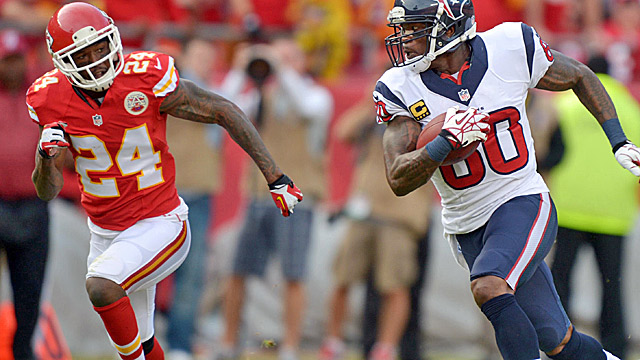 • The Chiefs released cornerback Brandon Flowers last week, and the truth is that Flowers wasn't worth the $5.5 million he was paid last season, even if he was named to the Pro Bowl. He did not play very well. But what the Chiefs are left with in the secondary is questionable. Aside from safety Eric Berry, there are major questions. The starting corners right now would likely be Marcus Cooper and Sean Smith. Both had problems last season and Smith could be facing league discipline following a recent DUI arrest. Ron Parker, who played little last season and has bounced around, is also in the mix, as are Chris Owens and rookie Phillip Gaines. Oh, boy. The Chiefs drafted pass rusher Dee Ford, even though they had two outside pass rushers in Justin Houston and Tamba Hali. Ford has impressed in his early work, but the Chiefs might have been smarter to look at a secondary player in the first round rather than taking Ford.
• The Lions are another team that passed on addressing corner in the first round to take tight end Eric Ebron. That's questionable when you consider they released Chris Houston on Friday, which leaves them with a questionable group. Houston didn't play well last season, so the move makes sense. But why not take a corner in the first round? I know they have high hopes for younger corners Bill Bentley and Darius Slay, but I think the Lions should be faulted by not taking a corner in the first round. The Lions have two games against the big Bears receivers and two against Aaron Rodgers.
• As of now, it appears that Winston Guy has the edge on the free safety spot for the Jaguars next to Jonathan Cyprien. To me, that would be a concern because both Guy and Cyprien are strong safeties in a league where you need a rangy free safety. Guy has impressed in his offseason work, and he is a willing tackler, but with the way teams spread out defenses these days, you need a safety who can cover.
• The Falcons are thrilled with what they've seen from rookie runner Devonta Freeman. The thing that has really impressed the players and coaches is Freeman's ability to catch the football out of the backfield. Look for him to be involved early in the passing game.
• Does anybody really think Seattle running back Marshawn Lynch will retire? Lynch reportedly wants a new contract, and there is some talk he won't take part in the team's minicamp this week and is considering retiring. That would be stupid, considering he would be out $8.5 million -- including a $5 million salary -- if he were to retire. Lynch's rushing average went from 5.0 to 4.2 last season, and he isn't a kid anymore. I think the Seahawks would like to play second-year player Christine Michael more, which makes sense. Young backs are the wave.
• What's the big deal with doing Hard Knocks? Some fans and media members act like it will impact the season? Come on. The paranoia in the NFL is out of control. Atlanta's season will not be decided by the team's decision to do Hard Knocks this summer. Just go play.
• I was sad to hear of the passing of Steelers great coach Chuck Noll Friday night at the age of 82. Noll stayed out of the limelight after he retired with four Super Bowl victories on his resume. The thing I loved about Noll was that he wasn't a rah-rah type and wanted self-starters. Noll was never big on pregame speeches, which I think are way overrated. RIP, Chuck Noll.
• Jay Gruden told Don Banks of Sports Illustrated that the read option would not be a major part of his offense. Amen, Jay. Why risk the quarterback to run that crap? It's just a crutch that I think keeps the quarterback from developing. Robert Griffin III needs to become a better pocket passer.
• So Vince Young is retiring? That didn't happen already?
• We are about a month to the open of training camp. Can you believe it?
Pick Six Newsletter
Get the day's big stories + fun stuff you love like mock drafts, picks and power rankings.
Please check the opt-in box to acknowledge that you would like to subscribe.
Thanks for signing up!
Keep an eye on your inbox for the latest sports news.
Sorry!
There was an error processing your subscription.
Here's how the 2018 NFL Draft played out for the Buffalo Bills

Pete Prisco joined Will Brinson to talk about Darrelle Revis retiring, Le'Veon Bell's situation...

The wide receiver wants more money but that won't be happening
Here's why President Donald Trump passed on buying America's team

Tom Brady and Aaron Rodgers are both aware of Tony Romo's Super Bowl prediction

Joe Flacco's last stand? Jimmy G's continued rise? Kirk Cousins or bust? It's all about the...