Monday Musings: Polling GMs on other teams' free-agency moves
Prisco: Which GMs made questionable moves in free agency? Just ask other GMs. We solicit NFL decision-makers for their takes and also weigh in on the Packers landing Julius Peppers.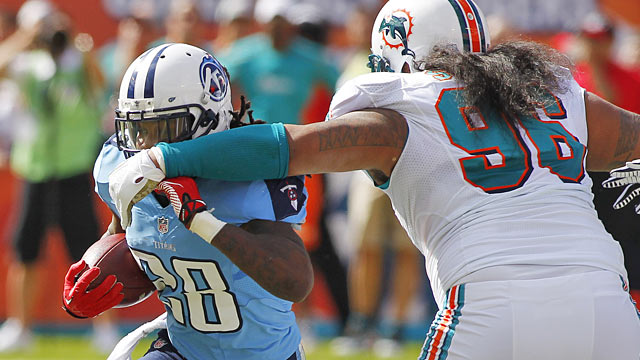 More NFL offseason: Mock Drafts | Prospect Rankings | Pro Days | Top free agents
I wanted to hear what some general managers and scouts had to say about some of the free-agency moves that were made last week.
So I polled a handful of them to get some of their thoughts on the moves, but the one rule was they couldn't comment on the signings made by their own teams.
Here's some of what they had to say:
AFC GM
• "The Bills got very good value on Corey Graham. Can play inside or out at a sufficient level. Had a pretty good year outside. He's always been very good in the slot and is an outstanding (special) teamer."
• "The (Rodger) Saffold deal was baffling in Oakland. Like they had no idea he lives in the training room."
• "I like Paul Soliai in Atlanta. He's a monster and will greatly help their run defense."
• "(Packers corner) Sam Shields definitely set the market and that could have been lower with some time elapsed."
• "Willie Young to the Bears was a nice cost-effective move. He's a high-motor guy with an arrow up as a player."
• "It will be real interesting to see if (Eric) Decker can duplicate in New York ((Jets) when he doesn't have the quarterback, supporting cast at wide receiver, and is just an average guy athletically."
Another AFC personnel director
This general manager questioned the signings of Karlos Dansby (Cleveland), Donte Whitner (Cleveland) and Toby Gerhart (Jacksonville). He liked the signings of T.J. Ward (Broncos), Arthur Jones (Colts) and Antoine Bethea (49ers).
AFC GM
• "I thought the money paid to (DE) Michael Johnson (Bucs) was a little high for a guy who doesn't have a lot of sacks."
• "I thought Atlanta addressed needs, not flashy, but for reasonable prices. Also St. Louis and Houston I credit for doing nothing. It's crazy what some of these teams did with the corners and the pass rushers. That's huge money for not elite players."
• "Every safety got way overpaid. When did safety become a $7-9 million a year position, unless you draft a guy and know him?"
• "I know Miami has the two shortest corners in the league now with Cortland Finnegan joining Brent Grimes. That could be a problem."
• "I liked the (Josh) McCown signing in Tampa. He can help them."
NFC GM
• "I like the (Ted) Ginn (Cardinals), (Golden) Tate (Lions) and (Jon) Asamoah (Falcons) signings. Decker was a questionable one because I don't think he had a market and if he were that good (Peyton) Manning would've never let him walk. I like Everson Griffen's potential, but got scary numbers for a semi-unproven guy. He has never started."
More Musings
• The decision by the Packers to sign 34-year-old defensive end Julius Peppers to a three-year deal bucks the trend of what they normally do. General Manager Ted Thompson is a big believer in paying his own. But in the past he brought in veteran corner Charles Woodson and defensive lineman Ryan Pickett, and they both paid off. Peppers is five years older than Woodson, when he joined the team, and since this is essentially a one-year deal the Packers are just hoping he can help their pass rush for a year. They are expected to change some of the things they do on defense, which is why Peppers' versatility will come into play. He can stand up as a 3-4 rusher, but he can also rush from the inside. That versatility is what all teams want from their pass rushers now. For Thompson to make this move, he has to think Peppers has a something left.
• I don't get the Panthers signing former Saints safety Roman Harper to a contract. Yes, I know they lost both starters in free agency, but Harper has real problems in coverage. He is a box safety who gets beaten a lot when asked to cover. In a division with Drew Brees and Matt Ryan, that's a strange signing.
• Julian Edelman going back to the Patriots was a no-brainer. He just fits in that offense. He is coming off his best season, catching 105 passes, and he is a security blanket of sorts for Tom Brady. He just wouldn't have seemed right somewhere else.
• I don't like signing backs, but Ben Tate on a two-year deal is a decent option for the Browns. Why? He doesn't have a lot of carries in his career with only 421, so he's relatively young. I'd still draft a back, but this one doesn't bother me as much. Two years for a back with a lot of tread left on the tire is OK.
• Getting Brandon Spikes on a one-year deal works for the Bills. They can now move Kiko Alonso outside and have a better run-thumper in the middle. Spikes is good against the run, but not great against the pass. Alonso should be able to make more plays now that he will be able to run more in space. I like the decision by the Bills.
• The Steelers needed to revamp their defensive line and adding Cam Thomas from the Chargers and possiblyAlex Carrington from the Bills, they have added two big bodies. Both are young and Carrington might be one of the sleepers in this free-agent class.
• Bears corner Charles Tillman took a big cut to come back to the Bears, but it was the right move for both sides. Tillman is good in that system, but he is 33 now. That's old for a corner. So the one-year deal for $3.5 million was fair and it keeps the Bears from being forced to take a corner high in this year's draft. They have Tim Jennings on the other side.
• With Evan Dietrich-Smith signing with Tampa Bay, the Packers have to find a center. They went through the same drill when Scott Wells left to go to St. Louis two years ago. They signed veteran Jeff Saturday to take his place, and he was bad. So they turned to Dietrich-Smith, a former guard, and he did a nice job. I think this time they will look at 2013 fourth-round pick J.C. Tretter as their starter. That's the smart thing to do if you feel he can be the long-term answer.
• There's a perception that receiver Emanuel Sanders, who was signed by the Broncos Sunday, has a problem with drops. He had three drops last season. Decker, the man he's replacing, had seven. The drop percentage is also higher for Decker. The Broncos are excited about the idea of having a player in Sanders who can play both inside and outside, which gives them a little more flexibility than they had with Decker.
Pick Six Newsletter
Get the day's big stories + fun stuff you love like mock drafts, picks and power rankings.
Please check the opt-in box to acknowledge that you would like to subscribe.
Thanks for signing up!
Keep an eye on your inbox for the latest sports news.
Sorry!
There was an error processing your subscription.
The Titans signed Lewis to be a capable shifty compliment to the bigger Henry

Professional thrower of balls Russell Wilson threw a wild first pitch at Safeco Field

Peterman is in a battle with AJ McCarron and Josh Allen for the Bills' starting job
Manziel's regular-season CFL debut will have to wait a least another week

Luck is still rehabbing from 2017 shoulder surgery

Beckham wants a new contract but it doesn't look like he'll be holding out to get it