Monday Musings: Preseason shows Russell Wilson ready for higher level
Russell Wilson was a champion last season, but didn't fit the mold for an elite QB. However, that might change with the improvement he showed in August.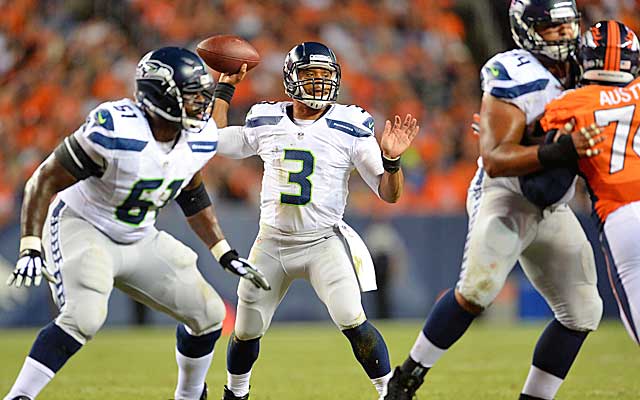 It's no secret that I think the race to put Seattle Seahawks quarterback Russell Wilson among the league's best has gone way too fast.
As you know by now, I like my quarterbacks sitting in the pocket, making reads, and going through progressions, which is why I am hesitant to rush Wilson up any list of the best.
Wilson did some of that last season as the Seahawks won the Super Bowl, but he didn't do enough of it to vault him into the league's top 10 quarterbacks in my mind.
But if he continues to do what he did in the preseason -- yes, it's only the preseason -- that could change.
Wilson, whose team will open up its defense of the Super Bowl on Thursday against the Green Bay Packers, has looked much improved this summer, and it has showed in his numbers. He was 33 of 42 for 437 yards, with three touchdowns and no interceptions in the preseason. He also ran for three scores.
But more than the numbers, it's the way he has gotten them. He looked so much more confident in the pocket going through his reads.
One of Wilson's great strengths is throwing on the run outside the pocket -- he's as good anybody doing it -- but inside the pocket, I wasn't as sold on him as others.
This summer, we've seen a quarterback whose offseason work shows a passer who has taken big strides inside the pocket.
The data-heads will say his numbers from 2013 say he was good inside the pocket, but one-read throws and quick slants and things like that can drive that number up.
What I want to see is a guy who spins his head to go through his progressions.
Wilson is doing that now better than ever. It was the one thing every league GM and scout I talked with this spring and summer said they wanted to see from him to start considering him a franchise passer.
I have to give big props to Wilson for growing his game.
Now let's see if it carries over to the regular season. If it does, that dynasty talk in Seattle might not be as far-fetched as I think it is right now.
Here are five other guys who I think made strides in the preseason:
Travis Kelce, TE, Kansas City Chiefs: He had 11 catches for 183 yards, the fifth-highest total of the preseason. He gained 17.5 yards per catch and had two touchdowns. Kelce missed his rookie season in 2013, but he has the look of a future Pro Bowl player.
Brandon Williams, NT, Ravens: He has become a real force in the middle of the Baltimore defense, earning a starting job in his second season. He dominated against the Redskins in the preseason. He is leaner than a year ago, but still powerful.
Margus Hunt, DE, Cincinnati Bengals: The second-year player had four sacks in the preseason, tying him for second in the league. Since he wears jersey No. 99, some have called him a Baby J.J. Watt. He has got a long way to go to get there, but the second-year player should be a big part of the Bengals' rotation up front this season.
Damontre Moore, DE, New York Giants: This second-year player had four sacks in the preseason and looked like he would be a major contributor this year. Moore played mostly special teams in 2013, but he will be in the rotation this year and should be on the field in pass-rush situations. The Giants seem to always find these 4-3 edge rushers.
Mark Ingram, RB, New Orleans Saints: I have to admit I had my doubts about Ingram, but he looked like a different runner in the preseason. He looked quicker to the hole. He gained 7.1 yards per rush on 22 carries. That's impressive. Now comes the tough part: Does it carry over?
More Musings
• I think Alex Smith did the smart thing to sign his extension before the season. Smith got a reported four-year, $68 million extension that will give him an average of about $15 million a season (when you count this year's salary). That's a great deal for Smith. The reason I say it's smart he got that deal done was because I think the Kansas City offense will struggle. The line is average, at best. The receivers aren't that great and it's all about Jamaal Charles. But if the line isn't good, what will he do? The Chiefs are one of my step-back teams in 2014. Smith did the wise thing getting paid before it happens.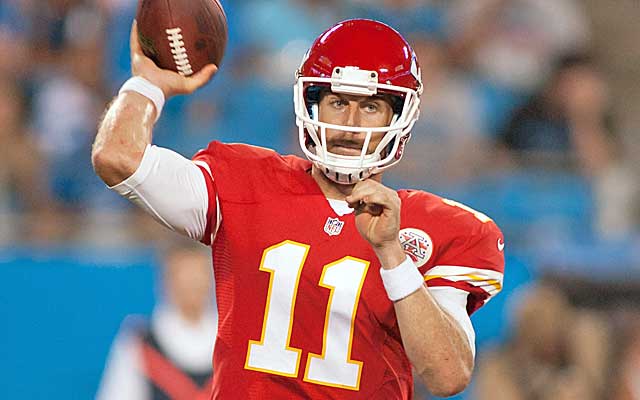 • Why the uproar of Michael Sam going unclaimed after being cut by the Rams? When I watched him, he looked like he needed a lot of time on the practice squad. What's it say that the Rams didn't sign him back to theirs? He just might not be good enough. Is that too much for some to understand?
• The Texans finally made a move at quarterback and traded for Patriots backup Ryan Mallett, giving up a conditional seventh-round pick in the 2015 NFL Draft. I like the idea of making a move, but why wait until the week before the opener? Did they really think Ryan Fitzpatrick was the answer? They blew it on draft day when they passed on Blake Bortles with the first pick. Yes, Jadeveon Clowney will be a star, but you never pass on a potential franchise quarterback. As for Mallett, just because he played behind Tom Brady doesn't mean he's magic. That's the perception out there with some in the media. He does have a big arm, but would the Patriots have taken Jimmy Garoppolo if they thought Mallett was that good? Just saying.
• By the way, so much for Bill Belichick's genius on that one. Remember the talk of how he would take Mallett in the third round and then flip him for a higher pick? Not quite.
• 49ers guard Alex Boone ended his holdout -- they all do -- and signed a new two-year deal with the team. He will reportedly get about $2.3 million more. That's not exactly the long-term deal he was looking to get, but he also can't be franchised after it expires. The 49ers have to be happy he's back, but he can't be thrilled that he didn't get the deal that would pay him in the $5 million or $6 million range annually.
• You can never put much stock into what happens in the fourth preseason game, but I liked what I saw from Raiders quarterback Derek Carr. He threw three touchdown passes and looked sharp against Seattle. I don't get why the Raiders wouldn't start Carr instead of Matt Schaub. Then again, current general manager Reggie McKenzie and coach Dennis Allen are likely fighting for their jobs. They might not want to take a chance on Carr, but the reality is he might give them the best chance to win.
• So they ask mundane questions in Houston? That's what Arian Foster said. Look, there are some really good beat people in Houston, so Foster is off-base with that. He has always been considered a difficult player to deal with, so I bet the Houston media could care less what he thinks.
• So Patriots quarterback Tom Brady was mad about the trade of friend/guard Logan Mankins? Bet he gets over it. One more thing: Remember all that talk about helping the team by taking a lesser-than-market deal? Doesn't always work that way. Now Brady has an inexperienced guard in front of him. Take it when you can. The team has no loyalty. Period.
• The controversy surrounding Jerry Jones talking to Adrian Peterson is unreal. Do you know how many times players tell coaches and general managers they would love to play for them -- and they talk about it? It happens all the time. Give me a break.
• Bortles finished the preseason going 32 for 51 for 521 yards, with two touchdowns and no interceptions. And he's not starting. He will be in three weeks.
• Jaguars rookie receiver Allen Hurns has surprised some coaches and front-office people with how well he has played. Hurns was not drafted coming out of Miami, but the rookie receiver will be a big part of the Jacksonville offense. He should be the No. 2 or No. 3 receiver for a while. He is smooth, polished and knows how to get open. He has been compared to former Jaguars receiver Keenan McCardell, who was one of the best route runners in team history -- and in league history. Hurns led the NFL in receiving yards in the preseason with 232. Some said the final cut on the roster at receiver came down to him and Kerry Taylor. Not true. Hurns was a lock. With Allen Robinson, a second-round pick, out for the entire preseason with a hamstring injury, Hurns was given a lot of reps and took advantage of them.
• The right side of the Seattle offensive line could end up being really good in a year or so. Right guard J.R. Sweezy looks so much better this season. The converted defensive tackle seems to understand the position a lot better. Rookie right tackle Justin Britt, their second-round pick, has also impressed in winning a starting job.
• Should Josh Gordon be allowed to play in the Canadian Football League? That's a tough call. The Browns denied Gordon's request to allow him to play in the CFL. That should end any chance of it happening. The CFL has a working relationship with the NFL in terms of scouts and personnel people attending camps and preseason games. If they were completely independent, and didn't care about the relationships, they would probably let Gordon play -- despite what the Browns say. Then it would be between Gordon and the Browns.
• The Buffalo Bills have to be concerned with their offense heading into the opener. EJ Manuel didn't look good in the preseason and the first-team offense did little of anything. Can they turn it on the regular season? I'm not so sure they can.
• The NFL had it wrong when it came to the domestic-violence thinking. So the league fixed it. After giving Ravens running back Ray Rice a two-game suspension for his domestic-violence incident, NFL commissioner Roger Goodell admitted he made a mistake. He put more teeth into the policy Thursday with a memo to all teams saying a first offense would now be a six-game suspension and a second would be a lifetime ban. That's the way it should be, and I would even argue that lifetime ban for a first conviction of domestic violence would be appropriate. Rice got off way too easy, and the NFL deserves credit for realizing it blew it by making that decision.
The Green Bay Packers quarterback seems to be a go for the Carolina Panthers game

Shazier's season might be over, but he still wants to help his team

The young head coach took the blame after a heartbreaking loss to the Eagles
Our computer model simulated every Week 15 NFL game 10,000 times with very surprising resu...

Britt is going from the worst team in football to a Super Bowl contender

With three weeks to go in the regular season, the MVP race is wide open