Monday Musings: San Francisco 49ers passing game isn't good enough
The 49ers are ranked last in the NFL in passing yards. Can a team win a Super Bowl with that type of throwing attack?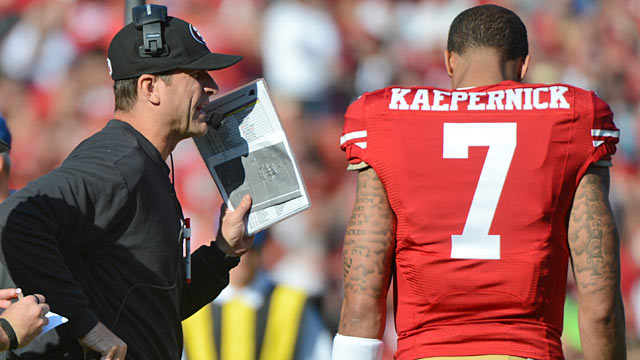 The San Francisco 49ers, for all their pound-and-ground ways, will go only as far as their passing game takes them.
Right now, that doesn't seem too far.
The 6-3 49ers have struggled much of this season throwing the football. I think many in the media rushed to make Colin Kaepernick a star based on his impressive season in 2012. 
Scanning the league stats, you see a 49ers team that is ranked last in the league in passing and is coming off a 10-9 loss Sunday to Carolina that saw the Niners throw for 91 yards. I know the 49ers are a run-first team, but that ranking is absurd if your quarterback is truly special, like some believe.
The Panthers sacked Kaepernick six times, but it looked as if Kaepernick was holding the ball on a lot of those sacks. He was 11 of 22 for 91 yards and a pick.  
After throwing for 412 yards and three touchdown passes in the season opener, Kaepernick has one passing game over 200 yards since with six touchdown passes and six interceptions. Kaepernick is ranked 29th in completion percentage and 19th in passer rating among all quarterbacks.
That is not star stuff. 
In the opener, receiver Anquan Boldin had 13 catches for 208 yards and a touchdown. In the eight games since, he has 28 catches for 368 yards and one touchdown.
Still think the Ravens made a mistake? 
The 49ers are counting on the return of Michael Crabtree to liven up the offense, and Vernon Davis has missed time, including going out of Sunday's game with a head injury. But just remember Crabtree is coming off a torn Achilles tendon. There is no saying he will be the same player.
It's up to Kaepernick to get it going. To win in this league on a consistent basis, you have to throw it well. Ground and pound won games 10 years ago. It's not the way anymore. 
• The talk of Kaepernick being a future Hall of Fame player seems like years ago? Didn't somebody say he was destined to be the greatest? Like I said then, it was way too early. He has a lot of tools, but the key entering this season was watching him play in the pocket. So far, he hasn't been good enough. 
• It wasn't a good day for the other Super Bowl quarterback either. Joe Flacco threw for 140 yards and had three turnovers against the Bengals. He is struggling.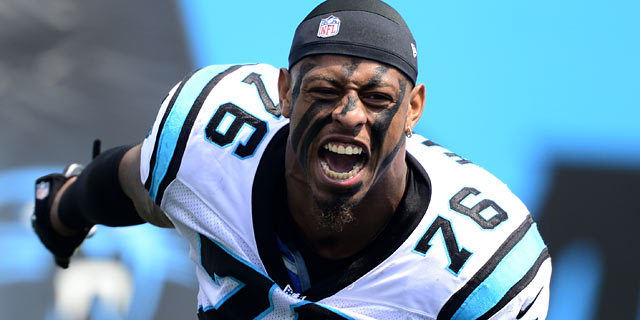 • The Carolina defensive ends are a heck of a pair. They combined for 2 1/2 sacks against the 49ers with Charles Johnson getting 1 1/2 and Greg Hardy getting one. Johnson now has 8 1/2 sacks, while Hardy has six. Hardy is an unrestricted free agent who is about to get paid.
• When the Lions scored to go up by seven late, why didn't they go for two? If they make it, the game is essentially over with a 9-point lead. If they miss, and the Bears score, they kick to tie it. It worked out when the Bears failed on the two-point play, but teams should always go for two in that spot. Put the game away. There is no risk.
• Despite the 0-8 start to the season, there was no panic in the Jaguars building. Not from coach Gus Bradley. Not from general manager Dave Caldwell. Not from the owner Shad Khan. There is a plan in place to build something for the longterm. But they needed to win a game. There are so many young players on the roster that they had to feel what it's like to win an NFL game. That's what beating Tennessee means to the Jaguars. In terms of getting the first overall pick, they probably will still get that. But, for now, winning is important even if it might be losing down the road.
• Trade Ben Roethlisberger? Yeah, right. I don't care what the report says, there is no way in hell the Steelers are trading him. Have you seen some of the teams without a franchise passer? What will happen is offensive coordinator Todd Haley, who Roethlisberger doesn't really like, will go. Then things will get back to normal. Sometimes the things people say are unreal.
• The loss by the Titans to the Jaguars was inexcusable. If they win, coupled with the Colts' loss to the Rams, the Titans would have been a game out in the division. But now at 4-5, and with Jake Locker possibly out for the year with a Lisfranc foot injury, the Titans are in big trouble heading into their game with the Colts. There is no way they should have lost to the Jaguars.
• Scott Tolzien time in Green Bay. Are you excited, Packers fans? Tolzien did some good things against the Eagles, but now he must make his first start on the road. That's tough to do. Get healthy soon, Aaron Rodgers. Or that season could slip away.
• Yeah, Tavon Austin is a bust. He had three long touchdowns, one a 99-yard punt return for a score, to help lead the Rams to the upset of the Colts. Austin will be a star. I said it when he came into the draft. What needs to be asked is why he wasn't used more this season? I put that on offensive coordinator Brian Schottenheimer.
• The idea that the Falcons would fire Mike Smith is absurd. The guy has been to the playoffs four of the past six years and this season his team has been killed by injuries. Fire him? Please.
• Don't look now, but the Arizona Cardinals are in the playoff race. They are 5-4 and head to Jacksonville to play the Jaguars.
• Jay Cutler didn't look as if he could move around in his first game back since injuring his groin. He didn't look bad, but he just didn't look comfortable. It didn't help that he hurt his ankle as well. Maybe the Bears should just start Josh McCown this week against the Ravens and hope Cutler can get healthy.
• Ray Rice had 30 yards on 17 carries. His average is 2.5 per carry this season. Wow.
• So Richie Incognito talked? Oh, boy. Talk to me when we know the entire story. Somewhere there is truth.
Here's every official injury designation for each NFL team for Week 7

If it wasn't already clear, the Packers are not happy with the hit that injured Rodgers on...

Passengers were treated to some explicit chants from the Oakland running back, too
It's safe to say the Rams running back isn't a fan of traveling to London and back during the...

Winston sprained his AC joint last week but will start against the Bills this week

Avril experienced numbness in his hands after an injury in Week 4