Monday Musings: Seattle D one of the best ever
By shutting down Peyton Manning to cap an impressive season, the Seattle Seahawks can now stake a claim as one of the best defenses ever.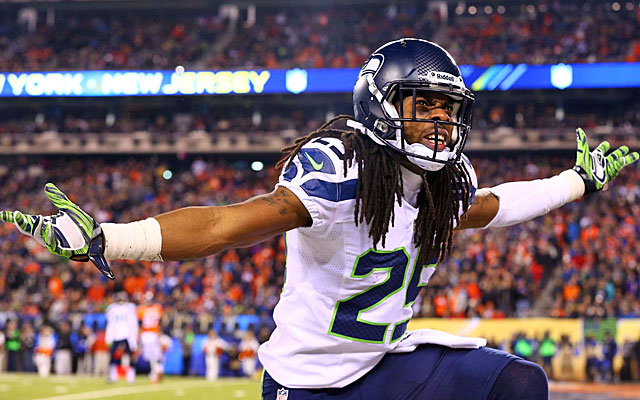 More SB coverage: Seahawks win 43-8 | Photos | Numbers | More news
EAST RUTHERFORD, NJ -- Let's just put it out there: This Seattle Seahawks defense is one of the best ever.
They are up there with the best of the best, including some of the great Steelers teams, the 1985 Bears and the 2000 Baltimore Ravens.
They don't have the pure Hall of Fame talent of some of those units, but they deserve their place among the best because they did it in an era of wide-open, high-scoring offense.
Seattle's dominant 43-8 victory over the Denver Broncos in Super Bowl XLVIII was as impressive a big-game defensive effort as I've seen with my own eyes. Denver had the top-ranked offense in the league coming in, a record-setting unit led by Peyton Manning, and it couldn't do much of anything.
Seattle took away the deep stuff -- or Denver's bad plan did -- and the Broncos were left to dink-and-dunk.
The Seattle defense is based on speed, loads of it. When I think of comparisons, I think about the Jimmy Johnson Cowboys: Fast and explosive.
Those Cowboys defenses weren't loaded with Hall of Fame players either, but plenty of good, young speed players who would tackle. Seattle has the same style. 
"Even though the rules might have shifted, you can still play physical and can still have an intimidating presence without going against the rules," said Seattle linebacker Malcolm Smith, the game's MVP. "We've tried to do that, and we've tried to change the way we play to keep things legal and still be effective."
The key to what the Seahawks do might be safety Earl Thomas. His ability to cover the deep middle allows them to be aggressive on defense with their corners. Thomas is the prototype for the modern safety.
He was one of the many Seattle players talking about their historic defensive showing.
"It's all about making history," he said. "This was a dominant performance from top to bottom."
The amazing thing is that there are just two first-round picks on the defense that start on one of what could be considered on the great units ever. 
"I think we showed them that we're up there," corner Richard Sherman said. "We're a bunch of misfits, in some ways: fifth round, Kam Chancellor; sixth round, Byron Maxwell; fifth round, Richard Sherman; fourth round, [CB] K.J. Wright; undrafted, [DE] Michael Bennett. [DE] Cliff Avril, [DE] 'Big' Red Bryant, [Brandon] Mebane -- lot of guys that not a lot of people have heard of, who probably should be Pro Bowl, and All-Pros, and things like that.
"I think [the world] learned how complete of a team we are, [and] how complete our defense is. It's not just the Legion of Boom back there, with four guys who play good football. It's a great linebacking corps, [and] a great D-line who gets a lot of pressure. Cliff Avril is a great player. Mike Bennett, [DT] Tony McDaniel, Brandon Mebane, those are all great players and I think they deserve the respect."
They earned it and they deserve it. The 2013 Seattle Seahawks can now be considered one of the great defenses ever. Let the debate begin.
• I was waiting for it, and it took about 10 minutes after the final seconds ticked off the clock in Seattle's impressive blowout for somebody to come up and give me crap about the pocket passers owning the league.
Hey, I get it. This was the moment to bask for those who don't believe it. Seattle won with Russell Wilson being far from a conventional pocket passer and Manning lost being the epitome of one.
But let's slow down on that, please. This is the first non-traditional quarterback to win a Super Bowl since Steve Young -- and by the time he won it for the 49ers he was more of a pocket passer than not.
What the traditional passers do is make for sustainable success. Pick next year's top teams.
Aside from Seattle, they will be the Broncos, the Packers, the Saints, the Patriots, the usual suspects. Throw in the 49ers as well, even though they don't have a traditional pocket passer.
Wilson did some really good things this season, but he has to continue to grow inside the pocket. So let's slow the narrative about pocket passers being passé.
The sample size is way too small.
• So now Manning isn't good? That is just so stupid. He had a bad game. He hasn't played well in Super Bowls. But the backlash? He is one of the greats ever to play the game. Period. End of story. So was Dan Marino, and he never won a ring. I get so tired of the ring argument.
•Seattle has to pay up for Sherman and Thomas in the next year. That will impact what they can do in the coming years. They will have big deals for three players in their secondary if they do give big deals to Sherman and Thomas. Chancellor already has one. That's a lot of money for one unit.
• I didn't like Denver's offensive plan at all. When you have single outside, take some shots. It was too predictable. Too conservative. I know Seattle can rush the passer, but take some one-on-one shots outside. When Manning hit Demaryius Thomas with a deep ball in the third quarter (before Thomas fumbled), it showed what taking shots could do. The design wasn't good.
• John Fox should have kicked a field goal when it was 22-0 and Denver faced a fourth down late in the first half. Get some momentum. Would it have mattered? Probably not. But get something on the board.
• Eric Decker, anybody? Where was he? He is an unrestricted free agent and I don't think one game will impact his deal, but don't you have to show up on the biggest stage?
• The NFL scouting combine is in three weeks, and with Seattle winning expect everyone to go in looking for long, linear corners, a rangy safety and speed at all defensive positions. This is a copy-cat league for sure.
• I am always happy for the Hall inductees, but it doesn't mean I agree with the selections. The one that I really didn't agree with was putting Ray Guy into the Hall. For one, he's a punter. That's like putting an eighth-inning reliever into the baseball Hall. Or even a pinch-hitter. The other thing is Guy isn't even the best Raiders punter of all-time. That's Shane Lechler. Look at the numbers. I think Guy is romanticized because of who he played for and when he played. The reality is he's not close to being best punter of all-time. Not even close.
• Since I am one of the voters for the league awards, here's how I voted, even if they all didn't win.
MVP: Peyton Manning
Offensive Player of the Year: Manning
Defensive Player of the Year: Robert Quinn, Rams
Offensive Rookie: Larry Warford, Lions
Defensive Rookie: Sheldon Richardson, Jets
Coach: Ron Rivera, Panthers
Comeback Player of the Year: Darrelle Revis, Bucs
• Had some great conversations on radio row last week with current and former players. Found out Steelers corner Ike Taylor wants to be a general manager someday. He is a draft junkie, too. Love those kinds of players.
• Always good to catch up with former NFL guard Steve Hutchinson, who went to my high school in Coral Springs, Fla. He is great at dissecting the game. Hutchinson made a good point about the line play in the league now. The techniques are terrible. The coaches don't do a great job of teaching them anymore. You can tell the good ones.
R.J. White, who nearly won the Las Vegas SuperContest, locks in his pick for the NFC Championship...

Mike Tierney has owned NFL totals and has a strong pick for the AFC Championship Game

The Saints coach wasn't in the mood to answer questions about Drew Brees on Tuesday
This is footage that you'll definitely want to see

It wasn't the matchup that we expected, but the Jaguars would argue that's everyone else's...

The Eagles quarterback and the Vikings quarterback have paths that have crossed many times