Monday Musings: Ten draft fits plus Bradford, Dalton, rants & raves
All mocked out? Here are draft fits for Kyle Fuller, Mike Evans, C.J. Mosley and seven more, plus Sam Bradford, Andy Dalton and rants & raves.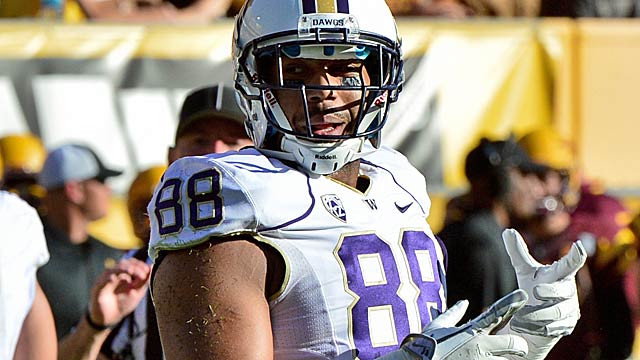 More NFL offseason: Mock Drafts | Prospect Rankings | Pro days | Top free agents
As we close in on the 2104 NFL Draft, with "mock-draft sickness" affecting us all, I thought it a good time to look at some fits that I think make sense for both team and player.
These are potential matches, but, of course, how the draft plays out will decide if any of them materialize. But here are 10 that make sense:
Virginia Tech corner Kyle Fuller to the Lions: They can't count on Rashean Mathis for much longer, and they need help outside. I think Fuller would be a perfect fit for new coordinator Teryl Austin's defense. He is a long and lean and can handle man coverage.
Texas A&M receiver Mike Evans to the Rams: I think they will pass on taking a receiver with the second overall pick -- so no Sammie Watkins -- so Evans would be perfect pick at No. 13 if he's there. The Rams need a big receiver who can become a red-zone threat. Evans has that ability. If they took him, he could team with Tavon Austin and Stedman Bailey to give the Rams a nice, young group.
Alabama linebacker C.J. Mosely to the Broncos: If he somehow fell to them in the first round, they would have to jump on that pick. Mosley is a good thumper in the run game, but he's also athletic enough against the pass. I doubt he falls to the Broncos in the first round, but maybe they could make a move up to get him in the 20s if he's there. They lack a middle linebacker in their defense.
Nevada guard-tackle Joel Bitonio to the Falcons: If the Falcons don't take a tackle high in the first round, they might be able to get this kid at the top of the second. He is a tough guy who will help bring that to a team that wants it. He could play right tackle or even guard.
Northern Illinois safety Jimmie Ward to the Chiefs: Playing next to Eric Berry, Ward would be a nice fit. He has range in coverage and he's a willing tackler. Ward and Berry would be a heck of a combination.
Colorado State center Weston Richburg to the Bengals: One of the problems with their offense has been the center play. They need to get better inside. If they can get a player like Richburg to anchor their line, it would be a huge upgrade and help the running game, which new coordinator Hue Jackson wants utilize more in 2014. He isn't overpowering, but he is athletic and strong enough.
Washington tight end Austin Seferian-Jenkins to the Packers: With Jermichael Finley gone, the Packers need to get a big-play weapon in the middle of the field. Seferian-Jenkins is a big, strong tight end who didn't play as well in 2013 as he had in the past. I think he has great upside and would be a nice weapon for Aaron Rodgers and the Green Bay passing game.
Boise State OLB-DE Demarcus Lawrence to the Cowboys: They could replace DeMarcus Ware with Demarcus Lawrence, a player who is now expected to go in the first round. The Cowboys lack punch with their pass rush with Ware gone, and I think Lawrence could provide it. Jeremy Mincey, signed as a free agent, isn't a speed rusher but more of a power player. Getting Lawrence would give them some pop.
Nebraska cornerback Stanley Jean-Baptiste to the Jaguars: He is a big corner who would fit what Gus Bradley does on defense. The Jaguars like to use the same principles they use in Seattle and he would make for a nice second-round pick. He is 6-3, which is really tall for a corner. In a league looking for tall corners, it makes sense.
LSU quarterback Zach Mettenberger to the Vikings: He is a big, power thrower who would fit perfectly with what offensive coordinator Norv Turner wants to do. With Adrian Peterson, Mettenberger would be able to show off that big arm in the play-action heavy offense.
More Musings
• There is a sentiment around the league that the Rams are ready to give up on quarterback Sam Bradford. After spending time in St. Louis, and talking with general manager Les Snead, that is far from reality. The Rams think a healthy Bradford, with help, is plenty good enough to get them deep into the playoffs -- and maybe more. The Rams might take a passer at some point in the draft, but Bradford is their guy for now. And he should be. He was playing well before he got hurt last season. It's just dumb to think he should be cast aside.
• I can't tell you how excited the Rams are to have Gregg Williams running the defense. They felt they were a little stale with their looks last season, and expect Williams to liven up with things with his creative attacking looks. This is now a league where exotic looks are becoming the norm on defense. Look for more of that from the Rams.
• The Broncos move of right tackle Orlando Franklin to left guard will help stabilize their line. Franklin struggled at times in pass protection as a right tackle, but should be a better guard. Chris Clark, who played left tackle when Ryan Clady was hurt, will move to right tackle with Clady back. The Broncos might have their best line yet with that group. After seeing what Seattle did to that front in the Super Bowl, they will need to be better. Peyton Manning can only hide so many flaws with his ability to feel pressure and get rid of the football.
• Why would the Cowboys move up in the draft or even use a first-round pick on Johnny Manziel? Tony Romo is still a quality starter -- despite what many believe. Yes, he's coming off back surgery and he isn't a kid anymore, but if the back is sound there is no need to take Manziel. The Cowboys have so many other issues right now. They have to get playmakers on that defense.
• Bengals quarterback Andy Dalton said he's the face of the franchise. I won't go that far with A.J. Green on the roster. But Dalton's attempt to state his case for getting a contract extension was smart. And I expect the Bengals to give him one. I am more of a believer in Dalton than most. He has 80 touchdown passes in his first three seasons. The only other quarterbacks to do that were Dan Marino and Peyton Manning. I think with Hue Jackson running the offense, he will be better. What other options do the Bengals have but to pay him?
• Cardinals coach Bruce Arians used Troy Smith when asked to compare Teddy Bridgewater to an NFL player. That's not a good thing. I doubt the Cardinals take Bridgewater as some have speculated.
• Is anybody coming back from injury that had surgery not ahead of schedule? We heard that all last week as teams reported back to work. OK.
• How can somebody change their tune on a draft pick so much after a pro day? Yet when some national analysts do it, people take it as gospel. Please stop. Everybody gets some right. Everybody gets some wrong. Nobody is a draft god, despite what many may think.
• Teams can still balk at Hard Knocks coming to their training camp, but they need to get prepared for more. I bet you down the road more teams do this on a regular basis on their own sites. There is an insatiable appetite for the information, so more will come before less in terms of pulling the curtain back.
• I know last week that 49ers general manager Trent Baalke and coach Jim Harbaugh put on their happy faces and proclaimed everything is good between them. What are they going to say? Do you believe it? I don't.
• I agree with Troy Vincent The NFL needs a developmental league, kind of like what they NBA has right now. It just makes sense.
Check here for the latest news, rumors and updates for NFL coaching changes and searches

The Titans have tapped Texans defensive coordinator Mike Vrabel to take over as head coach

The government shutdown has come at a horrible time for NFL fans in the U.S. military
Bengals owner Mike Brown seems to be a huge fan of continuity

Our computer model simulated the AFC and NFC title games 10,000 times with surprising resu...

The people of Philadelphia now have two reasons to root for the Eagles this week