Monday Musings: Time for Tannehill to step up his game in Miami
Entering his third season, it's time for Ryan Tannehill to take his game, and the Dolphins, to the next level. With a new offense, expect him to do so.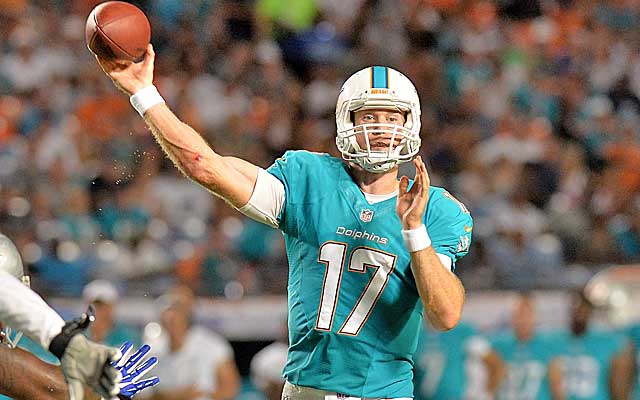 DAVIE, Fla. -- Ryan Tannehill doubled his touchdown passes from 12 to 24 from his rookie year to his second season in 2013.
Is another double-up coming?
"That would be nice," said Tannehill, the Miami Dolphins ' third-year quarterback.
Nice and unlikely. It would mean he's special. That would be 48 touchdown passes, the number Dan Marino threw in 1984 -- a number that was an NFL best until Peyton Manning took it down in 2004.
But I do believe Tannehill can get that number over 30. He also needs to cut down on his interceptions after throwing 17 in 2013.
It all starts with a new offense that is designed to help get the ball out of his hands quicker. With Mike Sherman out as offensive coordinator and Bill Lazor in, the offense has more pre-snap movements, which will help the offense dictate to the defense.
"This allows us to create matchups we like and puts pressure on the defense to get lined up right," Tannehill said last week. "It also puts the pressure on them to make the right calls and checks. When you do a lot of shifting and motioning, you make them be up front with their calls. A missed call, and you have a wide-open guy."
Tannehill was sacked 58 times last season, and he was hit a lot more than that. It's hard to complete passes from your back. The line struggled, but there was also talk that Tannehill wasn't great in the pocket.
"We went back and looked at (the sacks), and not a lot of them were from not having good pocket presence," he said. "But this offense is good about getting the ball out quicker."
All of these changes, plus the natural growth in his third season, will make Tannehill better. It has to be that way. There are still many who wonder if he's the long-term answer for the Dolphins.
"I'd take that guy in a minute," said a coordinator from another NFL team. "There's a lot there to work with."
Russell Wilson , from the same 2012 draft class as Tannehill, won a Super Bowl last season, which puts pressure on Tannehill to step up his game and lead the Dolphins to at least the playoffs. He said he blocks all that type of talk out of his head.
"I don't hear it a lot because I don't listen to a lot of media or read the newspapers," Tannehill said. "It's a quarterback-driven league, so I understand that talk. I just want to go out and play well and lead this team to the playoffs."
So far in the preseason, Tannehill is 28 for 41 for 291 yards, one touchdown and one interception. It hasn't been great, but it hasn't been bad either. He has missed some long shots down the field, which is something he needs to improve on in 2014.
The Dolphins' first-team offense got only a field goal against the Dallas Cowboys , thanks in part to a lost fumble by tight end Dion Sims and a bad end-zone interception from Tannehill.
Still, I do think we will see a better Tannehill this year, which is why he's the headliner of a list of 10 guys who I think have to -- and will -- step up their games this season. Here are the others:
Jason Pierre-Paul , DE, New York Giants : Three years ago, he looked like the next great pass rusher with 18 1/2 sacks in a season. Then he got too heavy and had back troubles. He's had 8 1/2 sacks since, and just two last season. But I think Pierre-Paul will bounce back to get double-digit sacks again. He worked hard this offseason and he looks quicker and leaner.
DeMarcus Ware , DE, Denver Broncos Here's another player I expect to have a big year. He had six sacks last season for Dallas, but he still has that ability to rack up 12-14. The Broncos got a steal getting him.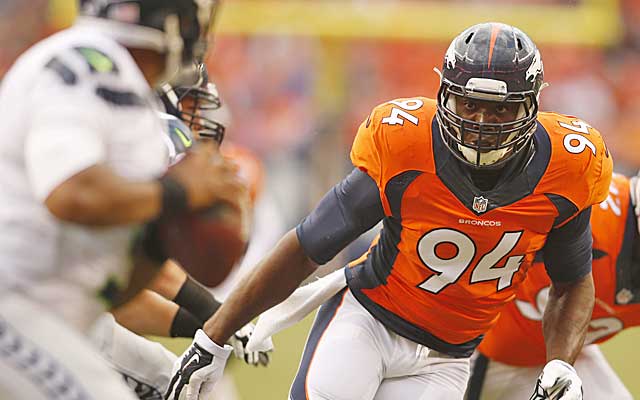 Dwayne Gratz , CB, Jacksonville Jaguars This second-year corner flashed as a rookie in 2013, but missed time with injuries. He is a bigger corner who is also a willing tackler. He fits with what Gus Bradley wants to do on defense.
Sylvester Williams , DT, Denver Broncos He started slowly last season, but started four games late and really played a big role in the playoffs. He showed he could push the pocket. Playing next to Terrance Knighton , look for him to be even better in 2014.
Dee Millner, CB, New York Jets After a slow start to his rookie season in 2013, Millner really came on in the second half. He showed off some impressive cover skills. With Antonio Cromartie gone, he is now the No. 1 corner. He has missed time in camp with a high-ankle sprain, but he should be back for the opener. They need him in the worst way.
Paul Worrilow , LB, Atlanta Falcons He started as an undrafted rookie in 2013 because of injuries, but he's earned the spot now. He did some good things last season, but this could be a special year for him. Get to know the name. He is a heck of a player.
Tyler Eifert , TE, Cincinnati Bengals He had 39 catches as a rookie last season, and I think he can get to 65 this season. New coordinator Hue Jackson will find ways to get him the football. He is too talented. Look for his touchdown catches to go from two to closer to 10. He has been killing it in practice, although he missed Sunday's game against Arizona with a slight injury.
Brandon Williams , NT, Baltimore Ravens Have you watched him this preseason? He's been a force in the middle of their defense. He is strong and quick and will make it tough to run on the Ravens.
Jarvis Jones , OLB, Pittsburgh Steelers The Steelers drafted him in 2013 with the idea he would be a key pass rusher off the edge for years to come. But he had just 1 1/2 sacks last season. He looked like he would be a major contributor with an impressive Week 1 showing against the Tennessee Titans , but then disappeared the rest of the season. He had a sack in the preseason opener and looks more comfortable rushing the passer now.
More Musings
• Peyton Manning's deep throw for a score to Emmanuel Sanders should end any talk that his arm strength is decreasing. That was a rip. I also think Manning's taunting penalty was worth it. It was late in the half, and it really didn't matter. He also wanted to get his point across to Houston Texans safety D.J. Swearinger , who has quickly earned a reputation for having a big mouth. His hit on Wes Welker wasn't helmet-to-helmet, but it was shoulder to helmet. That's a penalty, and it knocked Welker from the game with a concussion. Manning obviously was miffed about it. If you watch Hard Knocks, you know Swearinger got into it with Harry Douglas of the Falcons last week during a joint practice between the teams. One more thing on Swearinger: It was his low shot that injured Dustin Keller in the 2013 preseason.
•This most recent concussion is Welker's third since Week 11 of last season. That's not good. One has to wonder if Welker might be considering walking away. Or maybe he should be.
• Did you see St. Louis Rams defensive end Robert Quinn blow by Joe Thomas , arguably the best left tackle in the game, to sack Brian Hoyer Saturday night? I really do believe Quinn will take down the single-season sack record in 2014.
• New Orleans Saints running back Mark Ingram looks like a different runner. He should be able to put up some nice numbers in that offense. What happened?
• Robert Griffin III has looked bad in the preseason. But Kirk Cousins isn't the answer. Come on, now.
• Matt Ryan to Julio Jones could be lethal this season. Jones, who is coming off major surgery, had a 52-yard touchdown catch against the Titans Saturday night. Ryan carved up Tennessee's defense to the tune of 224 yards and two touchdowns.
• I was wrong about Miami Dolphins tight end Michael Egnew. When he came out of Missouri, I put him on my Better-Than team in 2012, a list of players I liked better than the scouts. The Dolphins cut him Friday, which means they were as wrong about him as I was. It also means the Dolphins are now without a second-round pick ( Jonathan Martin ) and a third-round pick (Egnew) from the 2012 draft. That's not good.
Here's a link to that 2012 Better-Than team
. There are some misses -- but also some hits.
• Alex Boone should just give up. He's not getting the money he supposedly is seeking from the San Francisco 49ers  I was told that he was offered $6 million a year and turned it down, but the real number, according to a source, was actually closer to $4 million a season. He's a good player -- not a great one. He might want to consider his own track to being a starter when he thinks about passing on $4 million a year. He was an undrafted college tackle who was converted to guard. In other words, you can find those players. Some of the NFL's best guards are converted college tackles. Why more teams don't do this is a mystery to me. At any rate, nobody is going to trade for Boone if he thinks he's getting even $6 million a year. That's nuts. He also has two years left on his deal, which is why the 49ers can dig in and hold off on paying him. 
• It's too bad the Green Bay Packers will be without center J.C. Tretter for a few weeks. Tretter was taking over for Evan Dietrich-Smith , now in Tampa, and was doing a heck of a job as a first-time starter. But he suffered a leg injury against the Oakland Raiders Friday night and he will be out for a while. That means the Packers will open with rookie Corey Linsley at center on the road at Seattle. That will be a challenge, even if the fifth-round pick has impressed so far this summer. That's a loud place for a rookie center to face all those looks Seattle uses up front.
• When I was in Cincinnati a few weeks ago, the talk was that linebacker Vontaze Burfict was asking for way too much money to get an extension and that the Bengals were willing to let him play out his deal. But he wised up and took out the injury risk by signing a four-year deal that will pay him $20 million. That was a smart move by Burfict, who came into the league as an undrafted free agent and had two years left on his deal. He is a damn good player, but the Bengals held all the cards.
• Next up for the Bengals is A.J. Green . He's going to get paid in a big way -- and he should.
• The Arizona Cardinals had to hold Tyrann Mathieu back in his rehab. That's how diligent he worked to get back on the field after tearing his ACL last year. Mathieu returned to practice last week after being taken off the PUP list. One of the things I was told by every person in the organization when I was there three weeks ago was that he's a great kid. Not just by coaches and front office people, but by staffers as well. If he can regain his form, which the Cardinals think he can, he has a chance to be a real impact player on a good defense in 2014.
• With Cardinals defensive end Darnell Dockett out for the year with a torn ACL, look for rookie Ed Stinson to get more playing time. Stinson has done some good things in camp and he comes from a top-flight program at Alabama. Stinson is also from the same neighborhood in South Florida that produced Cardinals' third-round receiver John Brown . He is more of a run stuffer than fellow rookie Caraun Reid . Frostee Rucker will start right away.
• If you are in a fantasy draft and need a tight end, take Travis Kelce of the Kansas City Chiefs . He is going to put up some good numbers. He had four catches for 49 yards against the Minnesota Vikings Saturday night, including a 22-yard catch. He has tools.
The former Buccaneers kicker did not have things start well for him in Chicago

Bears special teams showed up in a big way against Arizona

Beast Mode got loose with Oakland and looked pretty impressive in the early going
Beast Mode was one of several players to sit during the Raiders-Rams game

The cleaning staff in Houston missed a couple of things while cleaning up after Super Bowl...

Marvin Jones had some serious fun in the end zone after scoring against the Jets