Monday Musings: Why Bill O'Brien's style reminds me of Tom Coughlin
Bill Belichick's underlings have mostly failed as head coaches, but Bill O'Brien has the makeup to succeed in Houston with an innovative mind and an old-school approach.
More NFL: Photos |  Videos & GIFs |  Training Camp updates | Manziel watch
HOUSTON -- The two days I spent watching the Houston Texans were like a time machine of sorts for me, taking me back to a time when I was a beat guy covering the Jacksonville Jaguars with a first-year NFL coach named Tom Coughlin.
That's the vibe I got from Texans coach Bill O'Brien.
From his new rules limiting the media's ability to walk a certain way into the facility to the way he handles practice, O'Brien seems to have brought the same maniacal ways to his first NFL head-coaching job that Coughlin did to his.
Like Coughlin, he worked as an NFL assistant before becoming a head coach in college -- Penn State for O'Brien and Boston College for Coughlin -- and then took over as the top man for an NFL team. One took over an expansion team, the other a team that was pretty close a year ago to looking like one with a 2-14 record for the Texans.
Like Coughlin, it's O'Brien's way that drives what happens with the Texans now. O'Brien has eliminated scooters and Segways for his players to get around, even though Arian Foster purchased scooters for his linemen a few years ago. O'Brien also limits where media members can watch practice, although it's not quite as bad as the "penalty box" Coughlin made them stand in during his time in Jacksonville. O'Brien, like so many coaches, has a rigid schedule that seems inflexible.
Sure, there are differences between the two men, like the loud music blaring during practice. But even that's a sign of control: It's O'Brien's iPod that plays the music -- with requests, of course.
"Sometimes I'll ask the guys," O'Brien said. "It's a big thing because I love music and the players love music. My thing is all we do is that we try to make sure that it is respectful music and that everyone gets a little taste of each other's music or whichever ones they like. We just try to crank it loud and the guys seem to enjoy it. They make fun of me a lot because of my selections, but it's all in good humor. It's fun."
My favorite moment from the two days I watched the team, a moment that says a lot about O'Brien, was when he had his players line up to run wind sprints after practice, an NFL rarity, but something Coughlin used to do. "You want to know how to win?" O'Brien screamed at his players. "Listen to me."
I get the sense he loves the don't-pay-attention-to-outside-noise-and-distraction mantra, which are things a control freak like O'Brien tries to eliminate as best he can. I would love to say he's different than what he seems, which a lot of staffers told me, but I never had a chance to sit down with him in a one-on-one setting. It didn't fit the schedule, I guess.
I am OK with that. Nor am I complaining about it. Sometimes, it's best to just observe and listen. And based on what I saw, I think O'Brien could be a heck of a coach.
He is a bright, offensive mind who learned at the foot of Bill Belichick with the Patriots and seems to have a real passion for the job. This isn't a coach who just oversees things. He's in the middle of the offense. Like Coughlin, he's kind of from the Bill Parcells tree, and both are considered offensive innovators.
The problem is that many limbs from that Parcells tree rotted when they broke off. The coaches rarely lived up to the hype when they got head-coaching jobs, one such failure being Romeo Crennel, now the defensive coordinator in Houston. There have been others who have also failed, like Josh McDaniels and Eric Mangini.
Coughlin, though, won big. And I see more Coughlin in O'Brien than Mangini or Crennel or McDaniels.
You can already tell, too, with his players. They've clammed up. When I talked with tight end Garrett Graham about formations and where he might line up, he pretty much told me he couldn't say too much.
That's the Coughlin way. It's now the O'Brien way.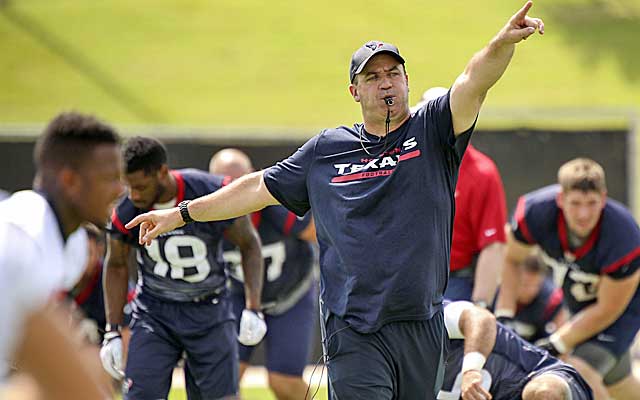 That's a lot for a coach to police, but I am big believer that players want and need discipline. The art is finding the right amount. Under former coach Gary Kubiak, things were a little more lax around the facility, but 2-14 leads to open minds when it comes to change.
"I think that's the thing when I first met [O'Brien]," receiver Andre Johnson said. "He's straight up with you. He will let you know what needs to be heard. He's not just going to tell you what you want to hear. I love his demeanor. I think just his whole attitude and everything he brings is a lot of fun."
You can hear O'Brien on the practice field from almost anywhere, even with his playlist blaring from huge speakers. At one point during Saturday's practice, he scolded his skill players for not lining up quick enough. He had them run before the next play.
Old school.
"I think it's something that was needed around this place," Johnson said about O'Brien's loud voice. "I'm excited about it."
Sprints after practice, with the head coach blowing the whistle to start the runs, is also old school. There is talk the Texans will also do Oklahoma drills, a high-school staple that many teams don't do anymore for fear of injury.
What's next, the old "bull in the ring" drill?
O'Brien might not win a popularity contest, but he isn't paid to do that. He's paid to win games. And that's why control is so important. He has been taught that distractions, like the media and bulletin-board material and lingering interviews in the hallway, get in the way -- perceived, anyway -- of winning.
I never have quite bought into that, but Coughlin won two Super Bowls that way and had one of the most successful expansion teams in history in Jacksonville. Belichick has three Super Bowl trophies as a head coach.
So I get it. O'Brien had success at Penn State in a tough situation, and I think he will on the NFL level as well. The roster isn't loaded with talent, and it might take time. The only problem is that when you're short with the local media and limit things, they might not be as apt to give you that time.
He will learn. He's smart. He will also learn what's important and what's not -- and will realize you can't sweat the little things. Although he would never admit it, when Coughlin learned that lesson, he won a Super Bowl.
Before that happened, he was fired in Jacksonville and forced to change. Like most smart coaches, O'Brien will come to realize the only things that truly matter are those that happen on the field, and, no matter how much he might try, controlling that is darn near impossible.
More musings
• The uproar over the two-game suspension for Ravens running back Ray Rice for his domestic violence issue involving a woman who is now his wife is understandable. The league blew it on the suspension. He should be banned for the year. Yes, the year. Putting a hand on a woman in any form of violence is a sickening, cowardly act. I don't care what the circumstances. There's something wrong when a player can be suspended for a year for smoking pot, yet get two games for a violent incident that was caught on camera. Roger Goodell has done a lot of good things, but this wasn't one of them. One more thing: What will the Ravens do without Rice's 3.1 per-rush average for two games?
• I think the Chiefs did a smart thing giving Jamaal Charles a contract extension that is essentially a two-year deal and brings him up to what he should be making. He is a special back, the kind you want in this era, a back who can do it with his legs and catching the ball. But at the same time, I understand why the Seahawks wouldn't want to do the same for Marshawn Lynch, who is holding out for a new deal. Lynch is older. Lynch has more carries on his body. And the Seahawks have a potential star back in Christine Michael sitting behind him. Beast Mode's per-carry average was 4.2 last season, which was right at the league average. You don't give contract extensions to declining backs.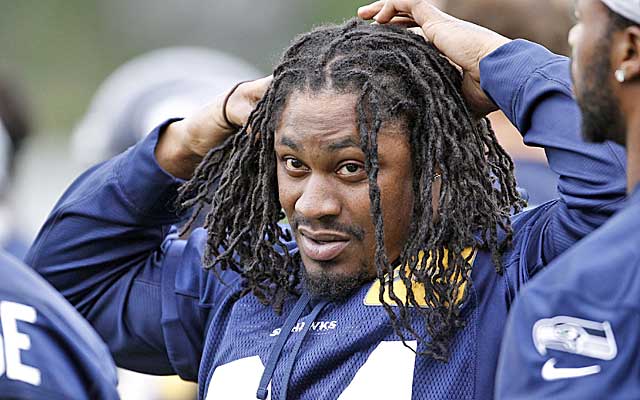 • Earlier this summer, 49ers coach Jim Harbaugh commented about tight end Vernon Davis and guard Alex Boone missing minicamps. He said it wasn't the "49ers way." At the time, I wrote that he needed to stay out of business matters with his players. Now comes Seattle's Pete Carroll doing the same thing. He said this about Lynch's holdout: "It's a contract for a reason. We made a decision and it was signed by us and by them. We expect them to honor their contract just as we will. We're going to honor it and we expect them to do the same." That's laughable since teams break contracts all the time, and Carroll broke one at USC. Memo to coaches: If you don't want to cause uneasiness in your locker room, stay the hell out of business matters involving your players -- even if you have a lot of power like those two.
• With Charles getting his new deal, the Chiefs have to decide what to do with linebacker Justin Houston and quarterback Alex Smith. I say they extend Houston and let Smith play this season before doing anything. That's just a hunch.
• With Dolphins center Mike Pouncey set to potentially miss the first two months of the season after hip surgery, it means the Dolphins will open with five new starters on the offensive line. The O-line is a unit that takes time to mesh, so this is something that can't be good for quarterback Ryan Tannehill. If the season started today, the Dolphins would have Brandon Albert at left tackle, Daryn Colledge at left guard, Shelley Smith at center, Dallas Thomas at right guard and rookie Ja'Wuan James at right tackle. That's a lot of questions up front for a team that needs to improve in a big way there. Smith has never played a game at center and now must step in for Pouncey for at least a couple of months. That's tough going. But can this line be any worse than it was a year ago?
• It was sad to hear that Broncos owner Pat Bowlen stepped down last week because of Alzheimer's disease. Bowlen has been one of the class owners for the past 30 years. He will be missed. Joe Ellis, who takes over running the Broncos, came to Denver from the league office. He worked closely with Roger Goodell back when expansion was taking place. But he has been with Bowlen for years, so he knows what he's doing. Denver will be fine with Ellis and John Elway running things.
• The four-game suspension of receiver Ace Sanders in Jacksonville is a blow of sorts to the depth of the position, but there was a chance Sanders might not have made the team anyway. Although he caught 51 passes as a rookie last season, I hear the staff isn't enamored with his game. He will likely sit out a lot of training camp in an attempt to straighten out his life, which is a smart thing. When he does return in Week 5, the team will have a spot for him, according to coach Gus Bradley. For how long? Keep an eye on undrafted rookies Allen Hurns and Damian Copeland. The team likes what they've seen from them since they've arrived. Then there's rookies Marqise Lee and Allen Robinson, who were taken in the second and third rounds, respectively. As for Justin Blackmon, the team will not release him after his arrest last week for marijuana possession. Blackmon is facing a one-year suspension, but the Jaguars figure it makes sense to keep him to see if he can get clean. The thinking could be that he will be tested to stay out of jail, so maybe it will help him turn his life around. There is a lot of talent there, and it isn't costing them anything, so it makes sense -- even if I would cut ties with him because he has shown no pattern to fix his wrongs.
• Training camp is a time where every player is in great shape, every injured player is healed, chemistry is great and leaders are emerging. Geez. Does it get any sappier than hearing all that?
• Smart move by the Packers to extend receiver Jordy Nelson. He is one of the most underrated players in the league. Next up: Randall Cobb.
• Any coach out there with a motivational book they can recommend? Just kidding. It seems like we hear all about that stuff during camp. I don't get it. Whatever happened to self-motivation?
• I see where New England rookie runner James White is earning praise early in camp. I really liked him coming out of Wisconsin and the Patriots might have a steal.
The Falcons are trending in the right direction after a 34-31 win over the Seahawks in Sea...

It's the best division in the NFL and it's not even close

Larry Hartstein has his finger on the Vikings' pulse and made a play for the Thanksgiving Day...
National sports writer Mike Tierney tells you who to pick in your Week 12 football survivor...

For whatever reason Seattle decided to try a fake before the end of the first half

The Giants aren't the only NFC East that might've quit during a game this season