Monday NFL Musings: 10 draft names scouts think are overrated
NFL personnel believe the later draft hurts preparation for young teams. Speaking of the draft, the same personnel reveal their overrated draftables.
More Draft coverage: Mock Drafts | Prospect Rankings | Big Board | News
Now that the NFL Draft process is winding down, I asked a handful of general mangers and personnel people their thoughts on the draft being moved back two weeks.
Here's a sampling:
• "Epic failure," said the general manger of Team A.
• "Ambivalence," said one personnel man.
• "General managers like it because it gives you more time to catch up watching mid- to late-rounders, but the scouts hate it because it cuts into their vacation," general manager of Team B said.
• "You're so accustomed to the draft in late April, your body gets used to it. The extra time helps with late round/FA guys, but no effect on top of draft. Obviously, you'd like to get it going," said the general manager of Team C.
Almost to a man, they all said it was toughest on coaches and scouts. This is usually some of their down time.
Another big concern about the process being moved back is the rookies missing two weeks of work with their teams that they've had in the past. That can really impact a young team or a first-year coach.
For teams with a veteran rosters and continuity in the coaching staff, it could be a lot easier to handle.
"Those two weeks are so valuable," the Team B GM said. "Missing those will hurt some of those players in terms of how they grasp the implementing of the system."
There is some talk next year the draft could go back even later in May than this year.
"Don't even joke about that," the GM from Team A said. "You're kidding, right?"
I wish I were.
Who's overrated? I also asked those same personnel people for a handful of players who they think are overrated. The names that were mentioned:
Teddy Bridgewater, QB, Louisville
Morgan Moses, T, Virginia
Justin Gilbert, CB, Oklahoma State
Stephon Tuitt, DE, Notre Dame
Louis Nix, DT, Notre Dame
Kony Ealy, DE, Missouri
Kyle Van Noy, OLB, BYU
Jeremiah Attaochu, DE, Georgia Tech
Kelvin Benjamin, WR, Florida State
I would disagree on Moses, Nix and Van Noy. But that's why they get paid to do it, and I don't.
My top 10: Here are my final top-10 players in this draft in order:
1. Jadeveon Clowney, DE, South Carolina
2. Sammy Watkins, WR, Clemson
3. Khalil Mack, OLB, Buffalo
4. Aaron Donald, DT, Pittsburgh
5. Greg Robinson, T, Auburn
6. Blake Bortles, QB, Central Florida
7. Jake Matthews, T, Texas A&M
8. Johnny Manziel, QB, Texas A&M
9. Eric Ebron, TE, North Carolina
10. Kyle Fuller, CB, Virginia Tech
More draft musings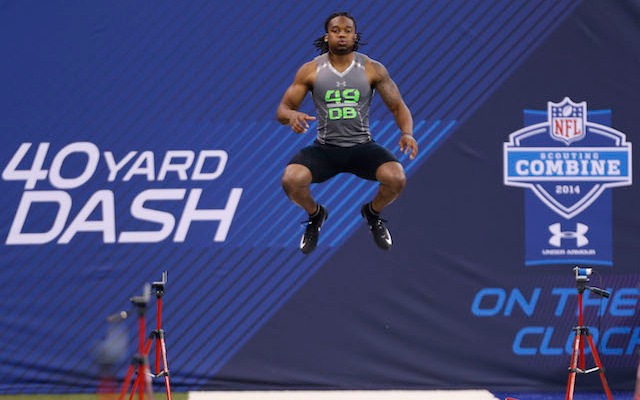 • I think a big problem with some teams is that they are scared to take a quarterback high in the first round for fear of failure. It's easier to handle it if a player at another position fails. But if it's a quarterback, the heat is on. In my mind, that's why teams pass. But it's a mistake. With the way the rookie contracts are now, it's easier to take a chance. Why not draft two, one in the first and one in the third or fourth? The idea that you can build a team and then find a quarterback who can manage it is far-fetched, even if Seattle won a Super Bowl that way. Take a chance.
• Ohio State corner Bradley Roby is considered perhaps the most athletic of all the corners in this draft. Some scouts don't like how he played last season after a great season in 2012. There might be a reason. At least one GM said he was told Roby wanted to come out last season, but was told by his mother to stay in school and he wasn't happy about it. That GM said that Roby played angry last season for the Buckeyes because of it, and it impacted his play. I still think Roby goes in the middle of the first round.
• The Seahawks did the right thing in giving safety Earl Thomas a long-term deal that makes him the league's highest-paid safety. He makes the Seattle defense go. His ability to play single-high safety and cover so much ground when they play Cover-3 is so vital to the success of that defense. Yes, the corners, including Richard Sherman, are important, but Thomas makes it all go. The range is the key. That's why Alabama's Ha Ha Clinton-Dix will go high in the draft and Northern Illinois safety Jimmie Ward should find his way into the first round. This is a league of copy-cats, and safeties who can cover ground are a must if you want to play defense like Seattle.
• I think when Jaguars general manager Dave Caldwell said last week that Johnny Manziel is the most NFL-ready quarterback, it could have been a hint at what the Jaguars might do if they trade back Thursday night. The word around the league is Caldwell is intrigued by Manziel, but wouldn't take him at No. 3. He might if they moved down to No. 6 or No. 7 in the first round. If the Jaguars stay put, indications are they likely would face a decision between Buffalo linebacker Khalil Mack and Clemson receiver Sammy Watkins. It is believed that Caldwell would prefer Mack, the safer pick and some others in the organization want Watkins. And don't go to sleep on Central Florida quarterback Blake Bortles. The Jaguars could pick him and sit him and play Chad Henne for half a season before handing over the job to Bortles. Remember, it's all about year three for this Jaguars management team.
• So Oakland reportedly won't draft a quarterback with the fifth overall pick. Matt Schaub. Oh, boy.
• Texans defensive end J.J. Watt worked out twice a day five days a week in the offseason? The guy is a machine. It's also why he's a great player. He loves it and works at it. What's not to love about the way he carries himself?
• Here's hoping Jim Kelly is beating cancer as he faces all the treatments of radiation and chemotherapy. Kelly is a fighter. That much we know, so let's hope he's winning the biggest fight of his life.
• The pre-draft talk is unreal. I hear things from guys I trust, straight to the point about who they like, and then read things that differ greatly. I'll believe the guys I trust.
• A handful of scouts and others I trust think the safer pick at tackle would be Matthews, rather than Robinson. They say it's because Robinson still has to learn to pass block, and that's risky.
• A lot of personnel people love Fresno State quarterback Derek Carr. Then you talk to some coordinators and the same love isn't there. Hmmm.
The Oklahoma quarterback isn't exactly being discreet about where he wants to begin his NFL...

No one was hurt, but Fournette's Mercedes lost a bumper

It might be time to begin worrying about the Patriots quarterback
The Patriots are still odds-on favorites, but the other teams are closing in

SportsLine tapped into its Vegas sources to see who professional bettors like Sunday

Philadelphia readies itself for a massive celebration if the Eagles advance to the Super B...