Monday Observations: D deserves share of blame in Houston
The Texans' offensive woes are obvious, but a defense that can't force turnovers isn't getting it done either. Elsewhere, it's time for the Vikes to shop Jared Allen.
• 8 min read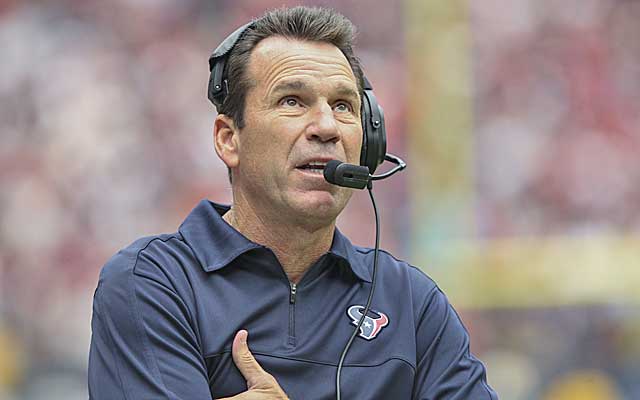 This is going to be a Houston Texans column. And it's not going to mention offensive-minded head coach Gary Kubiak or pick-six-throwing Matt Schaub or Houston's quarterback quandary. Well, except for that last sentence, but, well, that's the only time I'm bringing those guys up.
You see, there is plenty of blame to go around as to why the Super Bowl hopefuls are 2-4 after getting thumped at home by the Rams, and there are plenty of reasons why this team is lucky it isn't 1-5, if not 0-6. And it's not all on the offensive side of the ball. Not close.
The defense has largely been given a pass, but Sunday's display highlighted the many issues with that unit as well. St. Louis had been wounded, mentally and physically, on offense this season, struggling to find an identity and gain some confidence. The Rams were falling behind quickly and scrambling to create a run game, and yet here they were against a supposedly desperate Texans team, surging to an early lead, gashing the defense on the ground and exerting their will.
It's what many became accustomed to from the Texans defense, before its 10-game surge last season, when J.J. Watt was playing like an absolute beast and the secondary finally seemed to have its coverage problems sorted out and even the loss of star linebacker Brian Cushing couldn't slow the unit down. But it fell off late last season, got stomped by Tom Brady, again, in the playoffs. With me and everyone else talking about Watt being primed for perhaps a historic season, the Texans defense has instead fallen prey to its old ways, with the magic of Wade Phillips falling off, and the pass rush now far too tepid.
Sam Bradford, who generally has had to run for his life since coming into the NFL, had ample time to operate behind a makeshift offensive line. While the Texans remain a team far too susceptible to debilitating turnovers, they also remain woefully incapable of producing them. Through six games, they have two interceptions (only the Chargers, who have played one less game, and the Jets have fewer). They have one fumble recovery -- tied with the Chargers and Steelers for fewest in the NFL. They are right near the bottom of the NFL with just 10 points off takeaways.
The Texans have three total takeaways; only the Chargers (again, playing one less game) have fewer in the entire league. Houston is middle of the road when it comes to sacks, middle of the pack in terms of opposing quarterback rating. They entered this week 28th in stopping the run, allowing more than 4.7 yards per carry on first down as well.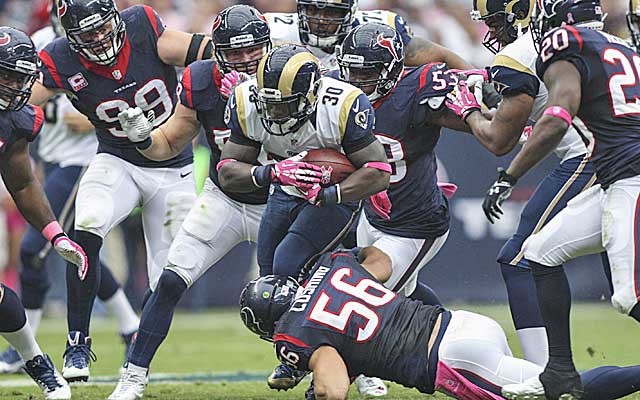 That's not going to get it done. Not even close. Not for a team with these kinds of expectations and not for a team that has been unable to protect the ball on offense.
Watt's motor is still revved, and his effort is beyond reproach, but he, like his defense, has not been able to close when getting near the passer. The sacks and strips and deflected passes, well, they aren't coming with anything close to the pace they did a year ago, or anything close to the goals Watt set for himself this season. A year ago, through six games, Watt had 9½ sacks, eight passes defended and two fumble recoveries. He was also single-handedly blowing up offensive game plans and forcing quarterbacks to throw from all sorts of uncomfortable angles to avoid his hovering presence. This season, through six games, he has 3½ sacks and three passes defended. A year ago the enduring image of him was with his feet soaring off the ground and his huge mitts thwarting a ball in midair; this season it is of the bridge of his helmet crashing down on his nose, causing blood to pour down his face in a game against Seattle -- a collapse that may capture the essence of these 2013 Houston Texans.
Surely, but changes are ahead given the way this season is going. I would expect them to be pretty sweeping, and hardly quarantined to the heavily chronicled misgivings on the offensive side of the ball. This is a team that could use another corner, for sure, and a boost in the interior of the defensive line, stuffing the run, and could use a physical presence at safety, too.
Vikings need to shop Allen while they can
The Minnesota Vikings can't stop anyone, even with Jared Allen, so I'm going to continue broaching the topic of what they could get for him if they shopped him and the $7 million that would be left on his salary at the trade deadline.
A Carolina team that looked about as lost offensively a week ago in Arizona as any team in recent memory stormed up and down the field in Minnesota. And that was with the Vikings coming out of a bye and seemingly on some high from having earned their only win of the season against Pittsburgh in London the last time out.
The Vikings have allowed at least 27 points in every game this season. Think about that for a second, and then consider that they have faced some offense-bereft outfits like Pittsburgh, Cleveland and Carolina in the five games they have played. If this continues against the winless Giants next week and division rival Green Bay the week after that, I have a hard time thinking they don't at least explore what Allen might yield in return.
As I have made this point before, there is nothing to preclude them from re-signing Allen as a free agent in March if they so desire. He loves the Vikes and they love him and it's all good. But I also have a hard time thinking he would be averse to a trade to a contender to try to get that ring. And the bottom line is that he's going to explore unrestricted free agency no matter what and there are no guarantees he's coming back to Minnesota, anyway.
I wouldn't be surprised if, around the same time the Vikings start evaluating new quarterback Josh Freeman for the future, they also quietly explore what some of their impending free agents would fetch in return. This is very much a rebuilding team and the Vikings could use all the picks they can get.
Bye week not helping
What happened to the axiom that teams are dangerous coming out of the bye? Not so much anymore. The Buccaneers, still yet to win a game (has Greg Schiano won his last NFL game?), watched the Eagles march the ball right down the field on their first possession and ended up losing, and giving up more points than they had this season. The Steelers won against the Jets, getting their first victory of the season, but it was hardly a thing of beauty. The offense stalled around the red zone and they were undone by some poor penalties and decisions.
I've already chronicled the Vikings debacle at home to the Panthers coming out of the bye. That was a thorough and complete beatdown. The Redskins showed a few signs of life, but also some of the same old things that dogged them during the first quarter of the season. Robert Griffin III looked more spry and nimble after getting the early rest week, but this didn't resemble the juggernaut that tore through opponents to snatch the NFC East a year ago.
The week before that, the Packers bogged down in the red zone and struggled to put up points against the Lions coming out of the bye. The Panthers came out of the bye and got smacked around by the Cardinals. We'll see if the trend continues as the bye weeks pile up. The Falcons host hapless Tampa Bay, and the Dolphins host the Bills as those teams come out of their Week 6 byes.
Extra points
• That was a huge win for the Packers in Baltimore, but their red-zone issues continued and they suffered two key injuries to receivers, leaving them very thin there. James Jones is likely to be back way before Randall Cobb, with Cobb's knee injury a cause for great concern. Aaron Rodgers remains under duress for long portions of games and this offense has not been nearly as bountiful as I thought it might be. On the bright side, rookie RB Eddie Lacy is showing plenty of positive signs, but he timing and tempo of this offense has not been what I expected and I suspect their frustrations might continue for a while.
• I figured the Cardinals might use stud defensive back Patrick Peterson to try to take 49ers tight end Vernon Davis out of the game. Considering the deficiencies in San Francisco's passing game, trying to eliminate their one dynamic weapon with a huge, physical, dominating corner seemed like a natural to some. Davis was the difference in the game, with eight catches for 180 yards (a long of 61 yards) and two touchdowns on 11 targets; Colin Kaepernick only went 8 of 18 for 72 yards, no touchdowns, and a long pass of 15 yards to receivers other than Davis. Hmm ...
• The Seahawks need to sort out their issues on field-goal exchanges. A blocked field goal turned their game against the Colts for good in Week 5, leading to their only loss, and a screwy exchange led to the Titans scoring a touchdown at the end of the first half Sunday that helped ensure that game was close for the duration.
• The Ravens' run game remains utterly unsightly. The change of Eugene Monroe for Bryant McKinnie seemed to make no difference whatsoever to their ineptitude on the ground. Holes were not there -- including on a key sequence of four straight runs from goal-to-go in the first half trailing 3-0 -- and Ray Rice and Bernard Pierce continued to get swarmed at, or behind, the line of scrimmage.
• The Chiefs are one of only two undefeated teams in the NFL, but their win over Oakland has brought some lingering issues further to the fore. Pass protection is an issue and the health woes on the offensive line were heightened by the injury to tackle Branden Albert. Not to mention the Raiders were dominating the Chiefs at the line of scrimmage for a good portion of Sunday's game. Alex Smith still has no semblance of a downfield thrust, either, and as the Chiefs play better teams, one suspects those issues get exacerbated. Smith completed less than half of his attempts Sunday.
White said he didn't even watch his own game-winning touchdown when watching Falcons film

SportsLine tapped into its Vegas sources to see which NFL teams professional bettors like this...

SportsLine's computer model simulated every Week 7 NFL game 10,000 times with very surprising...
He'll reportedly appeal the suspension

Rodgers is eligible to return after eight weeks and the Packers reportedly aren't giving up...

The Packers think the hit is dirty, but the NFL apparently disagrees