Monday Observations: Don't expect a big shakeup in Cincinnati
After another ugly playoff exit for the Marvin Lewis-led Bengals and Andy Dalton, will the Bengals change their stripes? Don't expect owner Mike Brown to change a thing.
• 9 min read
Mike Brown is a patient, patient man.
Much more patient than me. Probably more patient than you.
Keep that in mind about the owner of the Cincinnati Bengals as we deconstruct the opening weekend of the playoffs, and the performance of his quarterback, Andy Dalton, and his coach, Marvin Lewis -- perhaps the two individuals most under pressure in the wild-card round. After a humbling, mistake-filled lopsided home loss to the Chargers, after being unbeaten in that stadium all season, leaving Dalton and Lewis still without a career postseason victory, there will be plenty of conjecture about possible changes there or calls for drastic moves.
I see none of it happening.
Brown has a long, long memory that goes way back to long stretches of time when his team was a mainstay at the bottom of the NFL standings, playing to half-empty crowds and the laughing stock of the league. And those days weren't all that long ago. He invariably offers second and third chances and takes the long view in such matters. None of that points to him punctuating a season in which his club reached the playoffs for the third straight time (a first for the Bengals) and won the AFC North with sweeping changes.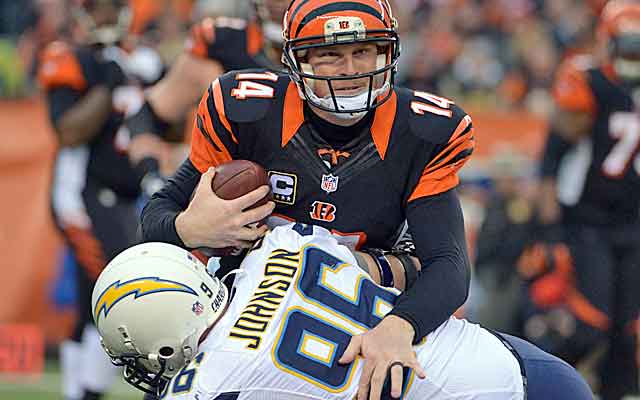 And, furthermore, he's even more loathe to go around eating a bunch of coaching contracts, and paying people to leave his building. He just gave Lewis a contract extension in 2012 that binds him to the team through the 2014 season. After all the stability Lewis has provided, and the contract extensions in the past and Brown sticking with him -- and vice versa after Lewis seriously mulled wanting out in 2012 -- a shake up now would be very surprising.
Now, could you make the case that Brown go ahead and promote defensive coordinator Mike Zimmer to head coach? You certainly could. After all of these years in which Zimmer interviewed for other jobs and came up just short, and given how much everyone who has played for him or coached with him believes he could be a head coach, what better man to give a shot to than Zimmer. And, with Lewis now 0-5 in the playoffs and his team reserving -- again -- one of its weakest efforts for the playoffs and coming up small in the biggest of circumstances, I wouldn't argue against that train of thought.
But the larger reality is, Brown, quite likely could wait a year to make that change and do it more cheaply. For all of Lewis' playoff failures -- and for his issues with challenges and game management at times -- just flash back to the Bengals before he stabilized the franchise. Recall what a moribund, hopeless act they had become. And if Lewis wasn't fired after a 4-11-1 season (2008) or a 4-12 season (2010), then I have difficulty foreseeing his reign -- which dates back to 2003 -- ending at a time when he has won 30 games over the past three years.
Furthermore, Zimmer's blunt style and lack of political graces have resulted with him being often a finalist but never a head coach. With the trend sweeping the league more toward younger offensive-minded coaches (like San Diego's Mike McCoy, who had another tour de force outing Sunday afternoon), I tend to think Zimmer will end up on the outside, looking in again this time around as his interview card starts filling up this week.
Lewis wouldn't love the idea of coaching out his "lame-duck" year, but this is an instance, and a franchise, where I could see that being the end game. He got plenty of concessions the last time around in contract negotiations, Brown has constructed a quality roster loaded with playmakers on both sides of the ball, he has secured key talent to extensions and beefed up the scouting staff. If Lewis tried to make a power play now, trust me, there would be no shortage of his coaching peers angling for this job. It would be very much in demand.
Like Zimmer, offensive coordinator Jay Gruden will make the rounds on interviews this week as well, and if he gets a job, I'd expect the Bengals to promote assistant Hue Jackson from within, keep the band together and roll with this cast of characters for another season, hoping 2014 is when they finally get over the playoff hump.
As for Dalton, his turnover-happy ways will likely cost him, big, at least in the short term. Under the collective bargaining agreement, the team could begin to renegotiate the contract of a third-year player ASAP -- Dalton, a second-round pick in 2011, applies -- and had Dalton come through with some playoff heroics, say, anything close to what Joe Flacco did a year ago, he would have been set up to cash in.
But closing the season with seven turnovers in the final two games and with just one career touchdown pass in three postseason games (and that pass, appearing, at least somewhat to be the result of getting hit from behind), and looking rattled and unsure against a Chargers defense that ain't exactly ferocious, will not help his cause. Instead, I'd expect Brown to now be inclined to let Dalton play out that rookie contract -- as Flacco ended up doing in Baltimore -- and waiting to see a full rookie-contract body of work from Dalton before locking into a long-term deal.
Certainly, despite all of his regular-season accolades -- and 4,000 yards and over 30 touchdowns is nothing to scoff at -- there remains plenty to give you pause with Dalton as well. Just how good is he? What's his ultimate upside? Would Brown feel a rush to hand over tens of millions in guaranteed money now, a full year before he'd have to?
Of course, on the other side, the prospect of Dalton, a starter for his entire career, playing for just $1.1 million will be less than enthralling as well. But short of a lockout, I'm not sure how much leverage he has, and Brown's history suggests you hold out on him at your own demise. Could they strike some sort of a deal, on a budget? I suppose, but I don't see Brown being willing to take Dalton anywhere near the $15-million plus stratosphere that guys like Matt Stafford and Sam Bradford have reached, much less the $18M-$20M range where Jay Cutler, Tony Romo, Flacco and Matt Ryan reside.
Is there an Alex Smith-type deal to be struck (two years; $15 million)? Maybe, though I'm not sure how many free-agent years the youngster would be willing to give up, if any, and the reality is if he has another strong regular season, he could force the Bengals' hand a year from now, knowing there will be a market for his services and knowing the franchise tag will guarantee him in the range of $17 million a year or more. As much criticism as Dalton takes, he has progressed every season to this point and there is no reason not to believe much more of that is to come. And Brown clearly remembers those fruitless years past juggling from Jeff Blake to Akili Smith to Jon Kitna. He knows what it's like to be grasping and hoping at this most vital of positions.
In this case, it may make the most sense for Dalton to be just as patient as Brown is known to be, to gamble on himself as Flacco did, and to continue taking the field every day this offseason, and next regular season, in an offense that is loaded with dynamic weapons still yet to even hit their prime (A.J. Green, Marvin Jones, Tyler Eifert, Gio Bernard, etc) and which has a stout, veteran offensive line. I just might wait out Brown, play this out another year, and see who antes up, and who blinks.
Run game rules the weekend
We talk so much about this being a pass-crazy league, and it is, but sure enough we reach the playoffs and the run game carries the day. We saw a preponderance of power football, teams trying to exert their will and win at the line of scrimmage, and not downfield. In almost every instance that went a long way to dictating the outcome.
The Bengals began the game clearly trying to limit Dalton's role, dedicated to the ground game, trying to bruise the Chargers. On Cincy's only TD-scoring drive, they ran on seven of the first nine plays, prior to Dalton's lone touchdown pass, but they could not find any sustained explosion in the run game, their turnovers forced them to chase the game, and the more one-dimensional they got, the worse their results became. San Diego, on the other hand, ran a paltry 57 plays on offense -- and 40 of them were runs. So much for the need for balance; what you need, in almost every case, is the ability to run the ball when you have to.
The Saints sent a clear message they were going to play smash-mouth football against the Eagles, who had the NFC's best run game in the regular season. Drew Brees was not sharp, particularly in the first half, and Sean Payton called a no-frills game, outmuscling the Eagles defense. New Orleans ran the ball 36 times -- to 30 pass attempts -- and when Payton needed a game-winning drive, despite having one of the best passers on the planet, he called eight run plays on the nine-play drive, including several out of short-yardage jumbo package, and kept it simple. The Eagles, on the other hand, could not get Shady McCoy going to his normal extent, and, well, that was the ballgame.
The Packers game with the 49ers was very much a throwback, a close, tough, battle of the wills, with tough yards more the course than imagination in the passing game. Even the anomaly of the weekend -- the shootout between the Colts and Chiefs -- was in its own way dictated by the run game. The Chiefs losing stud back Jamaal Charles on the first drive, was massive, even though they scored 44 points. If they had the ability to stay balanced and open up the entire playbook and use Charles -- and later Knile Davis, who was knocked from the game as well -- to grind out the clock and milk that lead, the outcome could have very easily been quite different.
Extra points
• The NFL's emphasis on improved concussion protocols certainly seemed to be well heeded this weekend, with so much at stake and with several elite players suffering blows to the head. The league still has much to do after failing to address this crisis of brain injuries for far too long, but the way teams were identifying and handling those situations during the wild-card games was good to see.
• I remain skeptical about Manti T'eo, and I figure the Broncos -- sticking with this run-heavy theme -- really target him in the ground game next weekend. Often he seems to be on the periphery of the action, trailing just closely enough.
• I can't imagine Trent Richardson is anything other than an occasional short-yardage back -- and even then only between the 20s -- for the Colts from here on out. The running back is looking like a lost cause, at least for 2014.
• On the other hand, what a way for another former Alabama back, Mark Ingram, to head into 2014, the final year of his rookie contract. He's becoming a featured part of that Saints offense and he will have to be huge against that biting Seahawks defense next week if New Orleans is to avoid the result of its last trip to Seattle. He's a guy who needs to be fed to be effective, according to people close to the Crimson Tide staff, and Ingram is definitely getting that chance now after three more or less lost years in New Orleans.
The Jags were laughingstocks as recently as this summer; now they're 60 minutes from an AFC...

The Jaguars are poised for the biggest upset in recent playoff history

The Broncos may have tipped their hand as to which player they're targeting at No. 5
The Steelers didn't have to look far to find their replacement for Todd Haley

The pop superstar will seek halftime show redemption at Super Bowl LII

Our computer model simulated the AFC and NFC title games 10,000 times with surprising resu...