Monday Observations: No easy fixes for 0-3 teams; Rams take a step back
Playoffs? The 0-3 Vikes, Bucs, Redskins, Giants and Steelers are just looking for a win, and big shakeups may come sooner than later. Elsewhere, what happened to the Rams' defense?
• 10 min read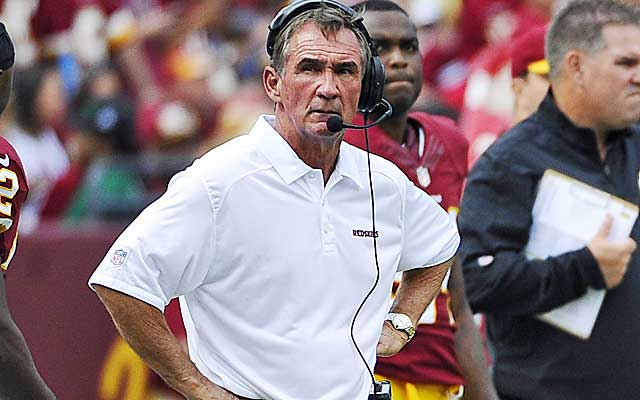 It's starting to get late pretty early for the dregs of the NFL. The Steelers, Vikings, Buccaneers, Redskins and Giants all have a winless record in common, have yet to show much of a pulse, and each save for New York has a Week 5 bye. And, well, in this league the bye week tends to be a harbinger of fairly major change for the teams truly in distress.
There does not appear to be an easy fix for what ails these clubs, and, alas, some of them may be destined for a season of discontent. But in general, teams don't go down without trying to shake things up at some point, and that point just might come sooner rather than later for these outfits.
So, what kind of possible changes might they consider if this early funk continues? After watching them go down again in Week 3, here are some thoughts:
Pittsburgh
It is un-Rooney like to do anything major in-season. It's hard to fathom it. But, if they can't get anything going offensively in London against the Vikings, and if things keep festering between players like Antonio Brown and offensive coordinator Todd Haley, you can't help but wonder if the organization -- believing it was headed for a rebound from last season's third-place finish -- doesn't consider something drastic.
The defense continues to be among the best units in the NFL, which might only further compound the tension in Pittsburgh if the run game and the pass game don't pick up. The Steelers showed signs of doing both against the Bears on Sunday night, but only after falling behind 17-0, and even then undermined themselves with turnovers. Brown had a monster game Sunday night. Winning a few games might cure it all and getting rookie RB Le'Veon Bell back this week in London would be a nice step, but I also don't think Mike Tomlin will stand idly by if this slide goes too much further.
Vikings
There are so many problems to go around here. There has been lingering tension about play calling dating back to former playmakers like Percy Harvin. There hasn't been much creativity, quarterback Christian Ponder continues to be erratic and teams are selling out to stop Adrian Peterson, and faring quite well. Since taking his opening carry of the season (78 yards for a touchdown), AP has 78 rushes for 203 yards (an unimaginable 2.6 yards per carry) and you have wonder if some frustration builds there.
Offensive coordinator Bill Musgrave would be one potential target, and the team gave a decent chunk of change to backup quarterback Matt Cassel as well. Sure, Ponder was a first-round pick not too long ago, but this is a team that reached the playoffs a year ago and Peterson was talking about shattering the single-season rushing mark before the season began.
Of course, the defense has to be a concern, too. It is pretty much a given to yield 30-odd points, even to the Browns, and the secondary is downright awful right now. With Jared Allen in the final year of his deal, this unit needs youngsters to emerge quickly. Either way, should they come back from London next week still searching for a win and a semblance of an offensive identity, you have to think change could be near.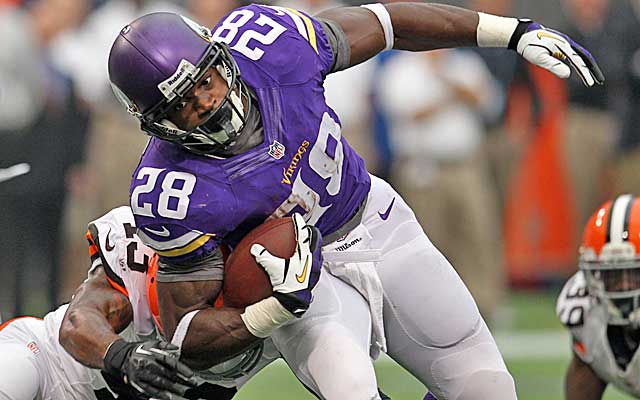 Buccaneers
Coach Greg Schiano has a firm hand over the defense, so I don't imagine many changes there. And quarterback Josh Freeman has already been through a steady procession of offensive coordinators. Schiano said after Sunday's tepid 23-3 loss to New England that he hasn't contemplated a quarterback change, but he has also never really endorsed or embraced Freeman, and he did just draft Mike Glennon. And this offense is certainly stuck in a rut.
The run game has been surprisingly average after Doug Martin carved up defenses a year ago. The return of guard Carl Nicks would figure to improve some holes over time, but right now that run game is lacking the explosion that defined it in 2012. Martin has 73 rushes for 297 yards, 4.1 yards per carry, typically the league average. Not sure a QB change would get that revved up, but I also don't see Schiano riding out a long losing streak without trying something.
Redskins
One wonders if a scheme change or a rethinking of offensive play calling would be most prudent during the bye, if not sooner. Robert Griffin III looks a step slower, at least, on the rare times he does end up keeping the ball in a read-option situation. (And he was running more bootlegs this Sunday).
If the Redskins cannot run the pistol effectively, then it is pretty clear they are incapable of doing much offensively, at least until or unless RG3 is somewhere close to the player he was a year ago, before this latest ACL surgery. Simply dedicating themselves to featuring Alfred Morris early in games might make a lot of sense -- it still baffles why he isn't seeing more of the ball -- and would also help ease RG3 into games. If you've watched this team try to play offense in the first half, you know he could use all the help he can get in that regard.
But, oh, my, it's hard to get much worse than the Skins defense. It's historically awful. No team in the modern era has given up more yards through three weeks than this group, and only one team in the history of the league has done so. That's saying something.
Defensive coordinator Jim Haslett's job security has been in jeopardy in the past and with secondary coach Raheem Morris, a former head coach himself, on staff, there is a potential next man up on staff (not that the secondary is shining to any degree; it has actually been quite poor).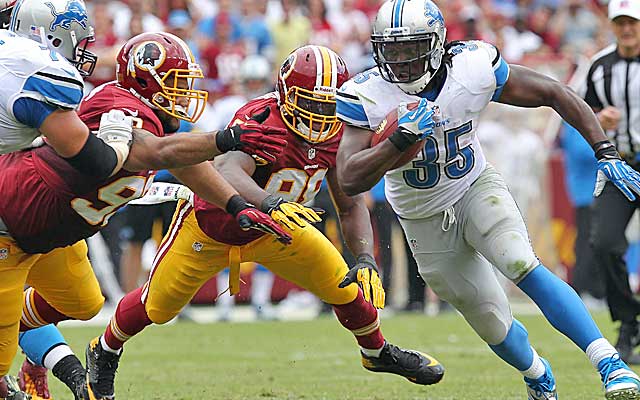 New York Giants
Of all the debacles we've seen this season, I don't think anything compares to how thoroughly the Giants got beat up by Carolina on Sunday (and I am leaving the Jaguars' weekly beatings out of this exercise, as they are so deep in rebuild mode this doesn't really apply to them). The Giants' offensive line is a complete liability right now. They lack backs who can be trusted in pass protection. And their defense, which had been holding up OK considering the cavalcade of turnovers by the offense, just imploded.
You aren't going to find decent offensive linemen on the street at this point, and it's a position of need around the league with so many left tackles already going down. So good luck landing an upgrade via trade.
If anything, you have to wonder if a season going this way may end up being enough to make Tom Coughlin call it a (Hall of Fame) career after the season. Giants GM Jerry Reese made it pretty clear before the season that another mundane season would not be tolerated, and at this point the Giants have a long way to go before they crawl back to being even mundane.
Don't bank on Browns dealing Gordon
Not sure there was anything else Josh Gordon could have done in his season debut Sunday. He is trying to make a good impression with his new bosses after missing the first two weeks with a suspension, and he was all over the place against the Vikings. Minnesota could not stop him.
With quarterback Brian Hoyer making his Browns debut, he immediately honed in on Gordon and tight end Jordan Cameron -- receiver Greg Little remains maddening with his propensity to drop balls -- and they didn't let him down. Gordon had 10 catches for 146 yards and a touchdown, and showed up seemingly in every critical juncture of the game. The Browns let lead slip away before rallying for a last-second comeback on Hoyer's perfect pass to Cameron in the back of the end zone.
Gordon was targeted 19 times -- yes, 19 times -- which tells you alone how little else the Browns have on offense and how important he could be -- if he can play consistently and stay out of trouble. Hoyer attempted 48 passes to receivers or tight ends, and 40 percent of those looks went to Gordon.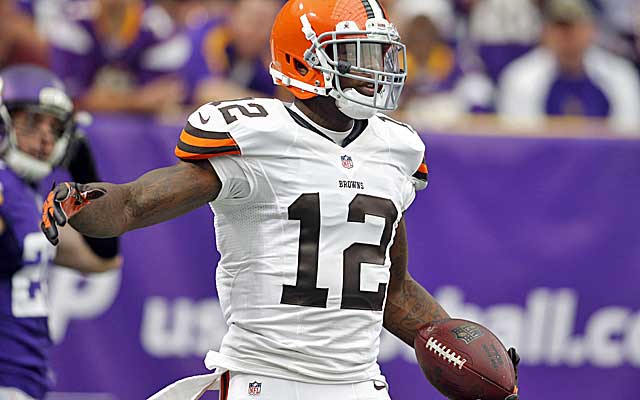 Also, while a report emerged Sunday of the Browns shopping Gordon, the reality is teams know that the new brass hasn't been wowed by the skill players they inherited, and have called with offers. Nothing was close to being done, and according to sources close the situation, it would be shocking if Gordon is dealt. Teams will continue to call and the Browns proved with the Trent Richardson trade they aren't afraid to go bold, but I would think dealing Little or even former starting quarterback Brandon Weeden would be more likely to go down should the right suitor emerge.
Young Rams taking their lumps
Sometimes youth is served. And sometimes youth gets served.
The Rams remain on the wrong side of this. A defense that was so brazen and ferocious and difficult to break down a year ago is now falling woefully out of games before halftime. The secondary continues to get shredded and they barely put up a fight against the Cowboys on Sunday.
In the first half of games this season, the Rams have allowed 39 first downs, 676 yards, 530 through the air. That's an average of 13 first downs and 225 yards per first half, which obviously is enough to doom any offense, much less one that registered a single first down in the first half at Dallas.
St. Louis needs to establish a run game, or at least make more of an effort to do so. Something has to change with the coverage schemes. The youngest team in the league will surely make some mistakes, but if anything this has been a regression from the great strides they made a year ago.
Extra points
•  Going back to the first half of the Eagles' opening game of the season, when Philly steamrolled the Redskins and threatened to shatter offensive records, well, things haven't gone so swimmingly. No team will be running 90 plays a game if its defense can't get off the field, it can't convert third downs and is allowing its quarterback to absorb big shots with regularity. Over the past 150 minutes of play, the Eagles have held the ball for 52:55 and opponents have had it for 97:05. That won't fly if it continues.
•  No fireworks on the Pats sidelines this week. When Tom Brady got angered, it was only at himself. Young receiver Kenbrell Thompkins made some steps toward earning Brady's trust, twice getting in the end zone against Tampa. It's still not what we're accustomed to from New England, but tight end Rob Gronkowski should return for Week 4 and Danny Amendola will be back at some point as well.
•  Ravens linebacker Daryl Smith, a sage free-agent signing with Ray Lewis retiring, took a page from Lewis' book by reading a tendency, jumping on a Matt Schaub pass and taking it to the house, turning the Texans-Ravens game for good and doing so with Lewis watching and waiting to be inducted into Baltimore's Ring of Honor at halftime. Baltimore's defense looks much improved each week.
•  Of course, if they can't find a way to establish any sort of ground game, the Ravens will have a hard time going nearly as deep in the playoffs as they did a year ago. Even before Ray Rice's injury it was nearly impossible for Baltimore to move the ball on the ground, and the holes just haven't been there.
•  As much as has been made of Baltimore's receiving group, San Francisco, their Super Bowl foe, seems in even worse shape. Anquan Boldin isn't going to be going off like he did in Week 1 with any regularity and Colin Kaepernick hasn't had a lot of options in the pass game the past few weeks. More surprising than anything else is why the 49ers haven't been more committed to the run and more adept with it. I figured Frank Gore was going to see much more of the ball against the Colts. You think of a heavy dose of the run when it comes to Jim Harbaugh, Jeff Fisher and Mike Shanahan, but that hasn't been the case this season.
•  C.J. Spiller suffered a knee injury, and Fred Jackson ripped off some big runs in his absence for the Bills.
•  Huge tip of the cap to Browns special teams coach Dave Toub, one of the best in the business, who pulled off a fake punt and a fake field goal that had plenty to do with Cleveland's first win of the season.
•  I keep waiting for a little more Ben Tate from the Texans.
Cord-cutters are probably going to like this new deal between the NFL and Verizon

Savage left the game before returning after just one series

Quinton Jefferson explains why things got ugly in Jacksonville
The Eagles lose their franchise quarterback with the playoffs just weeks away

The Packers cornerback held Gordon to one catch on Sunday

Colin Kaepernick, Josh Johnson and Matt McGloin are among the bigger names available