Monday Observations: Smith as SB MVP? OK, but Wilson was better
Malcolm Smith's big plays spearhead the Peyton Manning-rattling Seahawks D. I get him as MVP. But Russell Wilson's playmaking leaves more of an impression.
• 6 min read
More SB coverage: Seahawks win, 43-8 | Photos | Numbers | More news
NEW YORK -- The more I reflect upon Sunday night's Super Bowl, the more I believe Russell Wilson should have been the MVP. I understand why linebacker Malcolm Smith got the award -- and certainly, as a unit, the Seattle Seahawks defense was so suffocating literally from the first snap that a member of that unit was worthy.
That, however, was a collective tour de force, with the pressure that led to Manning's second interception as much a part of that pick-six as Smith grabbing the looping, errant pass and taking it to the house. But for Wilson -- in only his second season -- facing Peyton Manning and playing a position which touches the ball every snap and playing that well; to have been nearly perfect on third down and executing an expert game plane that kept so many teammates involved, well, it was pretty special.
All along I figured that if Denver Broncos was going to win, Manning was going to have to be the runaway MVP, having the kind of explosive offensive performance that defined this regular season. But Wilson, I believed, need only manage the game and prevent turnovers, and Seattle's run game and defense and special teams would persevere. Instead, Wilson was a flat-out playmaker, a difference maker. Don't let the relatively mundane box score fool you.
Just think about the passes he made, on the run, thrown only where his receivers could get them. Think about the sideline pass to Doug Baldwin early in the game. Think about how, when the pocket broke down, he was able to extend plays. Think about the scramble on the first drive that, I thought, picked up the first down, though the officials ruled otherwise.
Yes, I saw some nerves -- just a sliver of them -- on the opening drive, when he missed tight end Zach Miller badly on his first throw. And that's to be expected, even for the perpetually mature Wilson. But just think about what this kid did on third down:
• Third-and-9 from Denver 30: 12-yard completion to Jermaine Kearse .
• Third-and-6 from Denver 14: Scramble for 5 yards (almost converted).
• Third-and-7 from Seattle 31: 9-yard completion to Golden Tate .
• Third-and-4 from Seattle 46: 6-yard completion to Baldwin.
• Third-and-5 from Denver 43: 37-yard completion to Baldwin.
• Third-and-14 from Denver 14: Incomplete to Kearse.
• Third-and-4 from Denver 5: First down on pass interference (attempted pass in back of end zone).
• Third-and-17 from Seattle 19: Complete to Tate for no gain.
• Third-and-7 from Seattle 45: 12-yard completion to Luke Willson .
OK, I'm going to stop there. That's every third-down play through three quarters, and as we know the game was over by then. So Wilson converted six of nine third-down chances. He missed one by less than a yard on a scramble and the other two he did not convert were from long range (14 and 17 yards). It will be impossible not to think back on this game and have one's mind not turn quickly to Wilson spinning, sprinting, rolling out, slipping away and then making a play.
Only once did Wilson toss consecutive incomplete passes -- and that was the sequence early in the game on second-and-14 and the subsequent third-and-14. That's it, folks.
Wilson completed passes to eight different receivers, and four players had at least four targets. Everyone was involved. He finished 18 of 25 for 206 yards, two touchdowns and no turnovers while averaging 8.7 yards per rush. Manning has never has a Super Bowl passer rating above 88.5 and had thrown at least one interception in every Super Bowl he has played in. And Manning has never tossed even two touchdown passes in a Super Bowl game.
Wilson was more than a game manager, much more, and he still is only starting to climb to his peak. Once again, youth was served, with Wilson continuing a recent trend of a young quarterback earning a Lombardi Trophy (joining Joe Flacco , Aaron Rodgers and Ben Roethlisberger in recent years) in his first try. If he wasn't the best football player on the field at MetLife Stadium on Sunday, well, you'll have a damn hard time convincing me there were many others out there who played any better.
If anything, I suspect Wilson's performance ages well, looks better over time, when added to his ever-growing résumé. Manning's failures should in no way obscure Wilson's many successes Sunday night.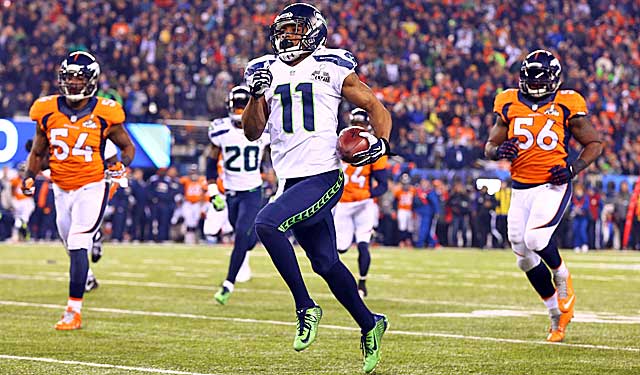 Still bagging on that Harvin trade?
Anyone who used to be critical of the Percy Harvin trade -- saying Seattle gave up too much or paid the receiver too much -- had best change his or her opinion.
I understand the injury risk and all of that stuff, but this cat is one of a kind, he still is only 25 (and a young 25 considering he has really played only a half season of football since 2011), and his ability to win matchups at four or five different positions is mind-boggling. How can you not flash forward to 2014, think about how young the Seahawks are, and consider Harvin for anything close to a full 16 games in it, and not project fireworks?
If Wilson wasn't the offensive MVP of this game in your mind, then Harvin would have to be. Obviously, his kick return to open the second half was electrifying, and don't forget how much Harvin was featured early, at a time when that very, very young offense was staving off the nerves, trying to sustain something and feel its way through such a huge game.
His presence in the backfield, whether an empty backfield or other arrangement, opens things up. Harvin carried two times for 45 yards, caught one pass, and, had this been a remotely close game you got the sense the Seattle playbook featured all kinds of opportunities for him. For him to have missed so much time this season, but be featured on, say, a key third down on a screen pass (it ended up incomplete), and to be getting carries right off the bat, tells you how highly this coaching staff thinks of him.
Don't lose sight of how imperative those runs were, also, on a day where the Denver defense often sold out to shut down Marshawn Lynch , stuffing him repeatedly and allowing him only 39 yards on 15 carries. Harvin's ability to explode to the outside, and find yards on the ground, served to keep that defense more honest.
Again, of course, he has to stay healthy. Durability will be key. But for what long appeared like a lost 2013 for him to end as positively as it did, is pretty remarkable.
Final Observations
• We'll see if Denver's offense has this kind of record production next season. I have a hard time believing it, with Eric Decker and Knowshon Moreno likely leaving for greener pastures as free agents, and Manning and Wes Welker  another year older. Don't get me wrong, they'll still be very productive, but I don't know about over 600 points and more than 5,000 passing yards and 55 TDs passes next year.
Keep in mind, Denver plays a much tougher schedule and matches up against the NFC West next season -- very physical defenses in Seattle, San Francisco, Arizona and St. Louis that will likely force Manning to move around and scramble, and we know the difference that can make.
• Seattle GM John Schneider is the best in the game, for his many huge moves, as well as the deals he has walked away from. Teams were calling a lot on Doug Baldwin when the Seahawks signed Harvin, and Schneider never wavered, wanting to keep his quarterback's preferred third-down target. Baldwin has huge in the playoffs, and he led Seattle in receiving yards (66) in the Super Bowl.
Forget being the highest paid receiver, Odell Beckham has loftier goals for his next contr...

There was a Rolls-Royce at Steelers training camp, but no Le'Veon Bell

'It ain't about 2016 and it ain't about 2018. It's about 2017,' Doug Williams told his qua...
Philip Rivers will not be moving to Los Angeles with the Chargers

Bryant has had off-the-field issues keeping him off the field for the past few years

Technically Woody Johnson is the Jets' owner, but on the other hand, Brady does own the Je...