Monday Observations: Top-tier RBs struggling mightily around NFL
Numerous teams equipped with elite backs are seriously lacking a run game. One possible explanation: A balanced attack is not as important to coaches anymore in this pass-happy league.
• 9 min read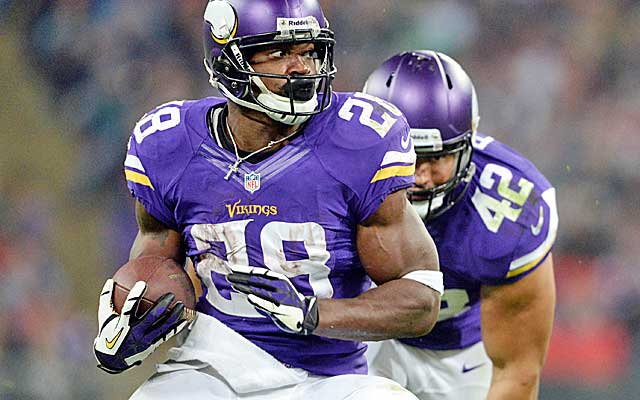 Ray Rice had 89 yards rushing Sunday. Well, actually, he had 89 yards rushing at the end of Sunday, like, for the season. Yeah, Rice has 30 carries for 89 yards total at the quarter-mark of the season.
The Baltimore Ravens are utterly unable to gain a modicum of production on the ground -- whether through Rice or once-promising second-year back Bernard Pierce -- despite bringing back the entire healthy offensive line from their Super Bowl win and the same group of backs, including fullback Vonta Leach. But this column isn't just about the Ravens' pronounced rushing struggles. Far from it. They are merely indicative of a much larger trend throughout the NFL this September.
Once dependable backs -- guys you banked on with your first pick in every Fantasy draft and who generally dominate games and salt away wins and break off long runs -- have been anything but. Divisions that have been largely defined by the run game, like the AFC North for instance, now have four teams none of whom has shown a penchant for anything close to even a pedestrian run game so far. The league is in a bit of rushing crisis, the likes of which I certainly didn't see coming.
I could understand that, in this era of pass-happy spread formations -- the overall number of carries and gross rushing yards would be down from years past. But for the average per carry to have fallen off this much -- least season NFL ball carriers averaged 4.26 yards per carry; through three weeks this season it was down to 4.06 -- strikes me as worth noting. If anything, I thought more teams would use the pass to set up the run, and open up more of the field by spreading things horizontally. Not the case.
It's still early, and things go in cycles and I'm not declaring this phenomenon here to stay, but consider just how many top-tier backs have not been quite right so far? Think about it for the minute -- guys like C.J. Spiller and Jamaal Charles and Alfred Morris and Marshawn Lynch and Arian Foster and Rice haven't been nearly what we expected. Frank Gore and even Adrian Peterson were off to slow starts before both put up massive games in Week 4.
There are some explanations for the league-wide downturn. Teams are clearly focusing on their passing timing and accuracy through the week. Padded practices are at a premium now, limited in the NFL CBA, and you can't just go old school for three straight days midseason and grind your way back into form. Doesn't work that way anymore. More coordinators seem to be enamored with chucking the ball around, and their willingness to get unbalanced has worked against the run game. More teams go running back by committee, which limits an individual's ability to get into a groove and truly get his legs going in some cases.
We've had a year in which several rookie runners who came in with very high expectations -- Le'Veon Bell and Gio Bernard and Eddie Lacy and Montee Ball -- have been largely spectators to this point, in some cases due to injuries. Guys who many thought would emerge as elite backs, like Shane Vareen, have been hurt, or, in the case of David Wilson, have been doomed by their inability to pass protect. Guys who are always hurt, like Darren McFadden, have been beat up again. Older guys who appear to be nearing the end but once were among league leaders, like Maurice Jones-Drew, seem quite slowed, or in the case of Steven Jackson, out a while again with injury. Guys who some thought would flourish with a change of scenery, like recently traded former third-overall pick Trent Richardson, ran 20 times for 60 yards against the lowly Jags on Sunday.
Matt Forte is averaging also 0.7 less per carry this season compared to this point last year. Ridley is averaging over a yard less.
It was more of the same for many of these guys this weekend. Rice had 17 yards on five carries, and the Ravens pretty much gave up on the mere thought they might be able to run for even a yard or two against the Bills -- the Bills, yeah those Bills who haven't stop the run for years -- in the second half. Spiller had 23 rushes for just 77 yards in that same game.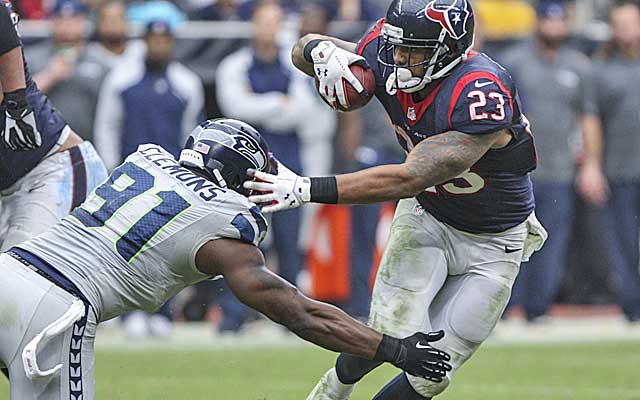 The Steelers averaged just 3.7 yards per carry. Doug Martin -- unstoppable at times a year ago -- ran 27 times for 45 yards (he is averaging 4.1 per carry this season versus 4.5 as a rookie). Charles ran it 18 times for just 65 yards in a blowout win over the Giants. Foster? He went over 100 yards but it took nearly 30 carries to get there.
For every Reggie Bush, who is taking games over for Detroit, there seem to be about 10 guys who just haven't been right. Maybe as we get deeper into the schedule and the weather turns and all that good stuff, then we'll see a return to the norm. It's certainly worth paying attention to it in October.
Struggling Steelers
This is the first real crisis of the Mike Tomlin era. The Steelers again looked disjointed and out of sync and had to try another manic comeback that, as with most things with them this season, fell short. The most salient image of the game, for me, was Ben Roethlisberger and Emmanuel Sanders again not on the same page, with Sanders turning back at Big Ben, jumping in the air in frustration and losing himself in the moment ... while the Vikes pounced on the errant pass for an interception and began turning up field.
As we've noted in the past, it's very unlike this franchise to fire coordinators or any such thing, but watching them get smacked around by a previously winless Vikings team in London on Sunday, it was hard not to contemplate what is to come for them in the short term, and some of the brain drain that has taken place, and might still be to come.
Tomlin inherited a good bit of Bill Cowher's staff, especially at the key coordinator spots. But Bruce Arians is now coaching the Cardinals and with the Steelers looking like they are in rebuilding mode, you would expect Dick LeBeau to call it a Hall of Fame career after this season. (It's still shocking that the Steelers simply cannot create turnovers; that's a sentence I never, ever thought I would write).
Tomlin's first big decision was replacing Arians, and doing so with Todd Haley. That's been under review since it came together. Now he could be looking for two new coordinators in 2014, and, keep in mind, the long-time heir apparent to LeBeau, former linebackers coach Ray Horton, is now running the rival Browns defense -- which may just be the best in the NFL when this season is all said and done.
You look at the beating Ben Roethlisberger takes every week (and brings upon himself in many cases), and you wonder if he's aging, fast. That offensive line doesn't show signs of getting any better anytime soon. This looks like the end for what was once the best safety tandem in the NFL. It's a real mess, and the difficult decisions are mounting for Tomlin, not just for the duration of this season, but for how this organization reshuffles for 2014.
Cards need new direction at QB
The Cardinals have to think very hard about drafting a quarterback, high, in the 2014 draft. I realize Carson Palmer rallied them to finally score in the fourth quarter and win at Tampa, and I understand the issues they have on their offensive line, but for a half they couldn't get the ball to Larry Fitzgerald at all. Palmer does not resemble his former self and this, to me, is a team in need to finding a young guy to lead them into the future.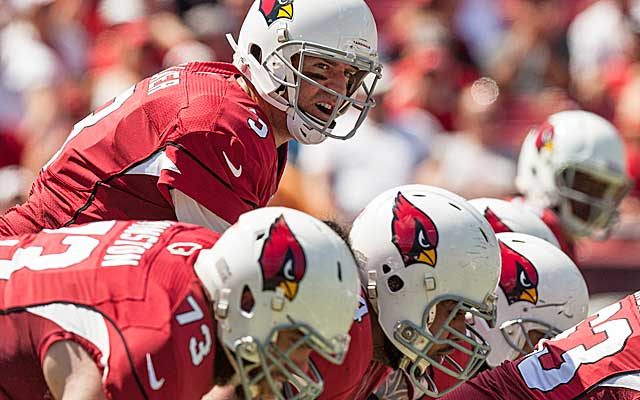 They are going to need more mobility and verve from the position, sooner rather than later. Taking a shot on a big-armed free agent like Josh Freeman and drafting a quarterback might be the way to go. But this team is going to require some time to get where it wants to go, and I highly doubt Palmer will be getting better with time at this stage of his career.
Extra Points
• Brian Hoyer followed up his Week 3 heroics with an outstanding performance against a Bengals defense that many believe is among the league's best. Yes, they were lacking some defensive backs, and to his credit Hoyer made them pay. Hoyer's ability to move left and right in the pocket, keep his cool and his feet, and find secondary receivers on the sideline, was impressive. His ability to lob passes with perfect touch to tight end Jordan Cameron is winning games for the Browns. This is pretty intriguing, and all of a sudden the Browns are tied for the AFC north lead.
• Denver's unsung hero is running back Knowshon Moreno, who is having a renaissance this season. He is keying their run game, is a demon in pass protection and shows up big in the screen game too.
• Bills coach Doug Marone deserves some credit. He had EJ Manuel, on what was a rough day at times, still trying passes into the end zone from goal to go situations with a chance to put the Super Bowl champs away. He is empowering his rookie quarterback and trying to cultivate a playmaker, not a game-manager.
• Russell Wilson kept the Seahawks in a game that looked like it was going to be a blowout loss by extending drives with his legs. The stats won't be all that sexy, and the Seahawks need to get more of a vertical game, but this kid's ability to turn around, keep his bearings about him, and then run inside is something to see. He finds the hole after being spun around and darts back away from the sidelines. Thankfully, he is also one of the more adroit sliders in the league -- from his baseball background I suppose -- and his plunges through the heart of the Texans defense sustained critical drives time and again.
• Marvin Lewis must not have gotten the memo about the Browns rushing defense. I was pretty surprised the Bengals went for a key fourth down, and tried an inside run at that. Cleveland stuffed it easily and the game swung back in their favor from there.
• I understand Vikings coach Leslie Frazier playing it a little coy about the future of his starting quarterback job, with former first-round pick Christian Ponder ostensibly only not starting Sunday due to injury. But Matt Cassel did enough to win, the team rallied behind him, Peterson endorsed him, and look for Cassel to be back under center come Week 6 when the Vikings are off the bye.
The Chargers are hoping that Philip Rivers can play on Sunday

This is the biggest showdown of the week in the NFL

The battle between the Rams' offense and Vikings' defense will be waged in the middle of the...
An 'inappropriate' comment by the Cowboys' owner was caught on video in 2013

Here's every official injury designation for each NFL team for Week 11

The Chargers can't seem to avoid controversy this year