Monday Observations: Vick is Philly's best chance; Rex's D owns the Pats
So much for a QB controversy in Philly. It's obvious Michael Vick gives the Eagles the best chance to win. Elsewhere, Rex Ryan's D continues to confound the Pats and Case Keenum impresses.
• 10 min read
I used to wonder if the Philadelphia Eagles were headed to a quarterback controversy, with upstart Nick Foles flourishing against the winless Giants and winless Bucs while Mike Vick nursed his hamstring injury.
But by halftime Sunday, with the Eagles mustering no points and just 110 yards and Foles out of sorts and Vick preparing to be ready for Week 8, well, any drama was long gone. Consider me, soundly, in Marcus Vick's camp (and I pray this is not a sentence I repeat often, perhaps ever). This is Michael Vick's team and the Eagles, if they are to fulfill Chip Kelly's master offensive plan, will have their best (only?) chance of doing so with him under center.
Despite all of their woes, they were hanging around this game, getting their best effort of the season from their defense in a fairly critical game against rival Dallas at home. There were ample opportunities to finally get in the end zone and swing the game in their favor. Foles could not make that happen.
One play may have best summed it all up. Trailing 10-0 and deep in Dallas territory late in the third quarter, Foles had Jason Avant wide open in a gaping end zone, and no one else in sight. The pass was late and inaccurate and as Avant lunged to try to cradle it, it bounced into the air and was easily intercepted. Game over.
It's a throw you have to make -- or at least come closer to making -- and it was that kind of inefficiency that doomed the Eagles on Sunday. The run game hasn't been nearly as robust with Foles under center, with teams able to focus more on LeSean McCoy, and if anyone had a notion that Matt Barkley might truly figure into Philly's short-term quarterback equation, his immediate display of turning the ball over almost as if it was a mandated part of his job description -- three picks in one quarter of work -- would have squashed that.
So it's Vick or bust, with the midpoint of the season approaching.
Luckily for the Eagles, they play in a division in which no one is likely to pull away. And they have looked truly explosive for spells with Vick under center. Though, at his age and given his injury history and now with a wonky hamstring and in a scheme in which the quarterback runs a lot and five-man protections are hardly uncommon, one has to wonder how many quarterbacks the Eagles might churn through in 17 weeks.
Foles will go through the league's concussion protocol this week, needing to be cleared to practice, while Vick believes he is ready to return to duty -- which couldn't come at a better time for the Eagles, with Vick's worth to them not in question.
McDermott seizing opportunity
Sean McDermott was a rising-star coordinator not that long ago, and he just might be again.
There was a time when McDermott was thrust into defensive coordinator duties in Philadelphia, having to replace legendary defensive mind Jim Johnson as he battled cancer (and unfortunately passed away in 2009). McDermott was one of the youngest coordinators in the game, the Eagles had Super Bowl expectations -- as would be the case with so many of their coordinators to follow -- and things did not go according to plan. He was let go in 2011. Enduring much criticism and abuse from fans and media alike, McDermott ended up in Carolina as the Panthers' defensive coordinator. There he has toiled in relative obscurity, putting together one of the best young defenses in the NFL, and, still just 39, a man very much with his future before him.
When you watch the Panthers swarm to the ball en masse -- engulfing and overpowering the Rams in a blowout win Sunday to bring Carolina back to .500 -- you cannot help but flash back to Johnson's attacking defenses that were synonymous with Eagles football. Carolina may have had its faults in recent years, but collective defensive talent was not one of them, and McDermott has the unit playing at an elite level that has managed to overcome the erratic nature of their offense.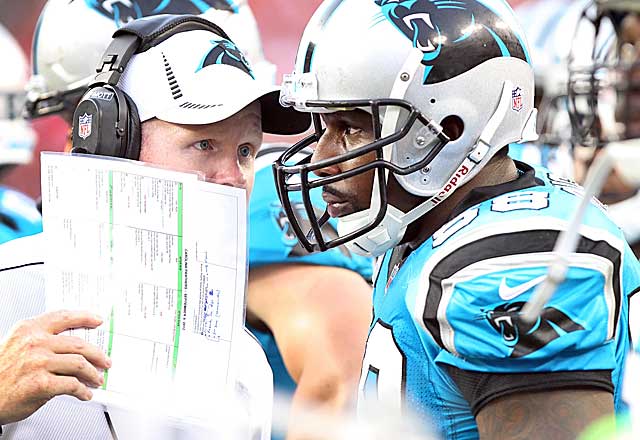 Carolina has allowed the second-fewest offensive points in the NFL, and is in the top 10 in yards per play, yards per carry and in opposing passer rating allowed. They are top five in red zone defense and among the very best in the league in most indicators save for third-down defense.
While head coach Ron Rivera's future is the subject of great speculation, it's worth pointing out that McDermott is the only member of the staff with a deal that extends beyond 2013, and his work won't go unnoticed much longer as the success of the Panthers' defense becomes more obvious to all.
The Panthers have allowed more than 15 points just once this season. They have allowed 10 points or less three times. They have allowed just 31 total points in the last four games. I'm no math major, but that's less than eight points per game. With the offensively-challenged Bucs up next, the Panthers' run seems likely to continue, and if they can take advantage of the Falcons' struggles (two games with Atlanta loom) perhaps the Panthers will surpass expectations.
Rex, Jets still confounding Pats
The Patriots' struggles with Rex Ryan's defenses are plenty documented, but man, their utter inability to make anything happen at all on third down Sunday has to cut to their core. And given all of their defensive holes now due to injury, the need to score points into the 30s seems fairly clear. So I find it difficult to believe this team won't be making every effort to add a pass catcher to this group ahead of next week's trade deadline. Their young receivers are too hit or miss, Rob Gronkowski is just working his way back and is more easily defended without Aaron Hernandez around, and Danny Amendola's health is always going to be in question. Tom Brady needs other options and they need other looks, especially on the money down.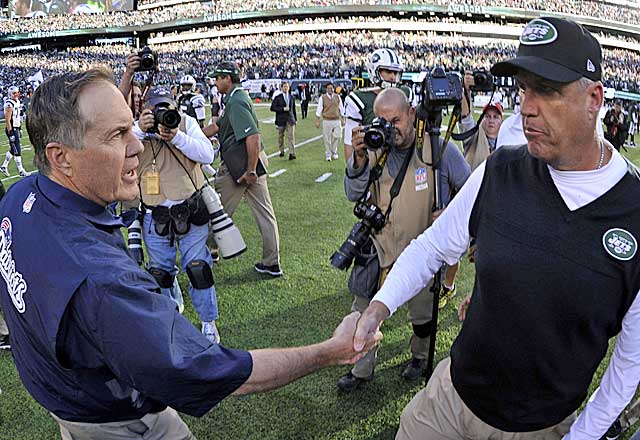 Anyone out there still think Rex Ryan is a bafoon, and should have been whacked in the preseason because of a backup quarterback who was only there because of his contract? I don't know how you put together a coach of the year list at the midpoint of the season and not have him right up there. As I wrote about the Jets in training camp I was struck by how the circus had left town, how they were back to being about football and not the sideshow and how Ryan's hands-on approach with that defense was poised to yield big things on that side of the ball.
Navigating it all with a rookie quarterback, pulling off some signature wins and getting themselves right in the thick of the AFC playoff picture is no small accomplishment, especially when the general consensus coming into the season was that you were a dead man walking and people were quick to cast all kinds of doubt as to whether Ryan and new GM John Idzik could co-exist. Being forced to trade your best player (Darrelle Revis) and being handcuffed by a litany of salary cap/contract issues inherited from the previous regime made things no easier, but this team clearly is not the punch line it was in 2012, and the revived Ground And Pound will keep them in games.
Extra Points
• I've been banging the Case Keenum drum for quite some time, and how could you not be impressed with him Sunday in difficult situations in Kansas City? He sparked the team -- they finally had a downfield passing presence; six plays over 25 yards -- and multiple receivers made big plays. He also revived the boot action and moving pocket of the Gary Kubiak offense and might have won that game had the pass protection not faltered late. Once again the Texans' defense let them down at critical junctures, but against an undefeated team in his first NFL start, with the Texans' season in the balance, after losing running back Arian Foster almost immediately and then Ben Tate later on, I'm not sure what else you could have asked for out of Keenum. I'd be very surprised if Kubiak doesn't stick with him coming out of the bye.
• A huge win for the Redskins Sunday, which keeps their season alive, but the sight of Josh McCown absolutely shredding their defense in the second half -- after being rushed into relief of the injured Jay Cutler -- will haunt them for a while. McCown was 14 of 20 for 204 yards and a touchdown, Matt Forte had his way with them on the ground and scored three touchdowns, and the Redskins' secondary is atrocious. They don't wrap up, they seem opposed to fundamentals and far too often they launch themselves off the ground, blatantly, and lead with their heads. Safety Brandon Meriweather needs to be suspended. Fewer things in this league make me cringe the way his play repeatedly does and he seems dead set on being a menace not only to himself but to a legion of others in the NFL for whom he displays no regard or respect. It's beyond gruesome and he doesn't appear willing, wanting or able of changing it, sadly.
• The amount of clearly visible empty seats in Miami -- and not the upper regions of the upper deck, but all over the stadium in all levels -- was stunning. It was a big game against a divisional foe coming out of the bye, and it was stale. This team could be headed for a bit of a slide, too, having lost three in a row with the Patriots and Bengals looming.
• The Chargers continue to lose offensive linemen at a ridiculous rate and yet keep winning games. You have to wonder if at some point they literally run out of bodies (somebody explain to me again why all 53 men on the roster can't dress for a game of attrition?), but in the meantime they remain a fun team to watch. The AFC West games ahead will be fairly telling.
• Not sure too many people playing football Sunday were showing more emotion than Bills QB Thad Lewis, who absorbed some punishment at times, hung in there and flat out made plays to earn his first NFL win. Taking over for the injured EJ Manuel, Lewis has shown plenty of fight in his brief baptism by fire. And for a while it looked like Dolphins' receiver Brandon Gibson was going to be unstoppable in the red zone, exuding energy, emotion, passion, and even diving into the stands at one point. His two TD catches were not enough for the Dolphins, however.
• John Harbaugh is without a doubt one of the very best at what he does on this planet, but he has made some questionable decisions of late. First there was the decision to run four straight times near the goal line in Week 6, and then he had Joe Flacco dropping back at the end of the first half, leading to a strip-sack and field goal for the Packers. And finally, Harbaugh made the call to go for an onside kick in the third quarter of a close game at Pittsburgh on Sunday. Those decisions were massive in the outcomes of two consecutive losses, dropping the Ravens to 3-4, and will be second-guessed for quite some time if the Ravens fail to reach the playoffs.
• As bad as it's going for several teams out there, I can't imagine any coach loses his job in-season, with the possible exception of Greg Schiano. The Bucs are a disaster on many levels and I could see the Glazers running out of reasons to keep him around with the track they are on. They're wasting some top talent and have wasted this season and there is no indication of anything turning around even moderately. The longer this goes on, the worse the PR, and results, seem to get. Every week another sideshow, with the coach at the center of it all.
Super Bowl tattoos are never a good idea until your team has actually won the Super Bowl

A couple of dogs emerge victorious in the Conference Championship round

If the past 18 weeks are any indication, Tom Brady could be in trouble Sunday
The Patriots quarterback has been listed as questionable for Sunday's AFC Championship

It appears the Raiders didn't break any rules during their hiring of Jon Gruden

Jacksonville cornerback does not lack confidence heading into AFC Championship