Monday Observations: Who's in the QB market and who might be?
Who's in and who's out for the franchise QB derby that will be the 2014 draft? Count the Texans, Jets, Rams and Bears as candidates to jump in.
• 11 min read
Watching the Raiders and Texans shuffle quarterbacks in and out this week, an ugly game of musical chairs that produced no results or confidence in their future under center, heightened the differences that exist in this league between the haves and have-nots when it comes to the most important position of all.
You either have a quarterback that you can win with, for the long haul, or you do not. And for those that do not, the jockeying to acquire one will begin soon -- most likely through the draft. As the sample size increases this season, the harsh reality of, say, juggling Matt McGloin and Terrelle Pryor, hoping for some sort of spark while getting pummeled by the Jets, for instance, looks even more stifling when compared to the late-game heroics orchestrated by Super Bowl-winning quarterbacks like Tom Brady or Joe Flacco.
Even teams like the Redskins, where, trust me, there is no quarterback controversy -- Robert Griffin III is the franchise in the eyes of owner Dan Snyder, which is all that really matters there -- have been undone in part by the inability to generate any sustained thrust from the position.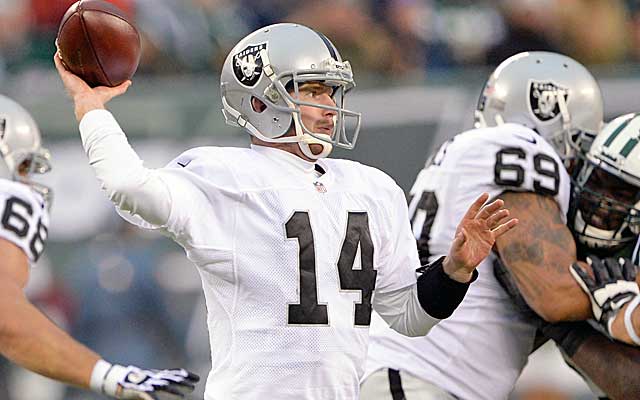 They won't be in the market for anything at the position, not with RG3 the sun in their solar system after giving up a massive bounty to move up and draft him in 2012, but the chorus of some fans calling for Kirk Cousins provides an unfortunate soundtrack to their lost season.
By this point, you can pretty much divide the league's quarterback-needy teams into four categories: Teams definitely getting a new one (likely through the draft), teams still evaluating their starter with an eye to the future, teams that have stable veterans but could draft one in the second round or later, and teams whose current young starter has impressed to the point where they're out of the starting quarterback market. With Week 15 approaching, the time to assess one's current passer is running out, and critical determinations that will dictate the fortunes of many franchises are on the horizon.
Teams in the QB market
Jacksonville: Blaine Gabbert is gone, a first-round bust of the highest order. Chad Henne is worth having around, for sure, as an insurance policy. But make no mistake, GM Dave Caldwell, who trained under Thomas Dimitroff in Atlanta, knows the import of having a quality quarterback and the Jags will be in position to draft one. Even with the group of prospects thinning some due to kids staying in school, there will be ample prospects worthy of a top pick, especially at the reduced rate this CBA provides.
Cleveland: The Browns' recent run of losses, including a heartbreaker at New England on Sunday, is a good thing. They are climbing up the draft order -- rapidly -- and Joe Banner and Mike Lombardi are all about landing a young quarterback to lead the franchise. Brandon Weeden, a first-round bust of the highest order, will be gone and Brian Hoyer, making $1 million coming off an ACL tear, is the insurance there. The Browns have spent as much time scouting QBs as anyone, and with two first-round picks and an aggressive front-office mentality, they are poised to make power moves to get their guy if need be.
Tennessee: Even if Jake Locker comes back from another injury, he has to prove he can play well and play out his rookie contract in order to earn a new deal in the future. The Titans will be bringing in competition, without a doubt, and it very well could come in the form of a first-round pick, especially if they keep losing games and moving up the draft board. If nothing else they need a better second option, more like what they had with Matt Hasselbeck and less of what they have now with Ryan Fitzpatrick.
Minnesota: Familiar scenario here, just change the names and faces. Christian Ponder is the first-round bust, Matt Cassel could be the insurance, and with a coaching change imminent, the hunt for a new passer will be on. They'll be in the market for a starter, without a doubt.
Oakland: Dennis Allen is coaching for his job, and the quarterback toggling could end up doing to him what it did to ex-Texans coach Gary Kubiak. This regime has never been sold on Pryor and while McGloin has flashed at times, he got a quick hook Sunday and as an undrafted rookie free agent they have very little invested in him. They'll be looking.
Teams still evaluating
Houston: I came really close to putting them in above category, really close. But owner Bob McNair is a Case Keenum fan and he mentioned the kid a few times at the news conference after firing Kubiak and he wants to see what the kid can do. He has certainly had a fair share of moments where, with a moving pocket and in Kubiak's system, he shined. So when Kubiak flirted with going back to Matt Schaub, that was it for him. Schaub won't be back in Houston in 2014, not with a $10 million salary. With the Texans the front-runner for the No. 1 overall pick right now, the opportunity to select any quarterback they want will be too rich to ignore. Keenum could certainly stay and fight for a job while the rookie learns next year, but it's hard to imagine they don't draft one.
New York Jets: Geno Smith came out of a deep, deep funk to finally move the ball as the Jets ended their slide Sunday. And he will remain a part of their equation for the New York Jets in 2014, but to what degree? And, depending on the coach, how much rope will he get next year, in the offseason and beyond? It makes no sense to sit him now, as the Jets monitor everything he does, but will they see another quarterback in the top of the draft sitting there for them come the spring? Either way, I see them upgrading at backup.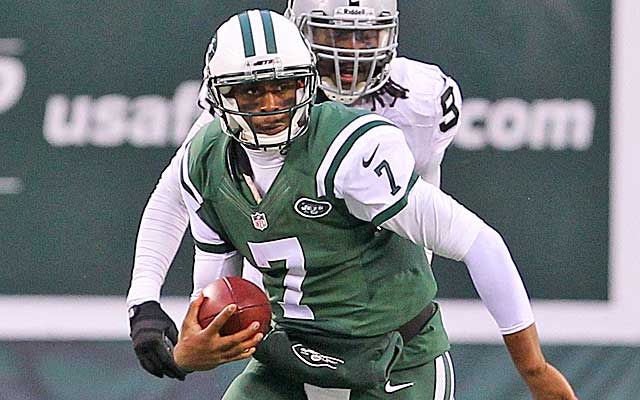 St. Louis: The Rams will tell you how much they love Sam Bradford and how he remains a franchise quarterback in waiting and it's all about to happen for him. ... They've been saying that for years, they owe him $27 million over the next two years and they get the Redskins' top pick in 2014, which could end up being in the top two. Trading down is always an option, but if the Rams fall in love with a quarterback, given how cheap he will be, can they resist? It could become a very legitimate question, with Bradford again trying to come back from injury.
Chicago: Josh McCown has done nothing but show that he could be beyond functional in Marc Trestman's system. The injury to impending free agent Jay Cutler could end up being the ultimate blessing, as it allowed a prolonged look at McCown. He is making the vet minimum and is a free agent at the end of the year, and with GM Phil Emery hinting he won't franchise Cutler, well, then he damn sure better put a three-year, $15M deal in front of McCown, or something like that. With McCown in his 30s, and Trestman a QB guru, drafting a quarterback in the top tier would still make a lot of sense, while paying Cutler $18 million a year seems not quite a shrewd move. Still, the willingness to go that route will take some, um, gumption, but Emery and Trestman have struck me as fairly ballsy and not caught up in groupthink.
Teams that could draft a QB higher than you think
Arizona: Carson Palmer has bounced back from a very rough start to play some good football and keep the Cards in the playoff race. But his health has long been a concern and he's not getting any younger. Bruce Arians' work with quarterbacks speaks to them taking one high, after passing a year ago, and starting to groom him for the future. Will Palmer make it through next season? And without someone of some pedigree helping to man the position, would Arizona's season then be doomed if Palmer can't hold up?
Kansas City: Alex Smith's deal is up after the 2014 season, and for all of the gains the Chiefs have made, is Smith really the guy to get them to the promised land? Andy Reid was always drafting quarterbacks in Philadelphia, often higher than many thought he might, and he always has an eye on development of passers. If he saw a kid he loved sitting there in the second round, I wouldn't be surprised at all to see him pounce. Smith is being paid like a game-manager, not a difference maker, and Reid may need better than that to finally get that Lombardi Trophy.
Teams no longer in the market
Tampa Bay: Mike Glennon is the guy there, especially if Greg Schiano remains the head coach. And probably regardless. The second-day pick has been more than good enough. With former first-round pick Josh Freeman flaming out in Tampa and barely getting a sniff in Minnesota since signing there, I don't see the Bucs spending another high pick on a passer unless they absolutely had to. Glennon has prevented that.
Philadelphia: Nick Foles has won this job for the next 1,000 years, as coach Chip Kelly joked, but the truth is Foles has a stranglehold on this job and for good reason. The offense has been efficient and precise and explosive and Foles has protected the football. He's the guy for 2014, certainly. No reason to invest a top pick on a quarterback. Furthermore, if I am the Eagles I'm offering Mike Vick $3.5M-$5M to stay in town and be the backup. With the protection schemes in Philly, you are going to need more than one guy and Vick could fill in for a month if need be and keep that offense humming. Status quo might be the way to go for the Eagles.
So, what have we learned with this exercise?
Well, it's easy to see why the NFC is superior to the AFC these days. Just go look at the all of the AFC teams in the first category here. 'Nuf said. We also get a look at what stands to be another very thin group of free agents at this position.
Cutler would highlight the available options -- and if Mike Shanahan is coaching elsewhere in 2014 and Cutler is available, I could definitely see a reunion of those two -- but there isn't much proven beyond that.
Vick would be a great backup option for several teams, and with all of the passers hurt this season, the import of a quality backup is more obvious than ever (compare the Bears with Cutler out and McCown in vs. the Packers with Aaron Rodgers out and Seneca Wallace or Scott Tolzein or Matt Flynn in).
If McCown hits the open market, he will have suitors given how well he has played. Schaub will be considered for roles in the same vein as Vick, and Patriots backup Ryan Mallet could get a chance to go elsewhere and push for a starting opportunity. Freeman is still young and has plenty of attributes you like, and with a full offseason to learn an offense and adapt, he would be worth signing in a complementary role. And that's pretty much it. Slim pickins.
Extra points
• The Texans job should be the most attractive of all those that come available. I could see Chargers offensive coordinator Ken Whisenhunt emerging as the front-runner there in short order. Houston likes David Shaw from Stanford, but I would be shocked if he leaves the school, and I think Lovie Smith will end up as more of a fall-back option. If Tampa opens, there would be a lot of interest given all the talent on the roster, and if Atlanta opened -- I remain unconvinced a win over Buffalo in Toronto in Week 12 and three wins on the season prevent Mike Smith from being out -- it would trump all of the above. That's the only job I believe could still get Jon Gruden out of the booth if everything was right about it, including power and control of the roster.
• From everything I am hearing about Texas A&M coach Kevin Sumlin's new extension with the school, he can't make the jump to the NFL this offseason. Baylor's Art Briles, if he wanted to, could jump to the pros pretty easily. I don't think he would consider anything other than a reunion with RG3 in Washington.
• The return of tight end Dennis Pitta to the Ravens was pretty huge on Sunday. He was Flacco's go-to guy again in key situations, especially a go-ahead TD late in the game, and as he gets more comfortable and confident he could finally get that offense opened up.
• Loved Lions coach Jim Schwartz going for a two-point conversion on his opening score early in that snow-filled game in Philadelphia. His team ended up losing its lead on a day when having Reggie Bush available could have been a real difference maker, but I love the approach they brought into the game. Their passing game -- acclimated to the dome -- was nonexistent in the snowstorm, however, and their leads slipped away.
• Look out for the Packers if Rodgers returns in Week 15. They could end up winning the NFC North yet.
Check out the uniforms that Denver and Indianapolis will be wearing on Thursday

The Cowboys are going to need a few things to go their way to get into the postseason

Rudolph will be put under the microscope in Mobile by clubs looking for a quarterback early...
This fan is taking the Saints to court for using 'football games as a platform for protest...

Can Aaron Rodgers get the Packers to the postseason? Even if they win out, they'll need he...

The NFL is going to have to look for a new commissioner