Monday Observations: Would Skins be better off not drafting RG3?
Did the Redskins err by making the blockbuster trade to acquire RG3? The combination of Kirk Cousins and Alfred Morris with all those dealt draft picks might have Washington in better shape today.
• 5 min read
Somewhere, in his heart of hearts, with his job security now the top water-cooler topic in Washington and his relationship with Robert Griffin III always in question, do you think Mike Shanahan has buyer's remorse about that blockbuster trade to move up a few spots and draft the quarterback?
Could the Redskins still have made the postseason, say, last year with Kirk Cousins -- their coveted young backup -- running the offense? And, obviously, without all of the media glare and ancillary distractions and mini-controversies that RG3 brings with him, would Shanahan actually have better job security had he not dealt for the larger-than-life quarterback? Am I crazy for asking these questions?
I actually think not.
Without all of the daily issues of RG3's health and his dad's comfort level with the offense and the complicated interpersonal dynamics between Shanahan and his son, Kyle, the offensive coordinator, and Griffin, I can't help but wonder if the Skins wouldn't be in better shape. Certainly, Cousins wouldn't have the direct line to ownership that Griffin does, and he wouldn't want the kind of spotlight Griffin seemingly demands. In brief opportunities, Cousins has shined, and he is mature beyond his years and a lot of these distractions simply wouldn't exist with him at the helm. Now, he isn't nearly as athletic as Griffin and all of that, and the offense would look different, but at this point with the Redskins 3-7 after a 3-6 start last year, is that really all that bad?
If the Skins still took Cousins and stud running back Alfred Morris in 2012, and then kept their first-round pick and took who the Rams took with their pick from Washington (defensive lineman Michael Brockers) along with a potential shutdown corner in Janoris Jenkins with their second-round pick (as St. Louis did with Washington's pick) and then also kept their 2013 first-round pick and 2014 first-round pick, would the team be more balanced and competitive? And, will the Skins ever replicate the offensive prowess they displayed with RG3 starring down the stretch in 2012, reaching the playoffs, but only sustain it for more than half a season?
Everyone wonders about Griffin's health in the short and long term. Shanahan acknowledged the risks himself when he drafted Cousins only a few rounds after Griffin, in a draft where he was already bereft of picks from the trade to get Griffin second overall. A Harvard study at the time of the trade concluded that Griffin would have to have a Tom-Brady-type career for the trade to be ruled a win for Washington ... so if that happens, in fact, how many coaches will he go through in the process?
With Griffin heaving a ball aimlessly into the end zone for an easy game-ending interception on third down with Washington threatening a season-saving rally at Philadelphia, I couldn't help but wonder. For all of his potential greatness, RG3 has fumbled 21 times in 24 games and thrown 14 picks (nine in 10 games this year). Shanahan, who churned through Donovan McNabb and John Beck and Rex Grossman as his starters, is now 24-34 with Washington and could be headed to his third season of six wins or fewer as he gets closer to the conclusion of his fourth season at the helm.
Barring another miracle December, Shanahan might not get a fifth year with the Skins, or a third season with Griffin. And for all of his promise, whoever the next coach is just might need to flip Cousins for a pick sooner than he should in order to try to replenish some of the picks they have already dealt, and address the holes on this roster.
Kubiak needs to stick with Keenum
If I'm Gary Kubiak, I'm going back to Case Keenum as my quarterback, ASAP. If he really thought Matt Schaub was the answer for the Texans, after all this time, he would not have benched him. Keenum needs help reading the blitz and making plays in the second half, when defenses adjust to him, but that's hardly all on the raw rookie. This Texans outfit has lost eight games in a row -- who are they kidding that going back to Schaub in desperation time is going to change anything? And it may only hasten Kubiak's demise, with the fans irate over the move and booing the home team with Schaub entering the game to the point where they had to go to a silent snap count. In reality, it's hard to imagine Kubiak keeping his job regardless given how far this team has fallen, but riding it out with Keenum and trying to develop something for the future, and to possibly sell to ownership, makes a lot more sense that rotating quarterbacks on a 2-8 team that is a miserable 1-4 at home and clearly going nowhere in 2013.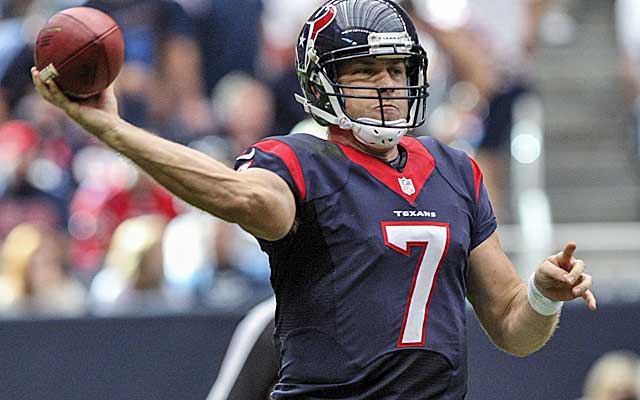 Extra points
• Big win for the Bengals, but it took a huge effort from special teams, blocking two punts with one for the touchdown, and the defense returning a ball for a score and everyone else picking Andy Dalton up. Not sure you can do that every week and Dalton is still throwing soft outs, allowing defensive backs to get up under the receiver and jump the pass. I still think someone in the weak AFC North can catch them, and if the Steelers string together wins over Cleveland and Baltimore in the next 10 days, then I like their chances to be that team.
• Speaking of the Steelers, WR Antonio Brown is giving them a big spark. He and Big Ben are getting some of their mojo back.
• The Jets have to stick with Geno Smith, I believe that completely, and they just might bounce back against the Ravens, as they have been up and down all season long. But Smith's performance Sunday (8 of 23 for 103 yards and three picks) had everything to do with why they fell hopelessly behind the Bills this week.
• The more Falcons management and ownership feels the need to issue repeated votes of confidence for coach Mike Smith, the more I believe owner Arthur Blank will look to reel in a big name coach this offseason. The team is utterly non-competitive, it is getting torched in most aspects of play and it goes beyond mere injuries. When the Bucs beat you down like a chump, you've got issues and they have been utterly overwhelmed for four straight weeks now. I'm not sure they make it past four wins, if they get there, and I have a hard time thinking that won't prompt real changes. They dropped their last three games by a combined score of 94-33 and trailed the lowly Bucs, 38-6 (think about that for a minute) late in the third quarter before padding a 41-28 score line in garbage time. Tampa scored 21 points in the second quarter on Sunday and had not scored more than 24 in a game all season prior to this week.
Matt Hasselbeck is also a candidate to take over for Jon Gruden

Jacksonville took enormous strides in 2017, but there's a major decision to be made about its...

Could the singer stage an *NSYNC reunion in Minnesota?
New England is 3-0 wearing white in Super Bowls under Bill Belichick

McKinnon is a free-agent and likely behind Dalvin Cook and Latavius Murray in the team's p...

Stephen Oh is 9-2 picking Patriots games and just locked in a strong play for the Super Bo...