Money dictates NFL's future will include cold, outdoor Super Bowls
Since Super Bowl XLVIII went off mostly without a hitch, other cold-weather teams with outdoor stadiums will bid for -- and land -- the big game.
• 7 min read
More NFL: Doyel: NFL shouldn't push its luck in cold weather
There will be another cold-weather, outdoor Super Bowl. Trust me.
Say what you will about the risks with the elements and transportation. Go ahead and save all those tweets from my peers in the media who were stuck in New York an extra day or two because of the storm that tore through the region within hours of the Seahawks' annihilation of the Broncos in Super Bowl XLVIII. Go ahead and print them out -- the details of people being stuck on tarmacs for hours, or forced to evacuate a concourse at LaGuardia; or the poor souls trapped in a commuter rail station for committing the sin of abiding by NFL directives and trying to get to a sporting event early -- because unless they are printed out on US currency, well, they aren't worth the paper they're printed on.
Don't waste your breath talking about what a disaster this Super Bowl could have been, how close it came to being a logistical nightmare. It doesn't matter. Bottom line is it was a success in the metrics that matter most -- another rating record, sponsors and advertisers were pleased, even the halftime show was the most viewed ever. For the league, it certainly seemed to be a financial bonanza. Money was made. And there is more money to be made in them, there snow-covered hills. And therefore the billionaires will be back.
I would like to tell you that this near-miss is enough to scare them off. That the Monday PR beating the league took may have caused a rethink. But the reality is the politicking for the next one of these games has already begun, and it would take a helluva lot more than some inconvenienced media to make a difference here (I felt awful for my brethren and sisters of the media for the disaster we all woke up to Monday morning, but I'm a bleeding heart like that, not the owner of one of 32 franchises in what amounts to a monopoly that has turned away from far more significant issues in the past in the pursuit of what is "good for the game," which often means what is best for their wallets).
By now I think any of us paying attention get the gist of NFL economics. This is big business, and being bold ("innovating" as commissioner Roger Goodell would say) is a huge part of that. It's why they are infatuated with London having a team. It's why we have football games being played regularly three days a week now. It's why we have a RedZone channel.
So if you think the fact that there were some transportation hiccups will be enough to keep the league from eventually playing more games in similar locales, you are fooling yourself. This was a trial balloon that, for the most part, sailed perfectly into the night sky and drifted off on a meandering, dollar-sign littered path to Philadelphia and Boston and Chicago and Denver and anyplace else that thinks it can make a legitimate argument that it has the facilities and hotels and infrastructure to pull off an event of this magnitude.
And the jostling has already begun.
These owners are not shy about seeking new revenue paths and branding exercises. It's not going to sit right with them if the Giants, and the Mara family (who some in the league perceive as something of favorite sons already) are the only ones who get to partake in this sweepstakes. No sir. Hands are out, already, figuratively if not literally. The Eagles have already made their case in public, and they won't let up. Several execs I spoke to believed that Bob Kraft, and his Patriots, could be the next to end up getting a cold-weather, outdoor game.
Redskins owner Dan Snyder, who has been quietly angling for a downtown DC stadium for a while now, could certainly try to use the leverage of a Super Bowl as part of his argument to get such a cash-cow facility to replace the plagued (if relatively new) stadium he now calls home. Certainly the Bears, a storied franchise, will make their case, and no doubt Chicago is the kind of city that could handle the crowds and everything else (though the extreme cold in The Windy City might make might give some pause).
The argument can now be made -- especially after the wintry experiences during Super Bowl week in Dallas and Indianapolis in recent years (of course the games were played in domes there) -- that this is no longer an event for beaches and palm trees. Not exclusively. Sure, more often than not it will end up in Florida or California or Arizona or New Orleans, but not nearly with the regularity of the past.
The precedent has been set that if you manage to get your municipality to chip in massive help to construct a state-of-the-art stadium in your city, then one of the perks (kickbacks?) is to be rewarded with the possibility of the marquee event in said stadium at some point. In a league where plenty of back-scratching is required at times to get business done, don't think for a minute that same sort of thinking that resulted in this New York/New Jersey week won't be replicated elsewhere.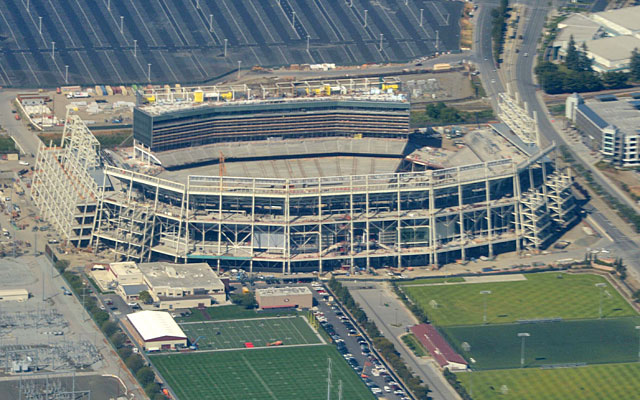 There is now more competition than ever for the game, which will force some of these warm-weather places to step up their game and get big-boy stadiums. There are more than enough others waiting to take their place (yeah, San Diego and Miami, they're pointing the finger at you). It's not just an idle threat. Super Bowl L (as in 50), a crown jewel, landed in Santa Clara, Calif., for goodness sakes, not exactly a traditional locale for the game.
And, given the hefty salary he makes, a good part of Goodell's job is keeping his various owners and constituents happy. Helping galvanize support for games like this is an easy way to do so. Especially with an owner as influential as Kraft, who played such a key role in the negotiation of the new CBA (the one that has been an unmitigated license to print money for the owners -- a bigger blowout even than this last Super Bowl), giving him a chance to show what Boston can do Super Bowl week will be seen by many of his peers as far less of a gamble, far less crazy, than perhaps the average football fan would think. Obviously, no fan would have the propensity to bask in the potential windfalls as well.
Heck, Sunday wasn't even the coldest Super Bowl ever. The weather might have been a little too perfect in some ways, and there were definitely some in the league office rooting for a modest amount of snow to truly set that game off from all others. They'll get that chance again -- likely several times over -- and perhaps more frequently than even I anticipate.
Every 10 years or so, I could see the Super Bowl being in a spot that has never hosted one before. It won't be a free-for-all, of course, and not everyone will get a seat at this table. It will remain select, but not hardly as exclusive as it used to be, and not quite as balmy, either. It's going to take much more than a day-late storm or some New Jersey Transit snafus to derail this movement. Especially since America, at least by the votes cast in homes across the country Sunday night, bought right in through a stinker of a game.
If anything, every number about this game, outside of 43-8, speaks to a future with more Super Bowl welcome packs filled with handwarmers and earmuffs awaiting fans in years to come, more weeks spent micro-analyzing the Farmer's Almanac and 10-day weather forecasts, and more intrigue as to which frigid spot lands the game next, and how it holds up to the job New York and New Jersey did last week.
Perhaps, one day, a blizzard will wipe out a game. Remember, the NFL was fully prepared to move the game if need be for Super Bowl XLVIII. That threat didn't deter them then, and I don't see why it would in the future now. They are too smart and savvy not to be proactive, even as arduous a task as it would be to suddenly play on a Friday or Monday. Of course, if that turned into a ratings disaster, with irate corporate sponsors and an unfilled stadium, maybe then the experiment would be over. Until then, I suggest you follow the money, because these owners, particularly the cold-weather ones, certainly will be.
The winner of Sunday's game will he headed for Super Bowl LII

SportsLine's Mike McClure, a DFS pro with more than $1M in winnings, gives optimal lineup...

Super Bowl tattoos are never a good idea until your team has actually won the Super Bowl
A couple of dogs emerge victorious in the Conference Championship round

Our computer model simulated the AFC and NFC title games 10,000 times with surprising resu...

If the past 18 weeks are any indication, Tom Brady could be in trouble Sunday