More comfortable Newton dials up maturity, dials back aloofness
You've heard the criticisms of immature, aloof Cam Newton for two seasons. But one of those critics says the Panthers QB is a new man.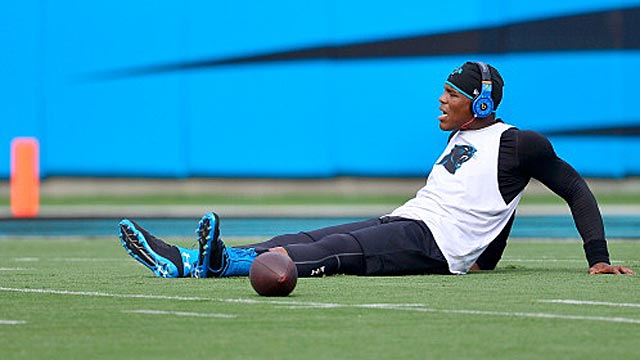 SPARTANBURG, S.C. -- The big, smiling man wearing the white helmet rolled to a stop and stepped off his Segway, his transportation for training camp clearly a different way of getting around than his teammates.
"You better watch out on that thing," I said to Cam Newton. "You might hurt yourself."
"It's not me I am worried about," he laughed, saying people need "to stay out of my way."
We shook hands as the Carolina Panthers quarterback settled in for an interview near the lunchroom here at the team's camp headquarters. It was an interview I wasn't sure he would agree to do. To refresh, I was the one who wrote the story about the AFC players going after Newton at the 2011 Pro Bowl; they said he dissed several of them in the week leading up to the game.
This was the first time I had the chance to speak at length with Newton since the story. The Panthers' crack public relations staff made the sit-down possible, but Newton could have declined.
Instead, he showed up and we had what I consider one of the most interesting and enlightening conversations I've had with any player. In my dealings with him in the past, I've always encountered a guy who loved football, but who seemed to want to avoid any lengthy talks or inquisition into him as a person.
This time, Newton was different. This time, he seemed to have the weight off the world off his shoulders, as if he is truly a different guy.
"I think he's a lot more comfortable in his own skin," Panthers coach Ron Rivera said.
That makes two of us who think that.
In a 15-minute conversation, we talked about him as a player, that Pro Bowl, the media, the fans and a lot about the fishbowl he lives in, one that seemingly is filled with murky gunk -- some of it by his own doing.
Since winning the Heisman Trophy in 2010, coming out nowhere to do it, and then being the No. 1 pick by Carolina in 2011 and dominating as a rookie, Newton has been smack dab in the spotlight. There were controversies at Florida and Auburn. There was that whole "icon and entertainer" issue. And then there was talk that he wasn't endearing himself to his teammates, and certainly didn't do that at the Pro Bowl.
That was the 22-year-old Newton, the one who seemingly hadn't been given the real chance to become a man. It's great he has a father, Cecil, who is in his life, actively involved at a time when many men don't have their fathers playing a role. But men in their 20s need room to grow up. It looks like Newton has found that room, and it's helping him for the better.
He was loose. He was fun. He was engaging. He was far from the aloof, distant player he was said to be at times. If it's an act, he has me fooled -- and that's saying something because I think of myself as a good judge of people.
"I did a lot of reflecting this offseason," Newton said. "I wanted to look at a lot of things. How was I with my teammates? How was I with the media? I know you have a job to do like I have a job to do. It was a time to look and see what I could do better. People have to realize that I am a person too. I play football, so, yes, that makes me different, but I am just like everyone else in a lot of ways. People see things and they misunderstand me a lot of times."
Newton said he went to that Pro Bowl as a rookie as a wide-eyed kid, awed by the players around him. If he offended anybody, he doesn't remember or didn't mean to do so.
"I mean I see Tom Brady and Ray Lewis and all these guys and I'm there doing things with them," Newton said. "And I'm like a young kid. I have my hat turned backwards, so maybe people see me that way and think I don't care. But I love this game and I love the history of the game. And I was in awe when I was there. As far as not signing for a teammate, that isn't going to happen. There are a lot of people asking for stuff to be signed, but when a teammate asks you just do it. I don't know how people got the idea that I was the way they said I was. I don't know what they expected."
That's in the past now. He's also doing a better job of endearing himself to his teammates. He still isn't one of those hangout guys with them, but he's getting better at interacting with them.
Rivera has noticed.
"One of the things he's taken to heart is that it's not just about him wanting to be the best, it's about him wanting to help make his teammates the best," Rivera said. "You notice that now more."
In 2012, the Panthers started 1-6 and Newton didn't play as well as he had as a rookie. The sophomore slump talk came up a lot. But in the final nine games, he threw 14 touchdown passes and four picks as Carolina won six of its final nine games. They looked much more like the team many expected to see before the season.
Even so, Newton was relegated to secondary status on the young quarterback pecking order. The 2012 season was for Colin Kaepernick, Andrew Luck, Robert Griffin III and Russell Wilson.
Newton was out of the spotlight, save for the occasional talk about his poor body language and things like that.
I told him he was actually the forgotten quarterback. His ranking fell in a lot of people's eyes faster than you could say Lindsay Lohan.
"Look, I had fun watching all those guys," he said. "I am a fan of the game. I love watching other quarterbacks play. But when I got out and compete against them, I want to beat them bad. That's who I am."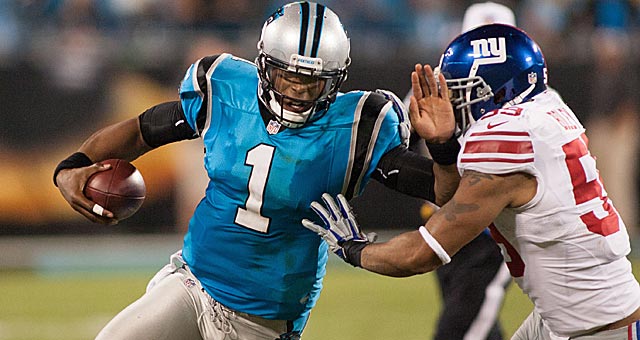 Rivera said the slow start last season was the fault of the staff.
"We put too much on the quarterback," Rivera said. "I did a self-scout after our five games, and pulled five games from the previous year and found out we put the ball in the quarterback's hands 33 percent more of the time. So we put more on him. We put more focus and attention on him and got away from the core of what we did the year before. We changed some of the ideas and attitude after that and got back on track."
The Panthers, quite frankly, got too cute. They ran way too much read-option and got away from their running game with play-action passing. Yet Newton ran better when they did get away from it. Why? He scrambled out of pressure, running when he had to, not when it was called.
"We took advantage of what his real strengths are, which is his movement off of the play-action passing," Rivera said. "He has the ability to keep plays alive and throw it down the field and run out of trouble. His most successful runs are off play action when he pulls it and runs. That's when he's most dangerous, when they aren't expecting him to run. We have to limit the hits he takes as well."
With offensive coordinator Rob Chudzinski now the head coach in Cleveland, Mike Shula is now running the offense. He is a more conventional offensive coach, which will mean more of Newton in the pocket and less read option. The Panthers have spent little time working on the read-option this summer. The practice I watched had one play of it.
I told Newton he would be safer playing it that way.
"No, it's more dangerous in the pocket," he said.
What?
"Tom Brady and Carson Palmer both had knee injuries in there," Newton said.
I reminded him that they were in that pocket a lot more plays than when he was running it last season. I also reminded him that linebackers love to eat up quarterbacks, even big ones like him.
"It's how you run," Newton said. "I run differently than I did in college. If it's first-and-10, I won't try and run over a linebacker. If the game is on the line, that's another story."
Expect big things from Newton in 2013. It wouldn't be a shock to see him throw for 4,500 yards and 33 to 37 touchdown passes with the new approach. He sure seems energized by it all.
"Man, I just love to play this game," he said. "I mean I love it."
You can finally see that now. After eating his lunch, Newton got back on the Segway. I forgot to show him something before he did, so I showed it to Rivera.
It was a story I pulled up on phone about how the Segway inventor drove that thing off a cliff and died.
"Yeah, I remember that," Rivera said. "But Cam is just trying to find a way to stay off his feet."
Funny thing is, those two feet are actually as grounded as they've ever been.
There is suddenly a wide open NFC playoff race and the MVP battle could get interesting to...

Pittsburgh is headed to its fourth consecutive postseason appearance

The NFC is going to be a blast to watch down the stretch
Here are the Week 14 grades for every team that played Sunday

Someone apparently threw a drink at Jefferson as he left the field and he was not happy about...

All of the best highlights from Week 14 are right here