'More than shocked' Josh Gordon vows not to 'let down' Browns for picking him
Everyone was pretty stunned when the Browns spent a second-round pick on Josh Gordon during the 2012 NFL Supplemental Draft on Thursday. Perhaps no one as surprised as Gordon himself. And the wideout vowed not to let the Browns down for their faith.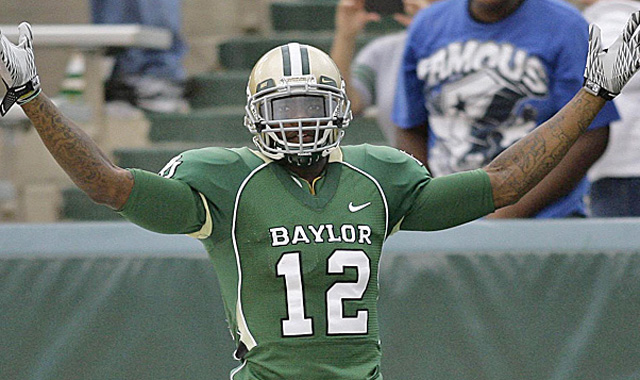 Gordon last played in 2010 before Baylor dismissed him for a marijuana charge. (Getty Images)
Everyone was pretty stunned when the Browns decided to use a second-round pick on Josh Gordon during the 2012 NFL Supplemental Draft on Thursday. Even Josh Gordon.
The wideout said that he was "more than shocked" by how early the Browns took him and never thought he'd be taken that high.
"I was more than shocked for sure," Gordon said on FOX 26 Sports in Houston, via Pro Football Talk. "I definitely didn't think that high, but I'm thankful for the opportunity ... I'm definitely in shock. It still probably hasn't hit me yet."
But Gordon also told Mary Kay Cabot of the Cleveland Plain-Dealer that the faith that the Browns showed in him by using a second-round pick won't go unrequited. The newest Cleveland wideout promised to stay clean and said that he "won't let them down."
"Despite everything I've been through, despite being a kid with a spotty background, the Cleveland Browns stuck their neck out and risked taking me and put their faith and belief in me, and I won't let them down," Gordon said in a phone interview. "I'm grateful, and I know I can't go back to being the person I used to be."
Actually, the Browns would like Gordon to go back to being the person he used to be, as long as it's on the football field. Gordon's a physical freak with size and speed who could become a legitimate playmaker for Cleveland.
But he's also not the first potential-ridden player to enter the NFL, and if you think that the Browns panicked and pulled the trigger on Gordon in the second round, well, you wouldn't be alone. CBSSports.com's Clark Judge wrote just that yesterday, and Ryan Wilson and I discussed the snowball effect from last year's draft on our most recent podcast.
And, of course, we're not alone. Several execs told NFLDraftScout.com's Rob Rang that the pick was a surprise. (To say the least.)
Naturally, if everyone else is shocked by the pick, so is Gordon. It's great that he's going to work hard to prove the Browns decision right, but it also means that he's got a ton to live up to, thanks to the vacuum-like nature of a second-round supplemental pick.
For more NFL news, rumors and analysis, follow @EyeOnNFL on Twitter, subscribe to our RSS Feed and subscribe to our Pick-6 Podcast and NFL newsletter. You can follow Will Brinson on Twitter here: @willbrinson.
The Oklahoma quarterback isn't exactly being discreet about where he wants to begin his NFL...

No one was hurt, but Fournette's Mercedes lost a bumper

It might be time to begin worrying about the Patriots quarterback
The Patriots are still odds-on favorites, but the other teams are closing in

SportsLine tapped into its Vegas sources to see who professional bettors like Sunday

Philadelphia readies itself for a massive celebration if the Eagles advance to the Super B...