Most interesting players: These guys make covering the NFL a blast
Brandon Marshall is a natural speaker. Jared Allen builds houses. Tom Brady is married to a supermodel. They're just a few of our 10 most interesting players.
• 3 min read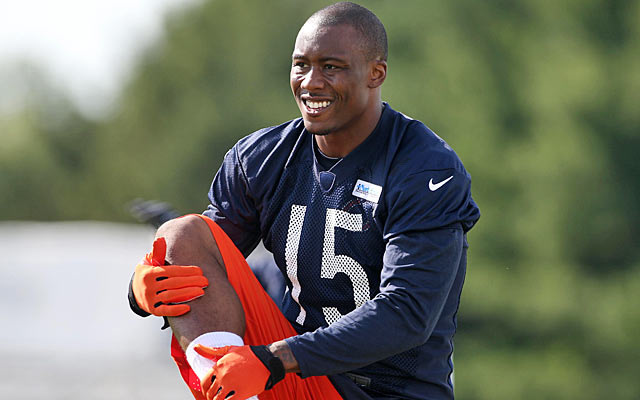 More NFL: Photos | Videos & GIFs | Training Camp updates | Manziel
This league is filled with personalities, and thank goodness for it.
Corporate culture may be the norm in the No Fun League, but it's not the rule. In an era of social media mania, many of the game's top players are willing to speak their minds, speak out on issues, and bring no shortage of laughter or entertainment to the masses, on the field or off.
It's hard to narrow this down to just 10 dudes, really. I could easily field an entire team by position of interesting guys (but please, powers that be at CBSSports.com, don't get any ideas. I'm plenty busy on this epic training camp trek as it is). I've covered every sport there is to a fairly lengthy degree (except for the NBA, that is) and I have found football players to be by and large some of the most down-to-earth, real, honest, good people I've encountered, with no shortage of characters and good quotes.
They're a big part of what makes this job so fun, and I applaud and thank them for it.
1. Brandon Marshall: If ever there was natural for media stardom post-career, this is it. One of the most well-spoken, eloquent guys in the league who has matured so much. His championing of mental-health issues and willingness to speak candidly about his own issues is a beacon for other players and greatly helps awareness. And he's still a beast on the field as well.
2. Jared Allen: The 'ol cowboy aint done yet, on field or off. There may not be a better quote in the league. His work with Wounded Warrior and building homes for those in need is nothing short of astonishing (he was building a home as his life-altering free-agent move to Chicago was going down), and he tends to have a refreshing take on whatever you ask him about. Also happens to be perhaps the dominant sack-master of his generation.
3. Connor Barwin: Dude isn't afraid to rock jorts and/or a wacky mullet. He rides the subway to practice. Champions green causes, quickly became a key component of the Eagles' defense and is one of the funniest guys in the league.
4. Ryan Clark: Willing to take on the league office, head on, and perhaps a future chief of the NFLPA. Always has a huge smile and time for others, and hashed out a helluva NFL career for himself from very humble beginnings.
5. Darnell Dockett: His Twitter feed definitely ain't PG-13, and it's not for everyone, but this cat fears no man (or beast), calls it like he sees it, and is willing to weigh in on just about anything. Straight shooter and an absolute mauler in the interior of the Cardinals defensive line.
6. Richard Sherman: A born entertainer, he battles on the internet and on the field with guys like Michael Crabtree and Patrick Peterson. Love him or hate him, you can't help but notice the star corner.
7. Arian Foster: The metaphysical, vegetarian star running back is plenty thoughtful, and playful, and is known to ride a Segue around to training camp interviews with the media. He has had some epic battles with those who come at him on Twitter, and has some unique takes on things, football-related or otherwise.
8. Martellus Bennett: An all around Renaissance man, he has his own clothing line, and DJs. He's also found his place in Chicago as an impact tight end. Capable of saying just about anything in an interview format. A must-follow on Twitter.
9. Tom Brady: I know he's become a byproduct of Bill Belichick when it comes to what he says to the media, and this aw-shucks, boring persona he tries to perpetuate. But it's about what he does, not what he says. Married to a model who brings home way more cash than even he does, he's at every big party, chillin' in the French Riviera, hangin' on Leo's yacht, having a stare-down contest with Clooney. Who the hell knows? But the dude is about as A-List as it gets and he is living the life, my friends.
10. Johnny Manziel: I know the Browns QB hasn't played a regular-season down yet, but I don't care. And if he had, he'd be near the top of this list. No one can rock a swan-raft like this cat. Whether he's rolling dollar bills and rolling his fingers together or partying with Drake or throwing an interception at training camp, he is must-see TV. Instantly makes the Browns a national story, even if he's holding a clipboard while Brian Hoyer starts.
The government shutdown has come at a horrible time for NFL fans in the U.S. military

Bengals owner Mike Brown seems to be a huge fan of continuity

Our computer model simulated the AFC and NFC title games 10,000 times with surprising resu...
The people of Philadelphia now have two reasons to root for the Eagles this week

You might not recognize the Patriots' defensive coordinator without his beard

T.O. definitely isn't a fan of the Cowboys head coach