Most likely to be franchise tagged: Graham tops likely targets
Will New Orleans let Jimmy Graham get away? No way. Here are top contenders for franchise tags from Saint Jimmy to Dennis Pitta to Greg Hardy.
• 6 min read
More Draft: NFL Mock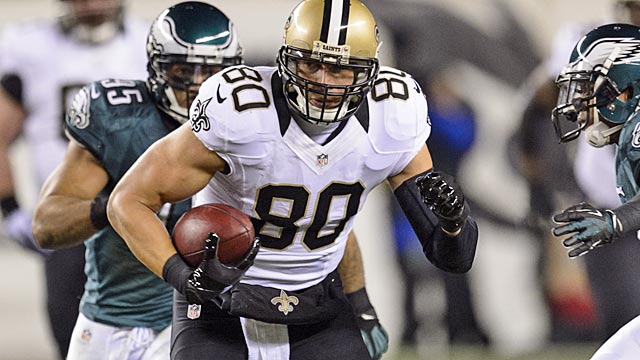 Drafts | Big Board | NFL combine news and updates
INDIANAPOLIS - Patience is the word in the NFL this time of year. No one is in a rush.
The franchise tag period has begun, but there is no need to slap anyone with the tag just yet. There are a host of 2011 draft picks who will end up getting their fifth-year options picked up, but, again, don't expect to see that happen for a while. This is a league where, contractually, things are generally pretty slow until a deadline spurs action. We are far from any of that right now.
And, with a report emerging that the salary cap might somehow inflate by five percent -- a notion that caught teams as well as many execs at the NFLPA by surprise at the NFL combine here on Thursday -- all the more reason to slow-play any pending contract maneuvering. Now, don't get me wrong, agents and teams are laying the foundation for free agent deals and some contract extensions and plenty of cap cuts, but in a year with some uncertainty now about the cap, and at a time when teams have nothing to really gain by rushing to tag someone or execute a rookie-contract option, I would not expect much activity on that front anytime soon.
Let's get some housecleaning out of the way as well, before we go further down the road of franchise tags and options. Even if the cap rises to $130 million, up from the projections of $126.3 million teams have been using this offseason, it's no panacea for clubs, especially those who have to franchise players. Because under this new CBA, the franchise figures are tied more tightly to the cap, so all of those franchise tag projections we have been using (roughly $7M for tight ends and $12M for wide receivers, for instance) are out the window, too. Those contract tenders will rise as well, thus obviously cutting into the additional space a higher cap creates on paper.
Now, if you aren't franchising anyone, the extra space is a bonus to helping sign current players or wading into free agency. But for the half dozen teams I anticipate to actually apply the tag, it would be a misnomer to look at a cap increase as a way to aid their cause.
Excluding kickers and punters -- yeah, yeah, punters are people, too -- these are the six situations where I anticipate the franchise tag being utilized. I'll rank them in order of likelihood, from total no-brainer to those decisions that, due to the money at stake, might require more deliberation:
Jimmy Graham , New Orleans (slam dunk): He is a freak-of-nature weapon who changes games with his mere presence, and there is no way the Saints let him walk. Can't happen. However, is he a tight end or a wide receiver? There will undoubtedly be a fight brewing on that one, and the grievance is coming. In the meantime the Saints place the franchise tag on him and hope he doesn't end up costing close to $13M in cap space.
T.J. Ward , Cleveland Browns (slam dunk): Cleveland has all kinds of ridiculous cap space, the safety tag is cheap and there is no reason not to tag him. It would not be cost effective to tag their other top free agent, center Alex Mack , but they still need help in the secondary, and letting Ward walk makes no sense. New GM Ray Farmer will protect his assets.
Dennis Pitta , Baltimore Ravens (slam dunk): Pitta managed to come back from a major injury to help the team down the stretch. If not for his freak hip injury during training camp, he was in line to catch a ton of balls and looked primed for a breakout year. He is quarterback Joe Flacco 's best friend on the team and top target, and although there will be another grievance coming here between whether Pitta is a receiver or a tight end, it's worth the fight. Given the injury and lost season, figuring out the long term deal in the short team would be tricky, but Baltimore has almost no receivers or tight ends out of contract right now, and letting Pitta go would be backwards. And the Ravens don't have another free-agent worthy of the franchise tag.
Brent Grimes , Miami (lay-up): This will happen. The only way it won't is if the sides get a long-term deal done first. There is no doubt. He is their offseason priority and it's looking increasingly likely that their other top free agents, like defensive linemen Paul Soliai and Randy Starks , are going elsewhere next month. Miami needs a legit cover corner in their secondary and Grimes, though getting up there and suffering injury woes in the past, is vital for them. Owner Stephen Ross told some GM candidates he did not intend to franchise Grimes, but post-Wells report and with Mike Pouncey no longer in line for that massive extension, letting Grimes go would be another huge blow that would perturb his fan base. If they can't get a long-term deal done, I say they franchise him.
Vontae Davis , Indianapolis Colts (lay-up): I'm not going to call it a slam dunk, given how high the corner tag is, but I don't think it will be all that much of a struggle either. GM Ryan Grigson made a shrewd deal with Miami to acquire the big, physical corner who is a perfect fit in coach Chuck Pagano's scheme. Davis, who had some off field issues in Miami, has stayed clean in Indianapolis and the Colts have plenty of cap space and not many of their own free agents they need to spend money on. Given how valuable Davis' position is to what the Colts want to do on defense, tagging him at over $11M won't greatly hamper their ability to make other moves, and Grigson is a wheeler dealer.
Greg Hardy , Carolina Panthers (jump ball): I understand were are talking big money here, and I understand what they are already paying Charles Johnson to rush the passer on the other side of the defensive line. But I don't think you can allow a pass rusher this talented and this young to hit the open market. Applying the tag buys you through the spring to get a long-term deal done, and with a team that came as close as the Panthers did to reaching the summit in 2013, you can't let Hardy walk out of your building at this stage of their ascent as a program. But, on the flip side, do you want so much money tied up in one position, even one as important as pass rusher? My man Pete Prisco is skeptical the Panthers ultimately pull the trigger on tagging Hardy, so I'll put this in a separate category and call it a jump ball, though if I'm forced to make the call here, I franchise him.
The decisions for whether or not to pick up the fifth year options on players drafted in the first round in 2011, well, that's pretty much a slam dunk across the board. Teams don't have much to gain out of extending those players now, and that's why, after conversations with a host of agents and NFL execs here, I get the strong sense very few of those players actually get massive new contracts replete with big signing bonuses anytime soon. Maybe a guy like J.J. Watt or Mo Wilkerson ends up being the exception to the rule and gets that big money sooner rather than later, but, even in those cases, don't look for it to happen soon.
The sense I get from teams is they will take their time picking up the fifth-year option on these kids -- they have until May to do so -- and even then, there is still plenty of time to work out a long-term deal before the season begins. There isn't much risk in picking up the option and I'd be shocked if most teams don't treat it as a mere technicality. These players -- some of the best young talent in the league just entering its prime -- are still great values by and large even in those fifth-years, and the players have "no leverage, whatsoever" when it comes to these situations, as one agent, put it.
The teams can be as patient as they like, and therefore, by and large, they will be. And the players will have to wait.
The new Dolphins quarterback offered high praise for his receiver after his first preseason...

LeSean McCoy was probably a pretty popular person in the Bills locker room on Thursday

Kaepernick is unsigned, but he is continuing to make waves off the field
A report Friday said that Bell's agent agreed to a five-year deal right before the deadline...

Plus everything else you need to know about Week 2 of the 2017 NFL preseason

The Ravens kicker wanted to try a ridiculously long field goal against the Dolphins