Muhammad Wilkerson fined $15,785 for hit on Jake Locker
Jake Locker didn't think the hit that injured him should be punished. The NFL disagreed.
• 1 min read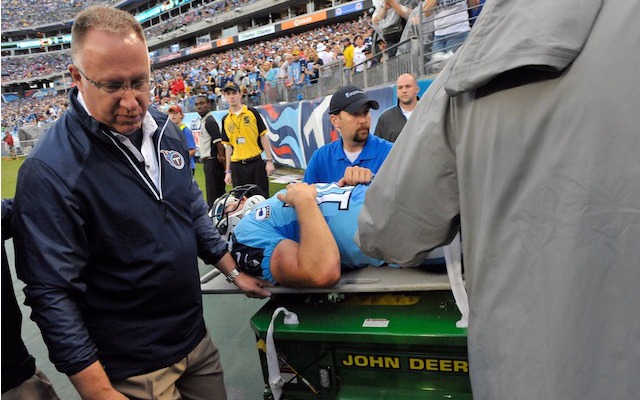 After laying a rough hit in Week 4 on Tennessee Titans QB Jake Locker, who sustained a sprained hip and will be out for the next few weeks, Jets defensive end Muhammad Wilkerson said it was a legal play. And you know what? Locker agreed with him.
But not the NFL, because as CBS Sports' Jason La Canfora reports, the NFL has fined Wilkerson $15,785 for the hit. La Canfora says that an appeal for Wilkerson already has been made.
"I know I'm not a dirty player," Wilkerson said, via the Newark Star Ledger. "I think it was a clean hit. And that's that. ... At the end of the day, people have their thoughts. Some people thought it was dirty. I can't make that decision."
Wilkerson was not flagged on the play, and Locker said, via USA Today, he was fine with the play. The New York Post reported that linebacker Quinton Coples also was fined for the incident.
"I didn't feel like that on the field and after watching it, you know, it wasn't anything malicious," Locker said. "I kind of got bounced into the second guy. I didn't feel like they were out to get me, no."
Follow Josh Katzowitz on Google+
Forget being the highest paid receiver, Odell Beckham has loftier goals for his next contr...

There was a Rolls-Royce at Steelers training camp, but no Le'Veon Bell

'It ain't about 2016 and it ain't about 2018. It's about 2017,' Doug Williams told his qua...
Philip Rivers will not be moving to Los Angeles with the Chargers

Bryant has had off-the-field issues keeping him off the field for the past few years

Technically Woody Johnson is the Jets' owner, but on the other hand, Brady does own the Je...