Musings: Concerns at right tackle show on a busy preseason night
Problems at right tackle were apparent all over the NFL on Friday. Also, the Jacksonville Jaguars need to wake up and name rookie Blake Bortles their starting quarterback.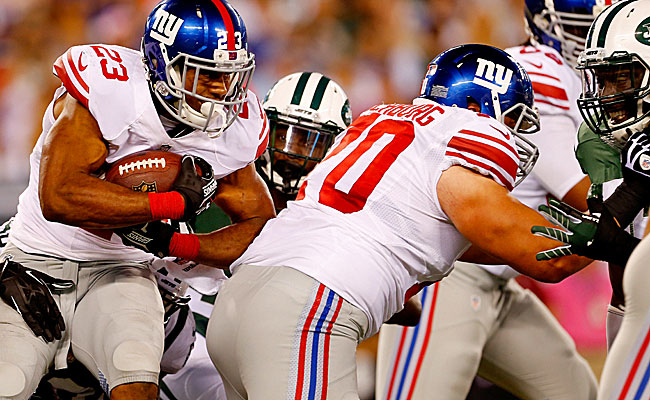 There were 10 teams playing Friday night, and seven of them have big questions at right tackle, including the Super Bowl-champion Seattle Seahawks .
It is a position of major concern around the NFL as we ready for the regular season to begin.
It showed up this week too.
In New England, Rob Ninkovich blew past Carolina right tackle Garry Williams for a sack. Jacksonville right tackle Cameron Bradfield , starting for the injured Austin Pasztor , had his problems too.
Here's a look at the right tackle situations for the teams that played Friday night:
New England Patriots : They started Marcus Cannon last night, but Sebastian Vollmer will be the starter when he's healthy. This is one of the teams in good shape on the right side.
Carolina Panthers : Williams started for Nate Chandler as the two are battling for the starting job. He had his issues against the Patriots. This will be a season-long concern -- no matter who starts.
Detroit Lions : They've had a camp battle going on between LaAdrian Waddle and Corey Hilliard . Hilliard started against Jacksonville. He had a down block to help spring Reggie Bush for an 86-yard touchdown run. He did a decent job in pass protection too. But I think Waddle will be the starter in Week One.
Jacksonville Jaguars : They started Bradfield, who is a capable backup and has started games. He had some issues against the Lions, but the entire Jaguars line had some problems. They hope Pasztor will be back early in the regular season after breaking a finger.
New York Giants : They start Justin Pugh , a second-year player who struggled early last season, at right tackle. But they have worked him at left tackle lately because Will Beatty has really struggled. If Pugh goes to the left side, they will likely move Brandon Mosley to the right tackle spot. But with guard Geoff Schwartz going down with a dislocated toe Friday night it could change that thinking.
New York Jets : The Jets signed Breno Giacomini away from the Seahawks as a free agent, which is why the Seahawks have problems. Giacomini isn't a great athlete, but he will battle and he is solid.
Oakland Raiders : The Raiders are starting second-year player Menelik Watson . He did a nice job against the Packers Friday night. He has a ton of athletic ability and should be OK, but it's still to be determined.
Green Bay Packers : They get back Bryan Bulaga after he missed most of last season with a knee injury in 2013. Bulaga hasn't played a regular-season game since November of 2012. He missed the second half of that season with a hip injury. As long as he's on the field, the Packers are fine at the spot. But he has to stay there.
Chicago Bears : They started Jordan Mills as a rookie last year, and he had some issues. But he should be better this season. The problem is he's missed a lot of time in camp with a foot injury. He didn't start against Seattle and Michael Ola , who has been waived by line-needy Miami, did again. They have to get Mills back.
Seattle Seahawks: They are starting rookie Justin Britt . He was their second-round pick and has a lot of talent. But he's raw. He did have a heck of a block on Marshawn Lynch 's touchdown run against the Bears to open the game Friday night. They do also have veteran Eric Winston in reserve.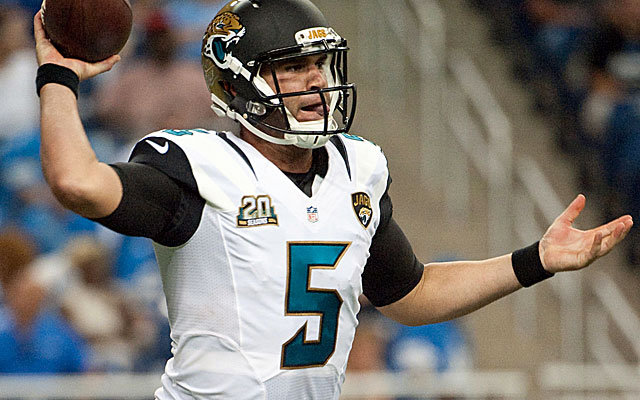 Other thoughts
• Kansas City is a team that plays Saturday that has right tackle issues. Donald Stephenson , the projected starter, is out for the first four games for violating the league's performance-enhancing drugs policy. That means either Ryan Harris or J'Marcus Webb will start. Stephenson was solid when he played in place of Eric Fisher last year at right tackle. Harris is just OK -- at best.
• Chad Henne has a ceiling -- and you know what it is. The Jaguars have no idea what it is for Blake Bortles. That's one of the reasons he should start opening day. Another reason is what happened late in the first half of the Jaguars-Lions game. Bortles took over on his own 5 and drove the Jaguars to a field goal on the final play of the half in the two-minute offense. Three passes on that drive showed why he should play. He hit Allen Hurns for 28 yards down the right sideline, showing off his touch and arm. Then he hit Marcedes Lewis in the seam for 30 yards to escape a second-and-25. But the most impressive play of that drive was when he stepped up through a messy pocket and hit Hurns for 13 yards.  He later threw a touchdown pass to Hurns when he checked to single coverage on the left side. Henne was 9-of-14 for 70 yards, but he checked down a bunch. I have to think the Jaguars are revisiting their decision to not start Bortles. If they aren't, they should be.
• Maurice Jones-Drew looked fast and strong on his 40-yard touchdown run for the Raiders against the Packers. He is much trimmer than a year ago, and it shows. The thing is if he had shown that desire to work out in Jacksonville like he did this offseason, they would have kept him. But Jones-Drew was so heavy last season that he wasn't making weight late in the season. If Jones-Drew can keep his weight down, he could get 1,000 yards.
• The Lions defensive line looked awesome early against the Jaguars. And they came in waves. I really like the look of that group.
• The Packers' no-huddle will be lethal. Green Bay took the opening drive against Oakland and drove for a touchdown using the no-huddle offense. They did bog down some in the next couple of series, but then got it going again with Aaron Rodgers throwing two touchdown passes. They might break the record for points in the season.
• Matt Schaub isn't very good. The Raiders have to know that. Play Derek Carr or Matt McGloin . Schaub was 11 for 22 for 81 yards in the first half against the Packers and lost a fumble. The last 18 months of his career show a major regress.
• I think I was wrong about Carolina first-round pick Kelvin Benjamin . He has been better than I expected. He beat Darrelle Revis against the Patriots and has had an impressive preseason. He had five catches for 47 yards against the Patriots.
• Tom Brady looked to be in midseason form against the Panthers. Would you expect anything else?
• Chandler Jones had two sacks and I think he's ready to get 16 or so this season. He looks much improved. And he's stronger.
• With Chris Johnson and Chris Ivory , the Jets have two solid backs. They combined to rush for 92 yards on 15 carries against the Giants.  But running backs don't win games anymore.
• As the Cleveland Browns ready for their third preseason game, coach Mike Pettine said there's a possibility they could use a two-quarterback system. That is a horrible idea. If he has so much faith in Brian Hoyer , who he named starter this week, why mess with using Johnny Manziel at all during the regular season? Let Hoyer play. All that gimmicky stuff does is take a quarterback out of potentially getting into a groove. Don't do it, Mike.
• Snoop Dogg might be on point about Pittsburgh Steelers offensive coordinator Todd Haley. The Steelers are clearly a better offense in the no-huddle when Haley isn't calling plays. Snoop laid Haley out with his comments. Wow.
• Eli Manning threw a touchdown pass. Stop the preseason. Eli Manning threw a touchdown pass. Just kidding. He will be fine once the regular season starts.
• I will say it again: There is no way the flags fly this way when the regular-season starts. No way Rogers Goodell allows that to happen. Pace of play is horrible.
• The Bears have looked bad on defense in the preseason. They were awful last season, but spent money to improve it but it hasn't' looked that way so far this year. Seattle did what it wanted to against the first unit Friday night.
• Russell Wilson has looked darn good. He ran for a third touchdown of the preseason in the first quarter against the Bears and threw for two more. He looks comfortable, that's for sure.
The Patriots quarterback shows commitment from Day One

Cardinals' running back says he's feeling more energized

The Vikings' receiver is wearing his heart on his foot
The Ravens need help on the offensive line after dealing with injuries and a surprise reti...

The new Dolphins quarterback offered high praise for his receiver after his first preseason...

LeSean McCoy was probably a pretty popular person in the Bills locker room on Thursday