Need a linebacker? Join the club as teams hunt for replacements
Sean Lee, Jon Beason, Sean Weatherspoon, Daryl Washington all done for 2014? Expect LB prices to rise as attrition drives demand even higher.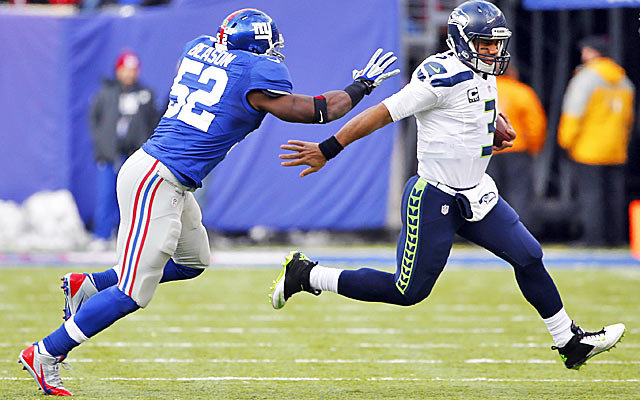 More NFL offseason: League minicamp dates | Latest news, notes
Spring NFL activities haven't been kind to the linebackers in the NFL, to say the least.
Sean Lee (Cowboys), Jon Beason (Giants), Sean Weatherspoon (Falcons) and for off the field reasons Daryl Washington (Cardinals) have all been sidelined since OTAs started, and there's a good chance none of them will be back in 2014, although the Giants are holding out hope for Beason.
All four teams took a chance on these guys for 2014 with their medical and off-the-field issues and it looks like the clubs lost. Last year these four outstanding football players started 45 of a possible 64 games, and history appears to be repeating itself. Now the teams are looking for replacements.
The concern is the history of linebacker injuries and the very small pool of potential replacements on the free-agent market.
I took a look at the 2013 season as a barometer for potential linebacker problems in 2014 and the research didn't make the situation look any better.
In 2013 on opening weekend, 38 linebackers were not on the active rosters because of injured reserve, PUP (physically unable to perform), suspension or NFI (non-football injury). The Colts led the way with five linebackers not suited up for September. By Jan. 1 there were 53 linebackers on the shelf, led by guys like Brian Cushing and Lamar Woodley. Seven teams got hit so hard at the linebacker position that they had at least three linebackers unable to finish the season.
The point is that teams haven't even put on pads yet or played a game and that's what they all have to look forward to, starting with the Cardinals, Giants, Falcons and Cowboys that are already behind the 8 ball.
The Cowboys have been experimenting with rookie fourth-round pick Anthony Hitchens at middle linebacker. He played 'Will' linebacker at Iowa and he will struggle with calls, coverage and getting off blocks. Where do the Cowboys and the other teams turn to help solve their issues?
The Cardinals signed Ernie Sims, who is on his fourth team and has 16 starts in the last three years. Besides that, Sims is a backup 'Will' and not a middle linebacker. But he is healthy right now and that separated him from a group of veteran free agents who have as much medical risk as the guys already down for the season. The top names being thrown around include Jon Vilma, Pat Angerer, Stewart Bradley, Desmond Bishop and Nick Collins, who all finished 2013 on injured reserve. In the month of June, only one linebacker has been released -- Quentin Groves, and he was only active for five games last year with three tackles. And he can't play inside like Lee, Beason, Weatherspoon or Washington.
The word coming out of the four clubs with really nowhere to turn is someone has to step up and do the job. But who replaces them as the backup, and what happens if another linebacker goes down? Look for the four teams to try to get someone from the roster ready to play but not to wait too long before hitting the waiver wire.
Smart teams like New England already signed linebacker James Anderson on June 4, and a few other teams will secure a veteran before camp starts to insulate their roster.
A team like Washington, led by GM Bruce Allen, has always grabbed veterans in the month of June. After last year, when they finished the season with three linebackers on injured reserve, the Redskins might be the first to grab the healthiest veteran linebacker and maybe even try to trade him to a team desperate for help. History says on average there will be at least one linebacker per team sidelined on opening day, and that number will grow to close to two per team as the season rolls along.
For now, teams are trying to convince themselves they can get by with what they have, but I assure you that pro personnel directors are looking at all the depth charts for a potential linebacker trade. The Giants were lucky to get Beason from the Panthers last year for a seventh-round pick. There are too many desperate teams and more teams to follow to think a guy like Beason, even with his injury history, will be had for a seventh-round pick this year.
One Giants player said to me this week when I brought up Beason coming to the team last year, called him a "facelift" for the team. By the end of the preseason I think 4 to 7 teams are going to need a linebacker facelift.
Here are 10 things to watch in Week 15, including a hot Bortles, a cold Brady and a new Eagles...

A couple of potential playoff teams have trouble covering against cellar dwellers in Week...

Siemian said he knew the injury was serious as soon as it happened
After an injury to Trevor Siemian, Brock Osweiler entered the game and helped the Broncos to...

The 32-year-old running back is done for the year

Brandon Williams was involved in a scary situation in the first half against Denver