Nephew of Donovan McNabb a likely top-15 pick at NHL Draft
Darnell Nurse, a likely top-15 pick for the NHL Draft, learned a lot from famous uncle, Dononvan McNabb.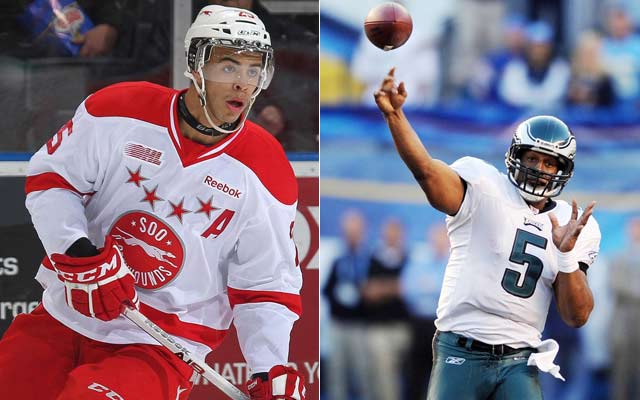 More NHL Playoffs: Scores | TV Schedule | Expert Picks | Odds | Mock Draft | Rumors
Seth Jones, the son of former NBA player Popeye Jones who is favored to go first overall, has gotten most of the headlines leading up to the 2013 NHL Entry Draft.
But he isn't the only top prospect with close ties to another sport.
Darnell Nurse, a defenseman who is likely to be a top-15 pick in June's draft, has gotten plenty of guidance from his famous uncle, former Philadpelphia Eagles quarterback Donovan McNabb.
Nurse, whose father Richard also played professional football as a wide receiver in the Canadian Football League, told Sam Carchidi of the Philadelphia Inquirer, he and McNabb talk often.
"When [McNabb] played, I used to go to Philadelphia for two or three games a year until I got busy with hockey," Nurse said. "I got to see all the work he put in. Our relationship is really tight. We talk all the time, and he's been a special person in my life. I go to him for advice whenever I need it."
What makes Nurse's situation interesting is that there's a chance he would be available to be selected by the hockey team in the same city where his uncle made his mark. The Philadelphia Flyers own the 11th pick in the draft. Most projections have Nurse going earlier, but if he's available it would seem like he's a natural fit for the Flyers, an organization that lacks depth on defense.
He's more of a defensive-defenseman that plays with a lot of grit and toughness. While assisting with our mid-season Big Board, one NHL scout explained that every team needs players like Nurse due to his aggressiveness and abrasiveness.
Flyers director of hockey operations Chris Pryor admitted to the Inquirer that the club likes Nurse.
"I don't know if he'll be a big offensive guy, but our scouts like the elements he brings," Pryor said. "He brings size, he moves well, and he will get bigger. He's a hard guy to play against."
Falling to Philadelphia might be wishful thinking at this rate. After posting 12 goals, 29 assists and 116 penalty minutes in 68 games, the 6-foot-4, 195-pound defenseman was slotted fourth among North American skaters in NHL Central Scouting's final rankings.
Beyond his talent, one of the more intriguing aspects about Nurse is his willingness to put in the work to make it to the next level, which is something he picked up in part from McNabb, who is married to Richard Nurse's sister.
"I think big defensemen have the biggest adjustment to play in the NHL," the Hamilton, Ont., native told the Inquirer. "I'm prepared for as long as it takes, whether it takes two years or three years or whatever. It's my dream, and I'm going to keep working to get there."
So many prospects are in a rush to get to the NHL, which for most is the wrong approach. As the son and nephew of former professional athletes, Nurse probably has a better perspective than most on what it takes to be a pro. That mentality is sure to help Nurse on his quest to not only make it to the NHL, but be an impact player when he gets there.
The Patriots coach didn't seem that impressed with his quarterback's heroics

The Patriots coach doesn't have time to waste on the Lamar Hunt Trophy

The Eagles defense definitely came to play in the NFC Championship game
Not even 10 stitches could slow down Tom Brady

Here's a look at the NFL's entire postseason schedule for 2018

Follow along live as the Vikings and Eagles battle for a spot in the 2018 Super Bowl