New Browns GM Ray Farmer knows which QB he wants in NFL Draft
Browns general manager Ray Farmer has been on the job for less than a week, but he already knows which quarterback he wants to take in May's NFL Draft. Unfortunately, he's not telling.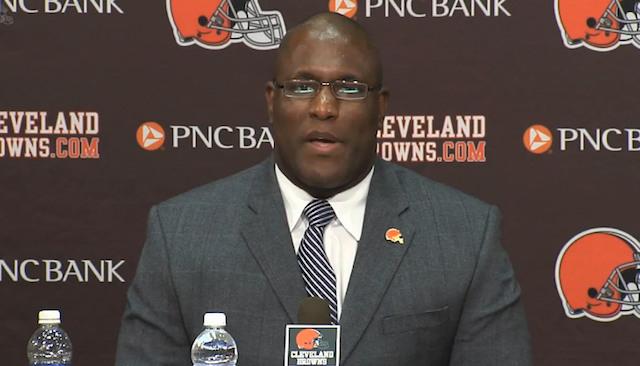 More draft: NFL mock drafts | Prospect rankings  | Big Board | Latest news
New Cleveland Browns general manager Ray Farmer has only been on the job since Feb. 11, but apparently that's enough time to make one of his biggest decisions. Farmer told the Cleveland Plain Dealer he already knows which quarterback he wants to take in May's NFL Draft. 
"I've studied the quarterbacks and I've studied other players, and I've already started to formulate the rank and order of each position," Farmer said. "I do know what I'd do if I was held down at the moment. It doesn't mean that can't change, but I currently have somebody in front."
Farmer was thrust into the Cleveland spotlight Tuesday when Browns owner Jimmy Haslam decided to clean house and fire general manager Mike Lombardi and team CEO Joe Banner. 
On the job less than a week, the 39-year-old already knows how to play the smoke-and-mirrors game that comes with the NFL Draft. Just because Farmer knows which quarterback he's going to take doesn't mean he was willing to name names. Not only that, Farmer wouldn't even say if he was going to take his quarterback with Cleveland's fourth overall pick. 
"I'd say that No. 4 is not necessarily where I would take the guy that I like," Farmer said. "Again, it may not be the name that everybody thinks is the latest, greatest, and the easy one to spot. There's definitely an art to selecting people in the draft and it's finding the right name that fits who you want to be."
Farmer isn't showing his hand yet, and projections for who the Browns might draft in May are all over the place. Of our four CBSSports.com NFL experts who have compiled a mock draft, two have the Browns taking Johnny Manziel. One has Cleveland selecting Louisville quarterback Teddy Bridgewater and the other has the Browns taking Central Florida quarterback Blake Bortles. 
If Farmer does decide to go with a quarterback at No. 4 overall, Browns fans should keep their fingers crossed that the pick goes better than the past three times Cleveland took a quarterback in the first round. If you need a refresher, those three picks were Brandon Weeden (2012), Brady Quinn (2007) and Tim Couch (1999).
There's also the possibility Goodell steps aside early if his potential successor is progressing...

The league could return to its pre-2009 policy after a year in which pregame protests took...

Arians hasn't said he's retiring, but the team has discussed contingencies for a coaching...
O'Brien would be a coveted coaching candidate if he were to hit the open market

Though owner Jimmy Haslam said Jackson is safe for 2018, new GM John Dorsey may decide oth...

The Texans quarterback was at the middle of controversy last week with how his head injury...