New England Patriots 2014 offseason preview
With the 2013 season officially in the books the Eye on Football staff is looking ahead to the offseason for all 32 NFL teams. Next up: the New England Patriots.
• 7 min read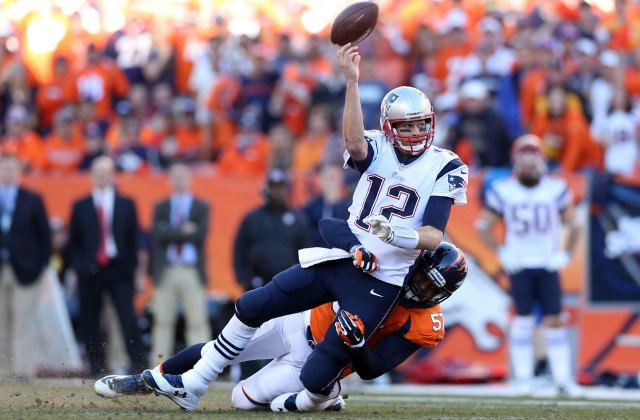 Despite the perception that the New England Patriots had an unsatisfying season, they still won the AFC East title for the fifth year in a row and made the AFC title game for the third time in three seasons. Despite that success, there should be concern about the future of the organization. Quarterback Tom Brady didn't play well (by his standards, anyway), and tight end Rob Gronkowski continued to have injury problems.
The defense actually played better than it has in years past, but there are still questions moving forward about how New England will restock that unit to keep it playing relatively well.
The Patriots had struggles early in the year, barely beating the Bills and Jets before losing twice in three weeks to the Bengals and Jets (in overtime). New England rebounded late in the season, winning five of six (including a win vs. the Broncos) to secure a first-round playoff bye. But the second time the Patriots faced the Broncos, New England simply didn't have enough to keep up with Peyton Manning and Denver.
What went right
Receiver Julian Edelman was the biggest surprise of the season, making himself Tom Brady's biggest asset. He caught 105 passes for 1,056 yards and six touchdowns, and he took Welker's place as an invaluable part of the Patriots offense. But he's a free agent, and for now, the Patriots reportedly haven't engaged in any talks with him about staying.
There was no dominant running back on this team, but three of them ( Stevan Ridley , LaGarrette Blount and Shane Vereen ) played important roles. Ridley and Blount combined for nearly 1,600 rushing yards and 14 touchdowns, while Vereen showed himself a dangerous receiving option out of the backfield. Whatever failures Brady had in connecting with his receivers, the running game, ranked No. 9 in the NFL, could usually provide some yardage.
Defensively, the team improved. Rookie cornerback Logan Ryan led the team with five interceptions, and Aqib Talib continued to prove that his move to New England was good for his career and (maybe) his maturity. The front seven, including the emergence of rookie linebacker Jamie Collins , had a good effort, and defensive end Rob Ninkovich continued to showcase his worth as a solid defensive lineman.
What went wrong
Aaron Hernandez dominated the offseason news cycle, and less than two hours after he was arrested, the Patriots moved to release him from the roster (even to their own financial detriment). Hernandez's alleged actions, of course, aren't their fault, and in reality, the Patriots -- who drafted Hernandez in the fourth round of the 2010 draft despite some red flags -- got great value out of him when he was on the field. That was apparent during the season when Brady was limited, especially when Gronkowski was out with injury, by tight ends, Michael Hoomanawanui and Matthew Mulligan . If Hernandez had played in 2013, the Patriots would have been that much better on offense.
Speaking of tight ends, Gronkowski simply can't stay healthy. He missed nine games this season -- and 14 total in the past two seasons -- and every time he wasn't on the field, his absence could be felt. This has to be a concern moving forward. Maybe more football playing and less dancing.
Receiver Danny Amendola , who was expected to replace Welker's production in the slot, also missed four games and caught a decent-but-not-great 54 passes.
Plus, it took a while for the young Patriots receivers, Aaron Dobson and Kenbrell Thompkins in particular, to get their bearings on the field, and for some, that comfort didn't last long. All of it made ... Brady ... so ... frustrated.
Also, this should be noted. Tim Tebow was with the team in training camp but ultimately was cut before the season. Not that it made one iota of difference in the Patriots season. I just thought it should be mentioned.
MVP
For stepping into Welker's old spot and playing better than most anybody could have expected, Julian Edelman has to be the team's MVP. As usual, he also was effective on special teams. It's unclear at this point if Edelman will receive what he considers to be a fair contract from the Patriots, so once again, the team's top receiver could be headed to free agency.
LVP
Rob Gronkowski is probably the best tight end in the game. But he only played seven contests this year. He was late to the season because he was still recovering from a variety of offseason surgeries and he ended his 2013 season early when he tore his ACL. This is not to question Gronkowski's talent. He has a ton of it. But he's having a hard time staying healthy. It doesn't matter how good he is if he can't stay on the field.
What's happened since the season ended
The Browns pursued Patriots offensive coordinator Josh McDaniels -- he was reportedly their No. 1 choice -- but the former Broncos head coach pulled out of the search. There was speculation that McDaniels withdrew at one point only to try to get back into the search, but either way, McDaniels will return to New England next season. That is probably the right move for him. If McDaniels would have failed in Cleveland, that would have been his second-straight head coaching failure. That might have ended his head coaching career with McDaniels still a young man. Better for him to wait for a better coaching spot rather than commit to a place that's already pink-slipped its CEO and GM since the team hired coach Mike Pettine.
Free agents to be
A major piece of the secondary could certainly leave -- cornerback Aqib Talib. Talib, if he's allowed to get there, will create interest on the free agent market. Since coming to New England from Tampa Bay, Talib has helped massage his reputation as a problem child off the field. That's not to say his newfound maturity would transfer to another team, but Talib's last two years in New England has been a positive for him.
Either way, here's hoping Talib will be Iced Up, Son.
On offense, center Ryan Wendell (who played more snaps than anybody in the league last year) is a free agent, while both Patriots tackles not named Rob Gronkowski (that would be Michael Hoomanawanui and Matthew Mulligan) also could leave.
As we mentioned above, Julian Edelman and running back LeGarrette Blount also are free agents, while it doesn't appear that New England is interested in re-signing linebacker Brandon Spikes to a new deal.
Free agency gameplan
Talib appears to be the team's top offseason free agent priority. But the problem is that the Patriots don't have much room in their 2014 salary cap -- as of this writing, they're less than $13 million under the cap. The two sides were scheduled to meet in Indianapolis during the NFL combine week, but if Talib wants, say, $7 million per season on a long-term deal, that might be difficult for New England to accept. Already, the Patriots have released safety Steve Gregory to save themselves about $3 million on the cap, but it might not be enough to land Talib.
He's not a free agent, but the Patriots will have to decide on what to do with nose tackle Vince Wilfork . He's entering the final year of his contract, and he'll cost $11.6 million against the cap. Wilfork is 32 and coming off a torn Achilles tendon. Perhaps he can still get his job done, but will New England want to pay him $7.5 million to do so in 2014? There have been rumblings that the Patriots will want to renegotiate Wilfork's deal in order to lower that cap number.
As for helping Tom Brady get more weapons, the Patriots could target a receiver like Eric Decker or Hakeem Nicks  to give themselves a legitimate No. 1/No. 2 type receiver. For a tight end that could help establish the team as a legit two-tight end squad (harkening back to the days of Gronkowski and Hernandez), New England could go after a player like Jermichael Finley (though he'd probably be more expensive than the Patriots would want to pay) or Dallas Clark (who might end up retiring anyway).
Draft gameplan
The Patriots could use plenty of help in the draft -- tight end, center, wide receiver, nose tackle, secondary. Which way will New England go? If you look at our CBSSports.com mock drafters, two say it'll be Texas Tech tight end Jace Amaro, while the other two believe the Patriots will grab a defensive tackle (one has Notre Dame's Louis Nix and the other has Ra'shede Hageman). At this point, it's unclear which way the Patriots will turn because they have plenty of needs.
Ridiculously premature prediction for 2014
As long as Bill Belichick is the head coach, the Patriots are going to be factors. Yet, so much of next year depends on Brady. If he continues to slide, the Patriots won't be the better for it. If he rebounds and pulls off a Peyton Manning type renaissance, New England will be a legit Super Bowl contender. No Cowardly Lions allowed.
Predicted record: 11-5


Check out the uniforms that Kansas City and Oakland will be wearing on Thursday

Cliff Avril's NFL career might be over

Oct. 18 is a very special day in NFL lore
The Falcons should not be making any plans for Minnesota in February

The Colts star quarterback could end up missing the entire 2017 season

Not even two Super Bowl wins is enough to get Eli Manning any respect