New GM, same old problems for Dolphins despite cap space
The Dolphins have turned dysfunction into an art form. From a shaky front office to an O-line in tatters, Miami needs lots of fixes and $30M in cap space might not be enough.
• 7 min read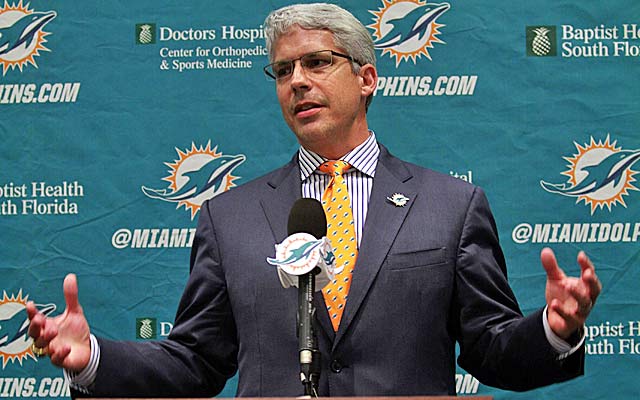 The Miami Dolphins have plenty of cap space and an owner more than willing to spend big money (as they pronounced to candidates on countless occasions during their bizarre and meandering general manager search).
What they do not have, however, is much institutional strength or proven know-how, with the lingering dysfunction of that GM search still a topic in league circles as the combine quickly approaches and the results of Ted Wells' investigation into the team's locker room culture still not released. The Dolphins also have a roster that will need major repair.
They don't have much time, either, with free agency opening in a month, and plenty of their own players with expiring contracts to deal with before then. Rookie general manager Dennis Hickey is facing a massive task of trying to sell his vision and plan when the reality is a handful of others passed on the job before owner Stephen Ross settled on the longtime Tampa exec as the man to replace fired Jeff Ireland.
Oh, and that element of time will hang over everything Hickey and the Dolphins do in 2014, because no one in the NFL would be surprised if Ross blows up his front office and coaching staff again next January should Miami remain mediocre at best. And, given what this organization has become over the last decade or so, it's impossible for me to project a ceiling above pedestrian football. As for a floor, that would be more sweeping organizational chaos with some of the more polarizing figures in the franchise seemingly now more empowered by the aftermath of the general manager circus.
First, the good news: Miami, despite its ill-fated free-agent splurge (largely overpaying for guys like Mike Wallace , Dannell Ellerbe , Philip Wheeler and Brian Hartline -- which helped them go from seven wins in 2012 to eight in 2013) still rolled over $18M of unused cap space into 2014. It has about $32M to spend on players. The reality of course is that all teams have budgets, and while Ross is positioned to throw money around again -- and sold his GM candidates on as much -- there are so many holes to fill that a bulk of it will need to be spent internally just trying to keep some free agents from leaving.
Miami is dangerously thin in its secondary right now, with top corner Brent Grimes an impending free agent -- numerous team and league sources said retaining Grimes is top priority this month. He could be franchised again if a long-term deal isn't inked. Dimitri Patterson , the other corner, is virtually certain not to be back at his $5.4M salary, sources said, though perhaps at a lesser figure.
Still, that's uncertain especially just a few years after trading one emerging young corner ( Vontae Davis ) and letting another walk on a relatively modest free agent contract a year ago ( Sean Smith ). Also, starting safety Chris Clemons is a free agent. Some scouts would make the case that, despite limited big play potential, Clemons was more sound than higher-paid Reshad Jones in 2013. This puts more pressure on the team to retain Grimes -- their best cover player -- even at a salary that could prove dangerous given his age and litany of past health issues.
On the defensive line, two longtime stalwarts, Randy Starks and Paul Soliai , are both unrestricted free agents, and sources said it's likely the team only keeps one, given all the other issues on the roster. It's a tough choice, with Starks uniquely versatile and coming off the franchise tag himself, while Soliai, a former franchise player himself, fills an every-down hole as a one-technique. And then, the entire offensive line -- a brutal unit on and off the field and off last season -- is pretty much out of contract. Well, everyone but Pro Bowl center Mike Pouncey , who might not be inclined to play for $1.7M next season and will be seeking a deal making him among the highest-paid ever at his position. So, yeah, a nice chunk of money and cap space will be tied up right here.
It's baffling to some rival execs why Ross and his advisors, like executive vice president Dawn Aponte, a powerful front office official who handles contracts and has become tightly aligned with coach Joe Philbin, did nothing to be more proactive about the situation and try to secure a few key free agents prior to this point.
"It's almost like they went through all season in neutral," one exec said. "It's almost like Ross knew early on he was going to start changing things up over there at the end of the season. Especially Grimes, how important he is, that's one you would think they would have locked up."
Again, though, Grimes isn't going anywhere. It will end up costing Miami more to keep him, but he's there.
What absolutely no one can project right now, however, is what the hell Miami's offensive line looks like next season. It is riddled with draft and free-agent busts -- to say nothing of the unresolved Richie Incognito/Jonathan Martin affair -- and at an absolute minimum will require three signings and attention in the draft as well. That's an awful lot of attention to have to pay to one position group, particularly one that has been dreadful for so long, and one entrusted with trying to help nurture 2012 first-round pick Ryan Tannehill into becoming a franchise quarterback.
"It's a total rebuild on the offensive line," said one person who interviewed for the Dolphins' general manager job. They seemed to understand that there. Total rebuild. I'm not sure exactly how much of their budget they were planning to put into the line, but it had better be substantial."
The problem is, rarely do top linemen, let alone bookend tackles Hickey so badly needs, ever hit the market. Last year's decision to let former first-round pick Jake Long walk and have Martin replace him failed miserably. The guys Miami rented at tackle last season, Tyson Clabo and Bryant McKinnie , are backups at best in this stage of their careers, so bringing them back on the cheap won't solve anything. Someone like Branden Albert might make sense, but he will come at a steep price. (Miami explored trading for him a year ago.) And remember, Pouncey's salary is going to jump exponentially, too.
There are few easy fixes on the offensive line, and given the magnitude of Miami's issues there -- Tannehill got pummeled into submission and the running game was largely nonexistent -- Hickey will have his hands full. Miami will probably have to live with its uninspiring collection of running backs and tight ends for another year, and things could still get interesting with the quarterback position as well. Philbin's job is riding on Tannehill progressing. I wouldn't doubt a little more pressure from highly paid back–up Matt Moore ($4M salary; $5.5M in cap) in 2014, with Philbin professing his belief in Moore to several of the GM candidates and demanding more from Tannehill.
"He definitely wants to push Tannehill more," said one source who has spoken to Philbin about the quarterbacks, "and if he doesn't see improvement he said he might go to Moore at some point. He definitely has a lot of faith in Moore, and they're paying him a lot of money."
The Dolphins will also have to operate around the fact that the contracts for last year's free-agent class (Wallace, Ellerbe, Wheeler, and Hartline) jump up by a collective $27M in cap space from what they accounted for in 2013. All of those contracts are loaded with big salaries for the 2014 season. Wallace alone is guaranteed $15M. It's strategic in that those hits come before Tannehill could start talking extension, but certainly not the norm with those players having so much guaranteed money locked into this season.
On top of that, Hickey must wade into the vortex of alliances and back room chatter that defines this Miami front office. Make no mistake, it has been a place of turf protection and changing alliances, and the complete deterioration of the Aponte/Ireland relationship helped throw last season into further turmoil. Her close bonds with Ross and Philbin deterred many candidates from further pursuing the GM job, and Hickey himself goes way back with Philbin. The reality is, with Hickey having just a two-year deal, sources said, (with a team option for a third), Ross could easily jettison all of the above after 2014, and renew his failed pursuits of A-list coaches like Jim Harbaugh, Bill Cowher and Jon Gruden, to name a few. I continue to hear rumblings that if the San Francisco 49ers can't extend Harbaugh this offseason, Ross might try to trade for him next year. Ross already offered Harbaugh the job before, at a time when Tony Sparano was still under contract.
It could take considerable work just to get back to eight wins, and the AFC might not be quite as watered down a year from now. Miami's schedule looks much tougher (beyond divisional opponents, Denver, Kansas City, Green Bay, Baltimore, San Diego and Chicago are some of the teams who loom in 2014), and nothing this franchise has done this offseason would necessarily portend a break from their chaotic recent past or indicate that $30-odd million in cap space will be nearly enough to mend all that ails them on the roster or behind the scenes.
Harrison is the franchise's all-time leading sacker, but J.J. Watt's brother will get the starting...

More than 17 percent of fans say they would never consider dating a Pats fan

Brady said that his lack of speed is why he fell so far in the draft in the first place
If Thomas is right, that means it's bad news for DeShone Kizer's chances of starting early

The NFLPA denied the accusation and fired right back at the league

The Raiders bandwagon continues to take on passengers ahead of the 2017 season