New York Giants 2014 offseason preview
With the 2013 season officially in the books the Eye on Football staff is looking ahead to the offseason for all 32 NFL teams. Next up: the New York Giants.
• 7 min read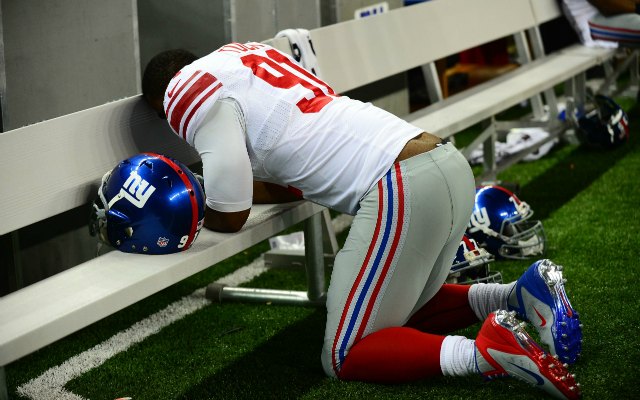 With the 2013 season officially in the books the Eye on Football staff is looking ahead to the offseason for all 32 NFL teams. Next up: the New York Giants .
The fall for the Giants this year was precipitous and cataclysmic, and, to be perfectly honest, surprising. The team lost its first six games of the season, and though it played better in the second half of 2013, winning five of six at one point, the Giants still finished at 7-9, their worst mark since coach Tom Coughlin's first season with the team in 2004.
There were rumblings during the season, especially during the dingy early part of the year, that Coughlin might not still be the right coach to lead this team. Considering he's won two Super Bowls in a decade, that's a pretty silly argument, and in reality, Coughlin isn't in any danger of going anywhere (unless he chooses to retire). And if any Giants player gets out of line and begins to wonder about Coughlin's leadership skills, he'd better watch out because Justin Tuck will come after him.
Still, the New York Jets had a much better season than the Giants, and when Rex Ryan's team is the stable franchise in the New York City metro area, that's not a great look for the Giants. But here's the worst part of all of this: the team was so bad that at least one strip club had to turn off its games because it made the customers too depressed.
What went right
Although the defense allowed at least 31 points in the first five games of the season, the Giants rebounded after that, giving up an average of 17.4 points per contest in the last 10 weeks. New York finished eighth overall in defense in the league, and it allowed coordinator Perry Fewell to become a head-coaching candidate again (once again, though, he didn't land any of those jobs). Among the defense's best players were safety Antrel Rolle (a career-high six interceptions) and defensive end Justin Tuck (a team-high 11 sacks).
Other than that, not a ton went right for the Giants in 2013.
What went wrong
The running backs had a tough season. For the second-straight year, David Wilson struggled to hold onto the ball -- this time, he fumbled twice in the season opener -- and Andre Brown missed half of the season with a fractured ankle. That meant the team had to bring back Brandon Jacobs and, after he was hurt, sign Peyton Hillis . Jacobs actually didn't play bad -- though he's clearly no long-term solution, especially since he's retired -- and Brown finished the season with the team lead of 492 rushing yards.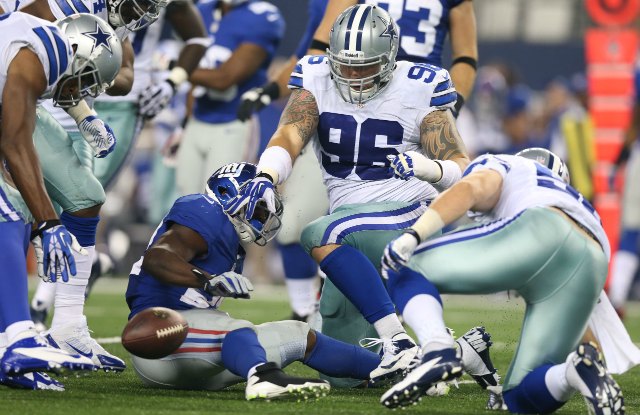 Wilson, meanwhile, had neck problems, and it's unclear if he'll be ready to start the 2014 season. It's a scary injury, but if he can return, he clearly needs to show the team he's got the ball-handling under control.
Eli Manning , meanwhile, had one of the worst seasons of his career. His completion percentage, his passing yards, his touchdowns, his quarterback rating: all were the worst marks he's produced in at least the past five years. His interceptions: way up, leading the league with 27. Maybe you can blame some of the lack of production on former offensive coordinator Kevin Gilbride's old system, and maybe Manning will rebound with new offensive coordinator Ben McAdoo's up-tempo approach. Because there's little question, Giants fans would like to see more salsa dancing from Victor Cruz (and probably more of it from Kate Upton, as well):
MVP
It's not necessarily a great sign when one of your team's safeties is the MVP, but that's where we stand with the 2013 Giants and Antrel Rolle. His six interceptions were a career-best, and he helped provide stability in the back end for a Giants defense that was terrible in the first third of the season. He also recorded 98 tackles. How much longer he'll stay in New York, though, is unknown. He's entering the final year of his contract in 2014.
LVP
Eli Manning has won two Super Bowls -- one more than Peyton! -- but there were times in 2013 when he was absolutely awful. Like the time he threw four interceptions against his brother's Denver Broncos squad in Week 2 or when he threw six interceptions in a two-game span to lose to the Philadelphia Eagles and Chicago Bears or when he threw five picks in Week 15 vs. the Seattle Seahawks . This is the third time in his career he's led the league in interceptions.
What's happened since the season ended
Though it doesn't appear Coughlin was ever in danger of losing his job, you can't say the same about his offensive coordinator. Gilbride retired after the season following nearly 40 years of coaching. It's unclear how much the team's No. 28 league ranking on offense played a factor in Gilbride leaving -- it does appear as though the franchise had tired of Gilbride's complex system -- but New York has replaced him with Green Bay Packers quarterbacks coach Ben McAdoo.
Free agents to be
The offense needs major help. Much of the offensive line will need to be re-signed or replaced (see below), and it sounds like the team would like to bring back Andre Brown. Considering the unknown future of David Wilson -- and whether the team should have drafted him in the first round in 2012 in the first place -- the Giants need some kind of stabilizing force in the offensive backfield. Brown might not be a top-notch running back, but he's certainly capable. Both sides seem to want to make a deal, so expect Brown back in 2014.
The two most-expensive men to keep figure to be defensive end Justin Tuck and receiver Hakeem Nicks . Tuck is coming off his best season in the past three, while Nicks' production continues to leave us underwhelmed. It seems unlikely that Nicks will be back. Tuck could return, but he probably wouldn't be cheap. Another defensive player that might not be back is cornerback Terrell Thomas , who finally got to play all 16 games of a season after missing the 2011 and 2012 campaigns with torn ACLs.
Free agency gameplan
The Giants aren't in a great position with their salary cap and with the number of free agents they could lose via free agency. Guard Chris Snee costs $11.3 million against the salary cap, but with the retirement of David Diehl and the uncertainty of the team's future with center David Baas , getting Snee back for another season is important. If he's willing to renegotiate his contract to lower his 2014 cap number, that'd be even better. Or Snee, who's had problems with his hips, could simply retire. If that happens, New York could keep Baas and his $8.225 million cap number, but he's also struggled with injuries. Oh, and get this: left guard Kevin Boothe also is a free agent. Whichever the case, this much is true: the team's offensive line needs to be revamped.
If Tuck leaves, the Giants would need to bring in a replacement that would play opposite Jason Pierre-Paul . Defensively, New York would also do well to upgrade its linebacker corps.
At this point, the Giants have some room in the cap, but in order to make a huge impact in free agency, they'd probably have to release Snee and maybe Baas. Of course, there's always the chance the team could rework Manning's contract to make it more cap-friendly.
Draft gameplan
While we went through a litany of offensive line problems above, we didn't even touch on left tackle Will Beatty , who was rated the 58th-best tackle in the NFL last season. He also broke his leg in Week 17, and it makes sense that the Giants would look to upgrade the position in the draft.
But the offensive line is not the only need for the Giants heading into 2014. Far from it, actually. The team also could use upgrading in the defensive front seven, the secondary, running back room and receiver corps. In the four CBSSports.com mock drafts, we predict the Giants could take a cornerback (Oklahoma State's Justin Gilbert), an outside linebacker (UCLA's Anthony Barr) or a defensive tackle (Notre Dame's Louis Nix).
So, there's many different ways the team could go in May.
Ridiculously premature prediction for 2014
It seems unlikely that Manning will play as poorly as he did in 2013, and it's entirely possible he could return to playing as a top-10 quarterback. That obviously would go a long way in returning the Giants to the spot of competing for a playoff bid. It's also lucky for New York that Perry Fewell will return once again as the defensive coordinator, because he's shown during the past few years that he's one of the best in the league. Besides, Coughlin is too good a coach for the team to have a replay of last season.
Predicted record: 9-7
Receivers like Pryor don't want to be hit low but defenders are running out of places to hit...

The Browns' Pro Bowl left tackle has mastered the art of losing gracefully

An example of how not to use social media
Mike McClure, a DFS pro with more than $1M in winnings, gives optimal DraftKings and FanDuel...

Let's check in on the Giants a day after their loss to the Lions

Mike McClure has made over $1 million playing DFS and gives his best daily fantasy football...