New York Jets 2014 offseason preview
With the 2013 season officially in the books the Eye on Football staff is looking ahead to the offseason for all 32 NFL teams. Next up: the New York Jets.
• 7 min read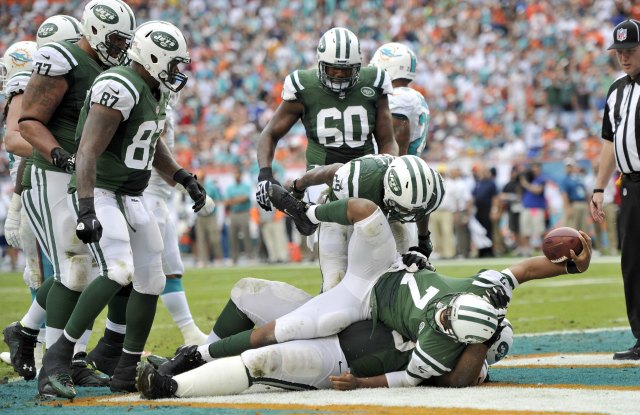 With the 2013 season officially in the books the Eye on Football staff is looking ahead to the offseason for all 32 NFL teams. Next up: the New York Jets .
We couldn't have been more pessimistic heading into the 2013 season for the Jets. Coach Rex Ryan was on the hottest of hot seats, and it seemed like new general manager John Idzik, who was forced by owner Woody Johnson to keep Ryan for another year, was simply biding his time before he could fire Ryan and bring in his own coach.
Funny thing about that, though. Ryan pulled off the best coaching job of his career, and even with rookie quarterback Geno Smith 's up-and-down season, New York somehow willed its way to an 8-8 record. Perhaps one of the most impressive 8-8 campaigns you'll ever see.
The Jets actually had quite an interesting year. They traded off wins and losses for the first 10 weeks of the season before losing four of five. At that point, the team was 6-8, and Ryan had to feel that he was soon to be on his way out. But New York pulled together -- perhaps it had something to do with this pep talk from Ryan? -- and the Jets beat the Cleveland Browns and the Miami Dolphins in the final two weeks of the season, finishing at .500.
Then, when Johnson announced to his team in the jubilant locker room after beating Miami that Ryan would return in 2014, the players went crazy. As you can see in the photo below.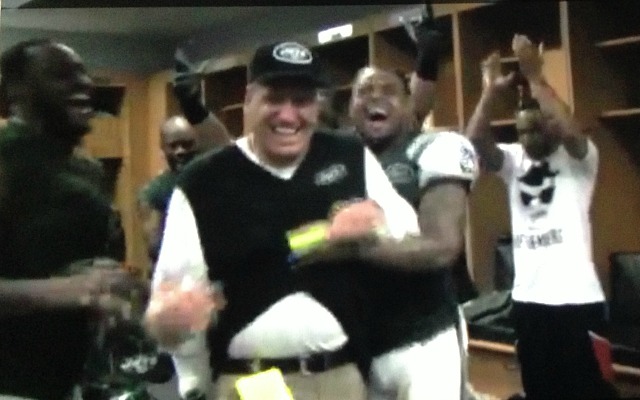 Because of a lack of talent on offense and because the team still seems unclear whether it wants to bring back Mark Sanchez in order to compete with Smith -- or if the team will draft another quarterback in 2014 after already using a second round pick last year on Smith -- Ryan might be in job trouble again next season. But ever since the season ended, he and his bosses have to be satisfied about the way last year ended.
What went right
The defensive front seven was a team strength and was perhaps the biggest reason for New York's success this season. Sheldon Richardson was one of the best rookies in the NFL, and along with Muhammad Wilkerson 's 10.5 sacks and nose tackle Damon Harrison , they help make up a strong defensive line. New York finished 11th in the league in defense, and when the offense couldn't get going, Dennis Thurman's unit kept the team in games.
Though Smith didn't have great skill players around him and did manage some horrid games, he threw for 3,046 yards and showed that he might have a future in the league.
What went wrong
If you looked at the team's roster on offense, you'd be forgiven if you wondered if the Jets could win even a couple games. We figured the defense would be stout, but with a rookie quarterback, receivers who were either injured or inexperienced, and running backs who had much to prove, we also predicted the offense would struggle. We weren't wrong. Smith had solid games, but he also had absolutely awful ones, as well.
Before the season began, the Jets traded away cornerback Darrelle Revis , hoping that Dee Milliner could take over his production. Numerous Milliner benches later, the Jets saw how that plan failed to materialize. While Revis was playing effectively with the Tampa Bay Buccaneers , Milliner struggled for most of the season, and fellow cornerback Antonio Cromartie took a step back in effectiveness. Another cornerback (or two, maybe) is needed for this defense.
Even though Smith played well at times, the quarterback situation moving into 2014 is still a big, fat unknown. Idzik said he wouldn't mind seeing Sanchez battle Smith for the starting spot again, and frankly, that just doesn't make any sense to us. It's probably just time to move on from Sanchez, who's coming off shoulder surgery, and see what Smith can do in his second season. But if there's this much public debate about it, perhaps that's not the feeling the Jets have
MVP
One of the most exciting building blocks of the future for the Jets has to be Richardson, named the league's defensive rookie of the year after racking up 77 tackles and 3.5 sacks in his first season. Drafted No. 13 overall in 2013, Richardson could be one of the league's best defensive tackles for years to come if he keeps up that production.
And he wears a damn fine-looking purple tuxedo.
LVP
After missing time at the beginning of the season with a foot injury, Santonio Holmes was nearly invisible for the 11 games he actually played. He finished the season with 23 catches for 456 yards and a touchdown, and he continued to show why he should be irrelevant to the Jets' future. Oh, and for all that production, he was paid nearly $8 million.
What's happened since the season ended     
The biggest move came in mid-January when the Jets inked Ryan to a multi-year deal. Sure, Ryan could be fired if his team is disappointing next season, but New York seemingly has renewed confidence in him. It's a move that lends stability to the organization, and oftentimes in the past year or two, that hasn't been the case.

But because they're the Jets, something wacky had to happen. Thus, Kellen Winslow was arrested for possessing synthetic marijuana and subsequently was accused of masturbating in a Target parking lot. He said he wasn't masturbating, but instead, he was lost while trying to find a Boston Market restaurant.Which lead to this:
.@kellenwinslowjr Next time, you can use our convenient store locator to find the #BostonMarket near you http://t.co/Kgog8nxZ5V

— Boston Market (@bostonmarket) January 17, 2014
The Jets, ladies and gentlemen!
Free agents to be
One of the most important free agents for the Jets to re-sign might be kicker Nick Folk , who's coming off the best season of his career. He's on record as wanting a multi-year deal, and he also doesn't seem to mind if he has to test the free agent market. But considering he was one of the team's most reliable points-scorers, it would make sense that New York would want him back.
The right side of the offensive line also needs to be re-signed Austin Howard has played well in his role, and he's been one of the better right tackles in the league. ESPN New York estimated he could be worth a similar deal to the one the New England Patriots gave Sebastian Vollmer (four years, $17 million). It's unclear how much the Jets will put into re-signing right guard Willie Colon , but it wouldn't be surprising to see the team make a push at keeping him, even though he's rehabbing a torn biceps.
It will be interesting to see what the team does with linebacker Calvin Pace . He played for only $1 million last season, and he's coming off a season in which he recorded 10 sacks. He'll probably want a little more than $1 million for 2014.
Though he's not a free agent, because his contract runs through the 2015 season, but we don't expect Santonio Holmes to return to the team. Partially because the Jets would have pay him a base salary of $8.25 million and he would cost $10.75 million against the salary cap, and partially because he's been mostly invisible for the past two seasons (and also hasn't been a good teammate either).
Free agency gameplan
First and foremost, the team needs to get Smith (or whomever its quarterback will be) some help at the skill positions. Mostly, the Jets need receivers. It's hard to imagine Holmes returning to the team, and former second-round pick Stephen Hill has underwhelmed for his career.
Some options include bringing in Pittsburgh's Emmanuel Sanders or Philadelphia's Jeremy Maclin , who missed all of 2013 with a torn ACL. Don't expect the team to be in the bidding for Eric Decker . Winslow was better than expected, but another high-quality tight end wouldn't hurt.
The team signed Ed Reed midway through last season to help with the subpar safety play, and it's become clear that he's not the same player he once was. If the Buffalo Bills somehow let Jairus Byrd get away -- which, at this point, doesn't seem likely -- New York would do well to sign him.
Draft gameplan
Just like I mentioned in the free agency gameplan, the team needs to give Smith some weapons. That's why our CBSSports.com mock drafters have the team selecting either USC receiver Marqise Lee or UNC tight end Eric Ebron with the No. 18 overall pick. Taking a cornerback also wouldn't be the worst idea in the world.
Ridiculously premature prediction for 2014
I'm not sure I see the Jets getting back to the AFC title game in 2014, though another potential playoff run isn't out of the question. I'm not sure that anybody is sold on the team's quarterback situation, and if the team takes another season to figure it out, we might be talking about Ryan's job security in mid-December again. With Ryan and Thurman, the team's defense will be solid, at worst. The Jets need to shore up the back end, though, to give it even more punch.
Predicted record: 8-8
Nobody will mistake Joe Looney for his star teammates

Osweiler is being benched in favor of DeShone Kizer

Madden season is almost here again. Here's everything you need to know.
Rob Gronkowski, in an attempt to stay healthy, is turning over a new leaf in 2017

Cyrus Mehri says players have gone backward under Smith's leadership

Preseason Week 3 is go time -- jobs are won and depth charts are solidified