Next up for the Madden curse? Richard Sherman or Cam Newton
Instead of voting to get your favorite player on the Madden cover, you should be voting to get him off it.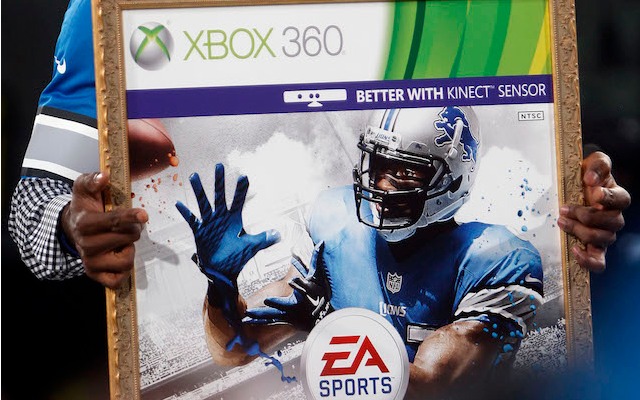 The only people that still believe in curses these days are Harry Potter fans, Billy goat owners and NFL players that have been on the cover of Madden. 
Since 1999 when Garrison Hearst first graced the front of John Madden's video game, things have gotten ugly for the player on the cover. This year, that's either going to be Cam Newton or Richard Sherman. 
The player who tallies the most online votes will get to grace the cover of the latest Madden game, which will be released on Aug. 26.
Just a bit of advice here Seahawks and Panthers fans: Instead of voting to get your guy on the Madden cover, you should be voting to get him off it. Ron Rivera's using that strategy. The Panthers coach wants Sherman to be on the Madden cover so Newton can 'avoid the jinx.' 
So is the jinx real?
If Riverboat Ron believes it is, then the answer's yes. Just so you can decide for yourself though, here's 15 years of Madden curse history. 
The Madden Curse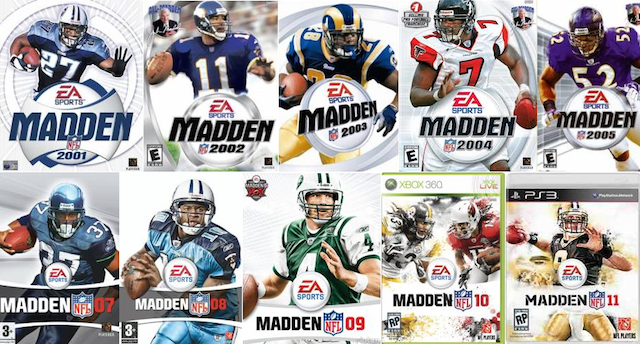 49ers RB Garrison Hearst

Game: Madden 99 (released in 1998)
What happened: Like all good curses, the Madden curse got off to a slow start. Garrison Hearst made it through the entire regular season unscathed and even managed to rush for 1,570 yards, the NFL's third-highest total in 1998. The curse struck in the postseason though when Hearst broke his ankle on the first play from scrimmage in the divisional playoffs against the Falcons, a game the 49ers would lose 20-18. The injury was so bad that Hearst didn't play in the NFL again until 2001. If you think you can hold your food down, here's a picture of Hearst's injury. 
Lions RB Barry Sanders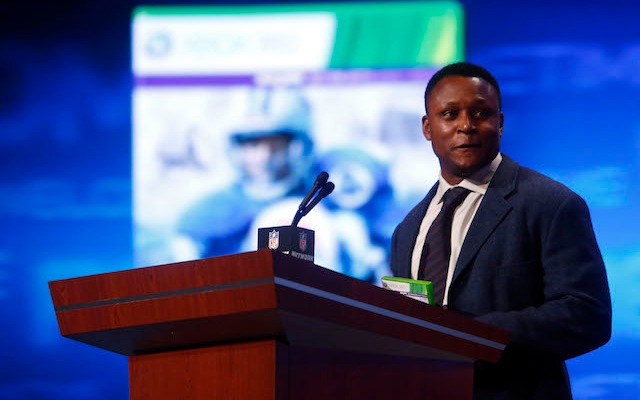 Game: Madden 2000 (released in 1999)
What happened: In 1999, EA Sports had a great idea, "Lets put the best running back in football on the Madden cover." That running back was Barry Sanders. The only problem with putting Sanders on the cover is that no one at EA thought to ask him if he was going to abruptly retire before the season started. Guess what happened: Sanders abruptly retired before the season started. 
Titans RB Eddie George
Game: Madden 2001 (released in 2000)
What happened: The curse didn't break Eddie George's ankle or force him to retire, but it did get him on one play. Coming off of a Super Bowl appearance after the 1999 season, the Titans had high expectations in 2000 -- and they met them. Tennessee went 13-3 and earned the No. 1 overall seed in the AFC.
In the divisional round of the playoffs, the Titans were trailing the Ravens 17-10 with under seven minutes left in the fourth quarter. The Titans were driving when Steve McNair threw a perfect pass to George that George bobbled. The bobble gave Ray Lewis enough time to make a play. Lewis ended up intercepting the pass and returning it for a touchdown to seal the Ravens win. Baltimore would go on to win the Super Bowl and George would never make the playoffs again. 
Vikings QB Daunte Culpepper
Game: Madden 2002 (released in 2001)
What happened: In 2000, Daunte Culpepper led the Vikings to an 11-5 record and a playoff appearance, then he decided to be on the Madden cover and everything went down hill. After throwing 33 touchdown passes in 2000, Culpepper only threw 14 in 2001. Then there's the part where he sprained his knee in Week 10, tried to play in Week 11 and then missed the Vikings final five games. Culpepper went 4-7 as a starter that year. Things didn't get much better in 2002 when Culpepper tied the NFL record for most fumbles in a season (23). The record still stands. 
Rams RB Marshall Faulk
Game: Madden 2003 (released in 2002)
What happened: If you look at Marshall Faulk's career stats, you'll probably notice that his career started to take a dive in 2002. You can attribute that to age, I'll attribute it the curse. After four straight seasons of rushing for at least 1,300 yards, Faulk didn't even hit the 1,000 yard mark in 2002. As a matter of fact, after appearing on the Madden cover, he never hit the 1,000 yard mark again, something he had done in seven of his first eight seasons. 
Falcons QB Michael Vick
Game: Madden 2004 (released in 2003)
What happened: During his first season as the Falcons full-time starter in 2002, Michael Vick led the team to a 9-6-1 record and a Wild Card playoff win. There were high hopes in Atlanta for 2003, but then the curse did what it does best which is crush everyone's dreams. In Week 2 of the preseason, Vick took off scrambling on a play that ended with him breaking his right leg. Vick didn't start a game until December. Although he went 3-1 as a starter after his return, that didn't do much for the Falcons, who finished 5-11. 
Ravens LB Ray Lewis
Game: Madden 2005 (released in 2004)
What happened: Ray Lewis finished as a first-team All-Pro in 2004, so you could argue the curse didn't get him. But if you argued that, I'd say it did. The 2004 season was Lewis' ninth year in the NFL, but it was the first one where he didn't record an interception. The Ravens linebacker also only tallied one sack in 2004, tying a low for his entire career. It's probably also worth mentioning that he broke his wrist in Week 16, an injury that forced him to miss the team's regular season finale. 
Eagles QB Donovan McNabb
Game: Madden 2006 (released in 2005)
What happened: Donovan McNabb got hit with a double-curse in 2005: The Madden curse and the curse of throwing up in the Super Bowl the season before. The Eagles run of making it to four straight NFC title games ended in 2005 thanks to McNabb choosing to be on the Madden cover. Philadelphia got off to a 4-6 start with McNabb, then lost him after Week 11 after the quarterback underwent sports hernia surgery. Nine years later, McNabb apparently still can't shake the curse, he was arrested for DUI in December. 
Seahawks RB Shaun Alexander
Game: Madden 2007 (released in 2006)
What happened: Before there was Beast Mode in Seattle, there was Shaun Alexander. The Seahawks running back was named NFL MVP in 2005 after leading the league in rushing with 1,880 yards and helping Seattle to its first Super Bowl. Things went down hill fast in 2006 though thanks to the curse. Alexander broke his left foot in Week 3 and ended up missing a total of six games. After the 2006 season, Alexander would only play in 17 more games total in his NFL career. 
Titans QB Vince Young
Game: Madden 2008 (released in 2007)
What happened: If you've read this far, you're probably asking yourself, "Why in the name of Vince Lombardi would anyone ever want to be on the Madden cover ever again? It's a deathwish."
That's a valid question and I can't answer it. 
But maybe LaDainian Tomlinson can. EA Sports went after Tomlinson to be on the 2008 cover, but Tomlinson turned them down. It had to be the curse right? Nope. CNBC reported at the time that it was money. Apparently $200,000 was the going rate to be on the cover and we all know that Tomlinson made the right decision because $200,000 wouldn't have paid for the pain that would've been caused by a broken fibula brought on by the curse. 
Instead, the cover went to Vince Young, who threw a career-high 17 interceptions. 
Jet QB Brett Favre
Game: Madden 2009 (released in 2008)
What happened: Will he return? Will he retire? Will he return, then retire? The 2008 season was when Brett Favre's retirement flip-flopping was at its height. In March 2008, Favre held a press conference saying he was 'Officially retiring.'
So EA Sports thought, "We have a way around the curse! We'll put a retired guy on the cover!"
That plan didn't work though because Favre decided to unretire. In August 2008, the Packers sent Favre to the Jets and the Ol' Gunslinger got to experience the Madden curse first-hand in the Big Apple. Favre and the Jets got off to a hot start, opening 8-3, then the curse hit and the Jets closed the season losing four of their last five. It was later revealed that Favre played the final few weeks of the season with a torn biceps tendon. 
Steelers S Troy Polamalu and Cardinals WR Larry Fitzgerald
Game: Madden 2010 (released in 2009)
What happened: Instead of hitting both of these guys equally, the curse went straight after Troy Polamalu. After playing in at least 11 games in each of the first six seasons of his career, Polamalu was limited to only five games in 2009 thanks to a variety of injuries including a strained MCL and a strained PCL. 
Saints QB Drew Brees 
Game: Madden 2011 (released in 2010)
What happened: The Madden curse didn't stop Drew Brees in 2010, but it did slow him down. Brees made it through the entire season, but he wasn't healthy or even close to it. After the year was over, Brees would reveal that he played with an MCL sprain for six weeks -- which shouldn't have been a shock to anyone because he played like someone with an MCL sprain. Brees threw 22 interceptions in 2010, a number that's still a career-high.
Game: Madden 2012 (released in 2011)
What happened: 2011 is the year everyone on the internet got drunk together and voted Peyton Hillis to be on the cover of Madden. Hillis beat Vick in the final vote to see who would be on the cover, which was probably wonderful news to Vick after the whole 2003, broken leg thing.
Hillis followed up his impressive 2010 season with an injury-filled 2011 that had the Browns contemplating letting him go after the season. And that's exactly what happened. Hillis left as a free agent and signed with Kansas City. 
By the way, Hillis is the one guy on this list who believes in the curse, "Things didn't work in my favor this year," Hillis said in December 2011. "There's a few things that happened this year that made me believe in curses. Ain't no doubt about it."
Lions WR Calvin Johnson
Game: Madden 2013 (released in 2012)
What happened: Megatron beat the curse. Over 14 years the curse handed out a broken leg, a broken ankle, a few sprained MCL's, but it couldn't stop Johnson. In 2012, Megatron tallied 1,964 receiving yards, breaking Jerry Rice's 17 year old NFL record of 1,848. On the other hand, the Lions did finish 4-12, so maybe the curse did hit Johnson. 
Madden 25: For the 25th anniversary of Madden in 2014, Barry Sanders was voted on to the cover. Although he retired after being put on the his first cover in 1999, he didn't unretire after being put on this cover. 
Summary: Unless your name is Calvin Johnson, you probably don't want to be on the Madden cover. 
Green Bay could have brought in a veteran quarterback but decided to stick with Hundley

All of the best highlights from Week 11 are right here

The Saints have now won eight straight games after an incredible comeback
Things nearly went south for the Redskins' game and season on Sunday

Taylor didn't throw a pick-six in his first 38 starts; Peterman did it on his first series

The Patriots-Raiders game on Sunday won't the last NFL game in Mexico City