NFL: 49ers OL Joe Staley mistakenly penalized against Packers
The NFL said Monday that 49ers offensive lineman Joe Staley was mistakenly penalized against the Packers on Sunday.
Well the referees in the 49ers-Packers game Sunday were just full of mistakes. On Sunday we learned they erred in a major way by offsetting penalties and replaying a San Francisco third down and on Monday it comes out that Joe Staley shouldn't have been penalized in the first place.
NFL.com's Ian Rapoport reported Monday evening that NFL VP of Officiating Dean Blandino looked at the tape from the game and concluded Staley was wrongly penalized for unsportsmanlike conduct Sunday. Staley got in Clay Matthews face after the Packers linebacker tackled Colin Kaepernick 4,000 feet out of bounds: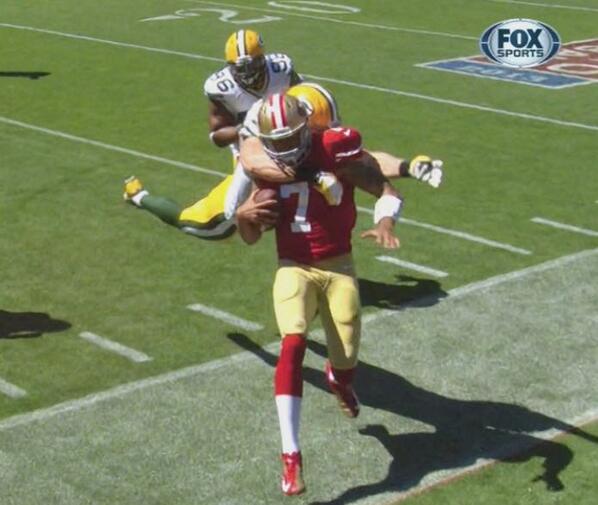 A fight erupted after Matthews' tackle, with Staley getting up in his face and Matthews throwing a blow at Staley's helmet but receiving no penalty for it.
What makes this really awkward is that ref Bill Leavy was already downgraded by the NFL for his crew's poor performance in this game.
The mistake to have the penalties offset and give the 49ers another third down was critical and could've cost the Packers four points (San Francisco scored a touchdown when Kaepernick hit Anquan Boldin, instead of potentially having to kick a field goal). But maybe not -- as it turns out the 49ers should've actually had a first-and-goal from the three-yard line after having the late hit on Matthews marked off.
Which means the league agrees with 49ers coach Jim Harbaugh that Staley did nothing wrong, not to mention that Matthews needs to come harder with his punches.
"Joe did exactly what we coach him to do," Harbaugh said. "When somebody's taking a cheap shot or trying to do something after the whistle, we teach them just to lock up. He did that, and then Matthews throws two punches at him."
I said the same thing at the time -- Matthews was the aggressor in this instance and is lucky that nothing too serious happened with Kaepernick after his ridiculously late hit. Staley simply defended his quarterback and then got hit by Matthews who somehow wasn't ejected.
As it turns out, everything probably worked out alright for the 49ers, who got a touchdown out of the melee. But just because the outcome is correct doesn't justify the process, which should very much concern the NFL moving forward.
The winner of Sunday's game will he headed for Super Bowl LII

SportsLine's Mike McClure, a DFS pro with more than $1M in winnings, gives optimal lineup...

Super Bowl tattoos are never a good idea until your team has actually won the Super Bowl
A couple of dogs emerge victorious in the Conference Championship round

Our computer model simulated the AFC and NFC title games 10,000 times with surprising resu...

If the past 18 weeks are any indication, Tom Brady could be in trouble Sunday