NFL accuses Jerry Jones of 'conduct detrimental to the league,' leaking false info
The Cowboys owner has been put on notice by the NFL
The NFL has had enough of Jerry Jones "antics" and let him know as much in a letter sent to the Cowboys owner, as reported by the New York Times and Wall Street Journal on Wednesday night. 
In the letter, the NFL accused Jones of "conduct detrimental to the league's best interests" for his aggressive behavior towards Roger Goodell, his attempt to block Goodell's contract extension from being worked out and his threatening NFL owners with a lawsuit if they proceeded down the extension path.
The letter was sent to Jones' attorney, David Boies, who Jones hired recently to try and ratchet up the tension on the NFL.
It also served to accuse Jones of leaking out details of contract requests from Goodell that he "personally knows to be an outdated, historical artifact of no relevance whatsoever in the context of these lengthy negotiations." One would have to presume these details revolve around an ESPN report that Goodell wanted $49.9 million per year and lifetime use of a private jet. 
Goodell's contract was considered a fait accompli as recently as just a few months ago; Jones even signed off on the deal. But then Goodell suspended Cowboys star running back Ezekiel Elliott for six games -- Elliott dropped his appeal on Wednesday night, coincidentally, and will serve out the suspension. He's eligible to return Dec. 24.
Jones clearly disagrees with the suspension and it would be naive to believe Goodell's discipline of his star player and Jones' heel turn on the contract talks are not related.
Things got weird when Jones, who is not actually on the NFL's compensation committee, reportedly hijacked a conference call and explained why Goodell was making too much money.
Needless to say, some of the billionaire owners did not like it when another billionaire threw a tantrum and decided to kick all the sand out of the sandbox (metaphorically, we think). The owners were also less than thrilled about the fact that Jones, they reportedly believe, whispered in the ear of Papa John's CEO John Schnatter, who would complain that NFL players taking knees during the anthem was hurting his pizza sales.
Asked about the issue, Jones -- who owns more than 120 Papa John's franchises -- would call the Papa "one of the great Americans."  
The lengthy, awkward and public process is causing some owners to lose faith and credibility in Jones. Reports of owners looking at a "nuclear" option for the situation -- basically taking the Cowboys away from Jones -- have surfaced, although Jones vehemently denies any such reports, calling them "ridiculous."
"I speak to a lot of owners, a lot of owners, and I know them to be really supportive of the idea of being able to, on their part, see what and guide and give input to the committee, in particular the chairman, and I have well over half this league that is very interested, not only being a part of what is negotiated, but having it come back to them for approval," Jones said.
Jones also reportedly received a "cease-and-desist warning" from the NFL, although he also denied such a thing happened as well. 
Here's the bottom line: there is way too much reported communication between the NFL and Jones for some of it not to be true. We know Jones is annoyed at Goodell and wants to sabotage his contract and we know the other owners are annoyed at Jones, who has continued to pull the NFL back into the public eye on more than one topic, including the national anthem, player protests and Goodell's contract. It's been an ugly year for the NFL and Jones is not helping to make things go away.
Don't expect this to simmer either. The Cowboys just lost an ugly game against the Falcons without Elliott in the lineup. They host the Eagles on Sunday night and NBC might very well fire up a separate "Jerry Cam" that locks in on the owner's suite. (Pay-per-view it for $9.99, who says no?) If the Cowboys keep losing, Jones will probably put the blame squarely on Goodell. 
The NFL clearly does not intend to kowtow to Jones.
And we might get closer to a real standoff between a lot of very powerful people that will become very public. Get your popcorn ready.
Pick Six Newsletter
Get the day's big stories + fun stuff you love like mock drafts, picks and power rankings.
Please check the opt-in box to acknowledge that you would like to subscribe.
Thanks for signing up!
Keep an eye on your inbox for the latest sports news.
Sorry!
There was an error processing your subscription.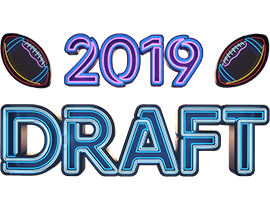 Get Live Coverage of Every Pick
After speculation they could trade up for Haskins, Washington stays at No. 15 and lands the...

Pete Prisco grades the first 32 picks of the 2019 NFL Draft

The Falcons prioritize offensive line in the first round, landing Lindstrom as the second lineman...
The Steelers just made the first trade of the 2019 NFL Draft

The Dolphins stay put at No. 13 and pick up one member of Clemson's terrifying defensive f...

After speculation medical issues could cause Gary to fall, the Packers make him their first...